20 Minute Turkey and Bean Soup – healthy soup recipe
This healthy soup recipe comes together in 20 minutes or less, but it is packed full of protein, vegetables, and most importantly, flavor! Your whole family will love it. 
This post is sponsored by KRAFT. All opinions are my own.
Continuing in my partnership with KRAFT and HUNT's, I'm bringing you more ideas to make weeknight meals a breeze. In my first post, I provided some tips for simplifying weeknight meal prep. Boiled down, the two main tips are these:
Plan ahead (And make Pepperoni Pizza Lasagna Rolls)
Have a stocked pantry — this recipe depends on it.
I made this healthy soup recipe using all ingredients I keep regularly stocked in my pantry. The first time. The second time I made it, Ben had to make a grocery store run to restock.
Here's what I keep in my stocked pantry/fridge/freezer to make recipes like these:
HUNT's Classic Diced Tomatoes
KRAFT Grated Parmesan Cheese (100% grated Parmesan in those containers!)
Cans of beans — this recipe uses great Northern but I typically keep black beans and chickpeas stocked as well.
Ground turkey
Spinach. I always have spinach. Always. If I don't, I'm headed to the store.
Onions. A must have in the fridge.
Garlic. Duh.
Spices — this recipe uses oregano, red pepper flakes and basil.
Olive oil. I always have tons of it.
Other staples in my pantry are a variety of grains, pasta, bacon, carrots, celery, a variety of vinegar and some fruit and vegetables in the freezer. But you don't need any of those for this particular healthy soup recipe.
Of course, everyone is different and you might not keep your pantry stocked just like mine. You might not like ground turkey (this recipe would be phenomenal with Italian sausage if you prefer that!). Maybe you don't have baby spinach — try a different green in this soup such as kale or chard.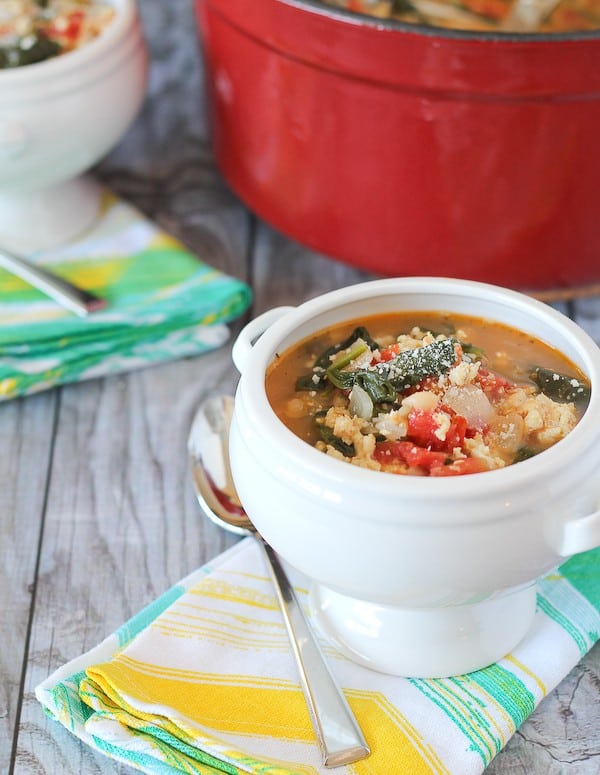 The really important thing here is that this recipe can be prepared in 20 minutes. I see myself making this A LOT on weeks where I might have slipped behind on my meal planning. Or maybe I had something planned and I just don't have the time and energy to prepare it. Or it might just not sound good on that particular night.
No problem! Out come those pantry staples to save the day. Healthy, easy, and no trips to the grocery store required. I'm pretty sure that's as good as it gets. Plus it can warm you up on a chilly day. And since spring is NEVER coming…hot soup is a good thing.
To make this recipe, you heat up your soup pot with some olive oil. To that, you add your ground turkey, onions, garlic, red pepper flakes, and some black pepper.
Cook until those onions are translucent and your turkey is fully cooked.
Throw in your beans, herbs, HUNT's Tomatoes — stir to combine.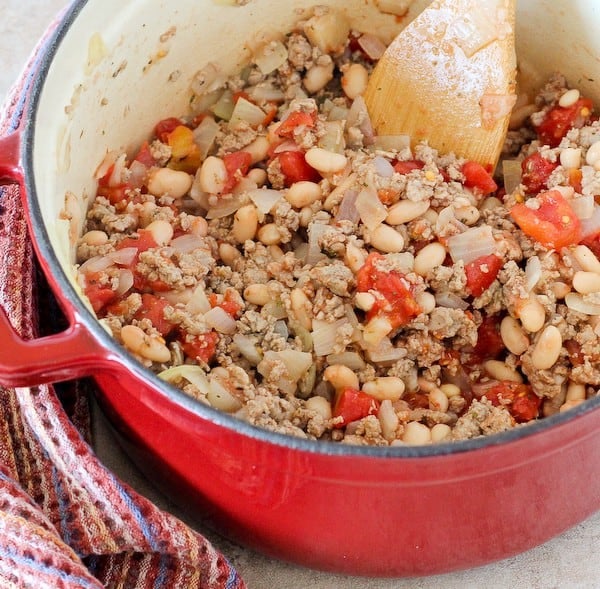 Then you PILE on the spinach. You can do this in batches if need be, but mine all fit in the pan. Cover for a couple of minutes to let the spinach wilt.
You might have to stir it a couple of times to help it along.
Add in your chicken stock and bring up to a boil to make sure it is good and hot. (A stove helps for this step but I have no light in my kitchen so I hauled this heavy pan back and forth into the living room. I do it because I love you.)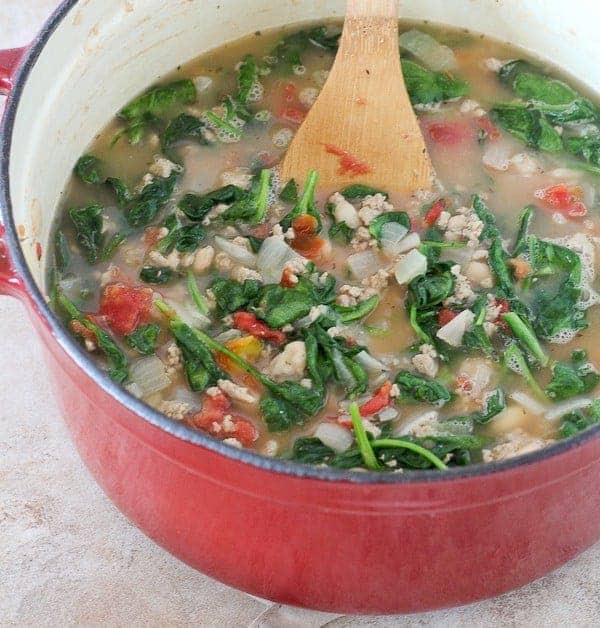 Once it is hot, remove it from heat and throw in the KRAFT Grated Parmesan Cheese. This is what makes it really, really good.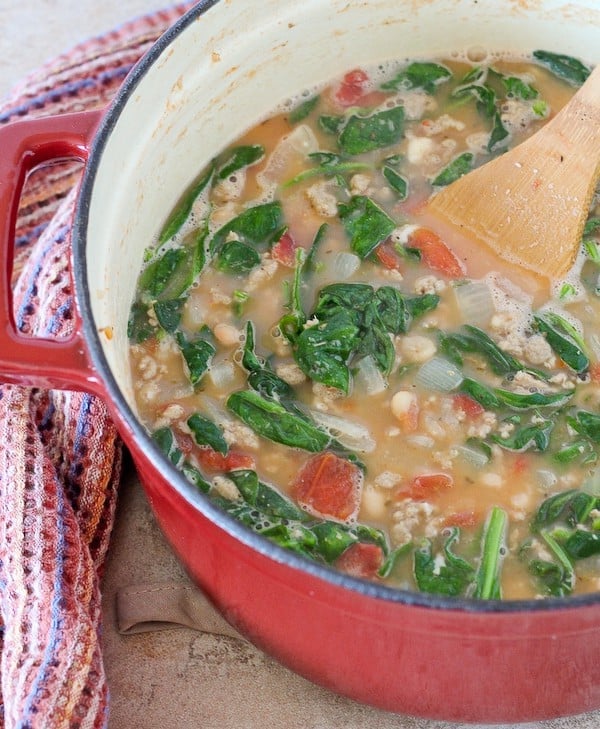 There ya have it! A healthy soup recipe ready in 20 minutes that won't make you fat and doesn't come from a can.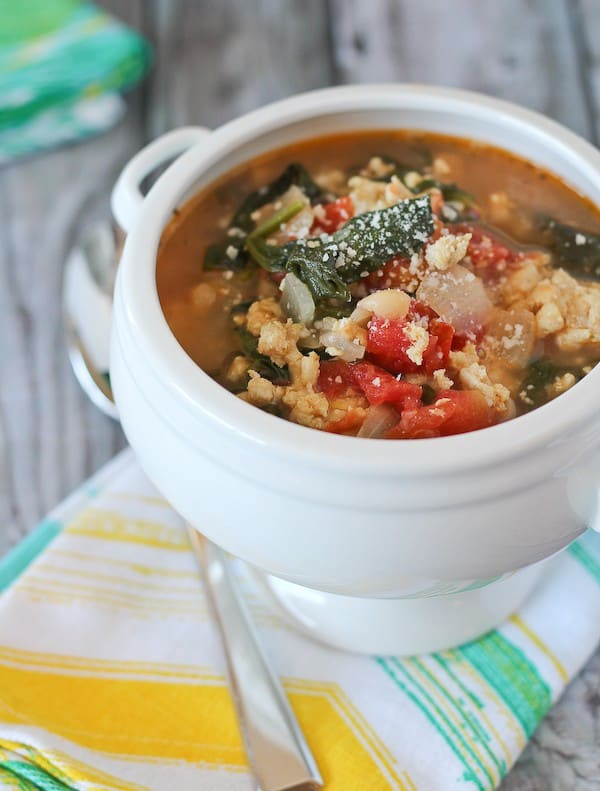 20 Minute Turkey, Bean and Spinach Soup
This healthy soup recipe comes together in 20 minutes or less, but it is packed full of protein, vegetables, and most importantly, flavor! Your whole family will love it.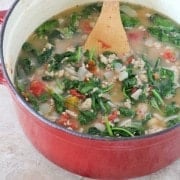 Ingredients:
1 tablespoon extra virgin olive oil
1 pound extra lean ground turkey
1 medium yellow onion, diced
1 clove garlic, minced
pinch of red pepper flakes
1/4 teaspoon black pepper
1 teaspoon dried oregano
1/2 teaspoon dried basil
1 (14.5 ounce) can HUNT'S Diced Tomatoes
1 (15.8 ounce) can great northern beans, drained and rinsed
8 ounces baby spinach
3 cups low-sodium chicken broth
1/2 cup KRAFT Grated Parmesan Cheese, plus extra for garnish
Directions:
Heat the oil in a large pot over medium-high heat. Brown the turkey with the onions, garlic, red pepper flakes,and pepper until the turkey is cooked through and then onions are translucent (about 7 minutes).
Add the oregano, basil, HUNT's tomatoes (with liquid), and beans. Stir to combine.
Reduce heat to medium-low, add spinach and cover for about 2 minutes or until spinach is wilted. Stir to combine.
Add broth, stir, and increase heat to medium. Continue to cook until heated through – about 5 minutes.
Remove from heat, stir in KRAFT Grated Parmesan Cheese, and serve.
All images and text ©Rachel Cooks.
Still need more "Inspired Authenticity, Weeknight Simplicity" inspiration? I have a Pinterest board devoted to the subject and you can also check out KRAFT's Facebook and Pinterest pages for tons of great recipes.
Disclosure: I worked in partnership with the KRAFT brand to develop this healthy soup recipe and I received compensation for my participation in this campaign. All thoughts/opinions are 100% my own.