Roasted Grape and Ricotta Crostini
I had a little party with some friends recently (you'll hear more about that soon), and I made these roasted grape and ricotta crostini. I wasn't actually going to share this recipe until I tasted it and had that "holy crap I need to share this recipe" moment.
Bear this in mind when you see my photo.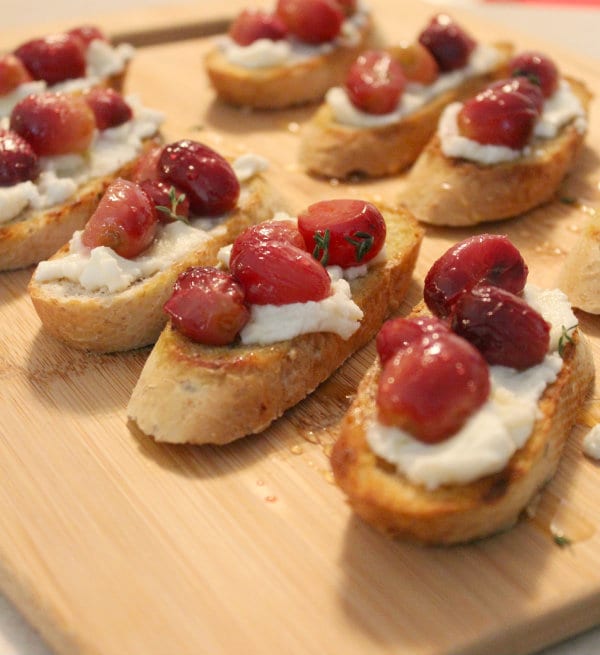 See? Oh well. Make the recipe and you won't care that I pulled a "Hold on I have to hurry up and photograph this recipe." I wasn't taking it outside for natural light, I wasn't getting linens to match, I was just grabbing a shot of it and getting back to hanging with my friends.
Roasted grapes might be one of my favorite things. I mean…they aren't replacing popcorn anytime soon but I do love them! Back in the day, I first tried them in this pork tenderloin with roasted grapes and ever since, I've been hooked. They are sweet, soft, and so flavorful. If you haven't tried them, make these crostini and enjoy!
Roasted Grape and Ricotta Crostini
Your guests will love this crostini appetizer. Simple to make and so delicious and unique. Perfect warm or at room temperature.
Ingredients:
1/2 of a whole grain baguette, cut into thin slices (~1/4 inch)
1 cup red grapes
3 tablespoon extra virgin olive oil, divided
1/2 teaspoon kosher salt
4 sprigs of fresh thyme, plus extra if desired for garnish
1 cup ricotta cheese at room temperature
honey, optional
Directions:
Preheat oven to 450 degrees F. Spread grapes on foil or a non-stick rimmed baking sheet. Toss with 1 tablespoon olive oil, salt, and thyme sprigs. Roast for 7-8 minutes or until grapes begin to burst
Meanwhile, heat a skillet over medium-high heat with 2 tablespoons olive oil. Place bread with one cut side down into olive oil and toast until golden brown and crispy. Spread ricotta over toasted bread and top with roasted grapes, extra thyme, and drizzle with honey. Enjoy immediately(ish).
Verdict: I loved these little toasts and so did all my friends.
Husband's take: Sorry you missed out, Ben.
Changes I would make: Make MORE next time.
Difficulty: Very easy!
Craving more roasted grapes? I can't wait to try these fun recipes:
Grilled Goat Cheese Sandwich with Honey Roasted Grapes and Walnuts from Bake Your Day
Roasted Grapes with Yogurt Cream from Pastry Studio
Roasted Grapes and Pearl Onions from Sunday Suppers
Spinach Quinoa Salad with Roasted Grapes, Pears and Almonds from Two Peas & Their Pod
PS: I just found out that if I take photos on my phone in rapid succession, they are automatically uploaded to Google+ and then converted into a GIF. Want a glimpse of my life and E's super funny cross-eyed look? Here we go…potty on the floor and everything. Woohoo! If only you could hear N giggling.