Chocolate Candy Cane Kiss Cookies
Can we just talk about these kisses for a minute? They are Hershey's holiday Candy Cane kisses and they are marvelous. I was skeptical at first, thinking they might be overly sweet. They are sweet, don't get me wrong, but I was totally won over by the little crispy bits in these. Have you ever had those melt away mints that come in all the pastel colors with the little white "candies" on the bottoms of them? I'm sure they have a name, they are served at parties and weddings frequently. They're totally addicting and these kisses taste just like them. I'm hooked. Pair them with a rich chocolate cookie and I'm a happy camper.
I used the same cookie base as I did in the Chocolate Cherry Thumbprints, because really…it is just that good. Paired with the creamy deliciousness of these kisses–you'll want to send these away on cookie platters to friends and family, just to get them out of the house. If you look really closely at my pictures, you'll see that the tips of the kisses got slightly brown. It will remind you of a toasted marshmallow, there is a tiny bit of crunch and it still tastes great! Just keep an eye on them or you'll be in trouble.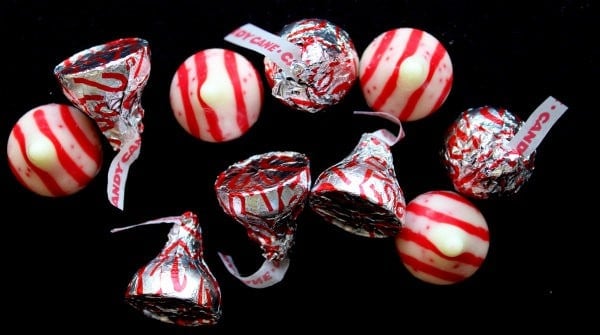 Chocolate Candy Cane Kiss Cookies
Peppermint kisses pair with chocolate cookie for the perfect sweet treat.
Ingredients:
2 cups all-purpose flour
1/3 cup unsweetened cocoa powder
1/4 teaspoon fine salt
1 cups (2 sticks) unsalted butter, softened
1 1/2 cups sugar, divided
1 large egg
1 tablespoon pure vanilla extract
one 10-ounce package of Hershey's Candy Cane Kisses
Directions:
Preheat oven to 350 degrees F. In a medium bowl, whisk together flour, cocoa powder and salt. Using an electric mixer and a large bowl (or a stand mixer), beat butter and 1 cup of sugar on medium-high until light and fluffy (about 3 minutes). Add egg and vanilla and beat until combined. Turn mixer to low and gradually add flour mixture until combined.
Put the remaining 1/2 cup of sugar in a small bowl. Roll dough into approximately 1-inch balls and then toss in sugar to coat. Place one inch apart on parchment-paper or silicone baking sheet lined baking sheets. Bake for five minutes at 350 degrees. Remove from the oven and lightly press in candy cane kisses into the center of each cookie. Return to oven and bake for another 3 minutes. Cookies should be set but still look moist. Cool completely on the cookie sheets on wire racks.
All images and text ©
.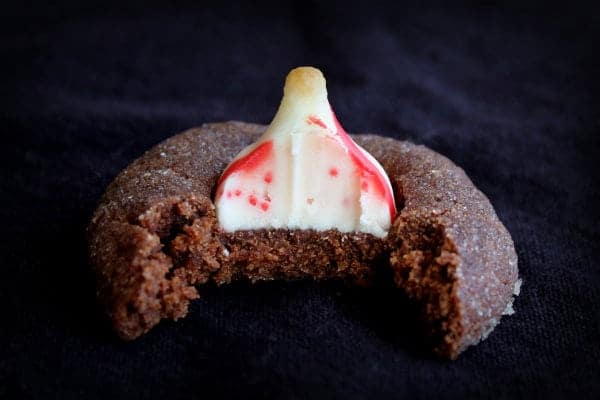 Verdict: Loved these! Sent them off to work with Ben to get them out of the house.
Husband's take: He didn't try these! He set them out at work and didn't get a chance to eat one. His loss!
Changes I would make: Nada
Difficulty: Easy