16 Bean Soup
This 16 bean soup is a warm and comforting soup, perfect for cool weather – and includes no strange seasoning packets!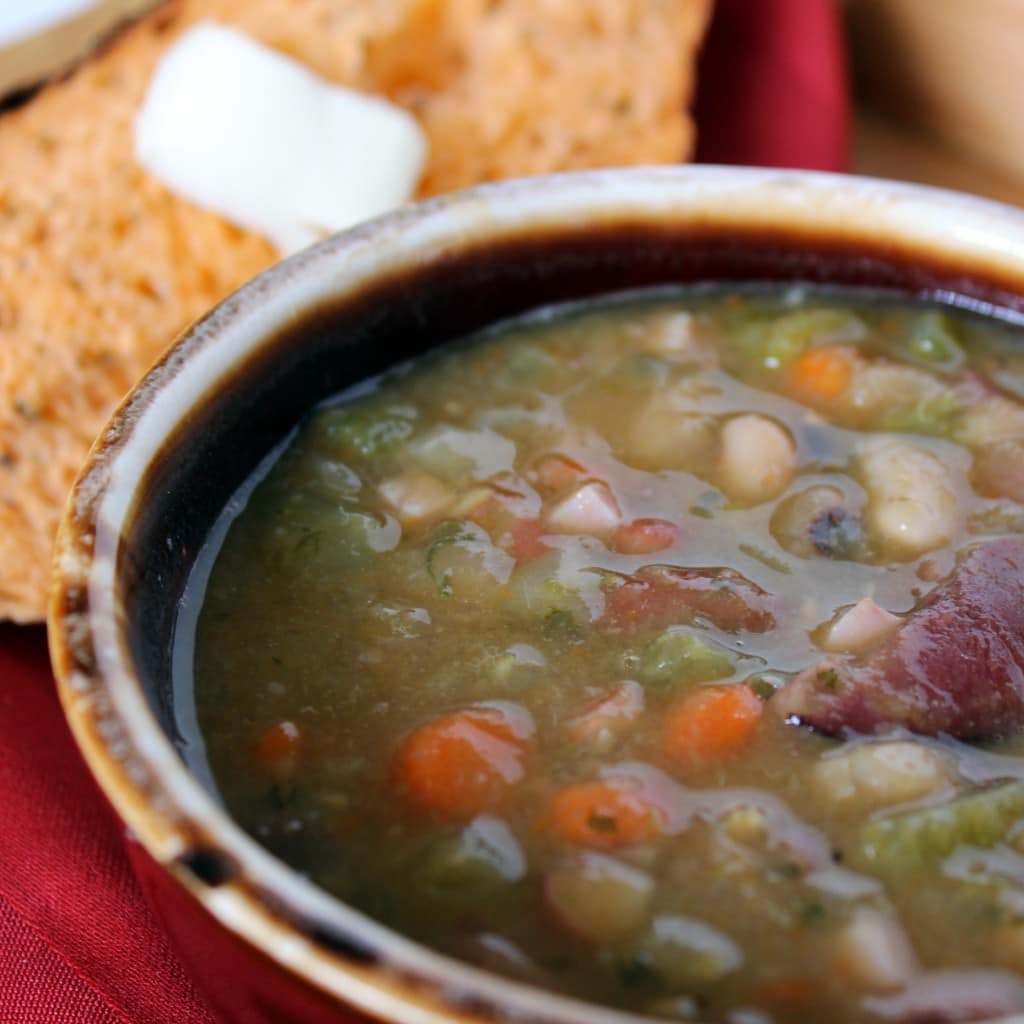 Repeat after me:
"I, beautiful, kind, smart and valued reader of Rachel Cooks, do solemnly swear, to never, ever, ever throw away a ham bone."
Unless you're a vegetarian or you don't eat pork for religious reasons. But then I'm not really sure what you're doing with a ham bone in the first place.
The ham bone takes this soup from mediocre to amazingly delicious. Trust me.
Did you know you can freeze ham bones? Now you really have no excuses for throwing it out. Just toss it in a zip-top bag and stick it in your freezer until you're ready to make this soup.
You might be thinking, "Doesn't the 16 bean dried bean mix come with a packet of ham flavoring?"
Doesn't look like ham to me!
And just for kicks, here is the list of ingredients: Salt, dextrose, maltodextrin, sugar, bacon flavor (which has nine ingredients in and of itself), disodium inosinate, disodium guanylate, ham flavor (which has an additional four ingredients), and silicon dioxide added as an anti-caking aid.
An anti-caking aid? Gross! Now I'm a label reader, but I'm not an obsessive label reader. Yes, I put some things in my body that probably aren't the best for me and probably aren't all-natural, but why put in nine ingredient "bacon flavor" when all you need is a ham bone and a couple of spices and herbs? And I'm willing to bet that it probably even tastes better than that little tiny package labeled "ham."
16 Bean Soup
This 16 bean soup is a warm and comforting soup, perfect for cool weather – and includes no strange seasoning packets!
Ingredients:
20 oz. bag of 16 Bean Soup Mix (Any bean mix will do, really.)
1 teaspoon olive oil
6 small carrots, peeled and diced
3 celery stalks, diced
1 medium yellow onion, diced
salt and pepper to taste
1/2 teaspoon ground cumin
1 tablespoon dried parsley
1 whole bay leaf
1 ham bone
water
8 oz. diced fully cooked ham (you can use leftover ham if you have it, but our ham bone was pretty well picked dry)
Directions:
Rinse beans and sort for foreign objects.
Pour beans into a bowl, cover with water and soak overnight (for at least 8 hours). There's a quicker method on the package of beans but I usually go with the overnight technique if I remember.
Drain water from beans and rinse again.
Heat oil in large Dutch oven over medium-high heat, and throw in onions, carrots, and celery. Season with salt and pepper. I'd go light on the salt because you'll get a lot from the ham.
Saute until softened and onion is becoming translucent.
Add in cumin, parsley, and bay leaf. Stir to combine.
Add in beans, ham bone, and fill with water until all ingredients are covered by about 1 inch of water. You can always add more later if it gets too thick.
Bring to a boil and then reduce heat and simmer for about 1.5 hours
Remove ham bone, add diced ham, and simmer for another half hour. Or so. No need to be exact about things. I think mine was on the stove for about four hours total. I like to add the diced ham in at the end, because I think it tends to get tough if it simmers the whole time.
Taste and adjust seasonings as desired. Remove bay leaf and serve!
All images and text ©
.
Verdict: I love the stuff. Total comfort food. Healthy too!
Husband's take: He calls it slop, but he likes it. Said, "It is really filling!" That's a good thing when you're feeding a man.
Changes I would make: None.
Difficulty: Easy!