Southwestern Stuffed Mini Sweet Peppers
These stuffed mini sweet peppers have a perfect touch of the southwest. Spicy, creamy, crunchy and so tasty! What more could you want?
These little buggers are one of my latest favorites. They are so good and so addicting. Little tiny (and might I add, adorable) sweet peppers stuffed with spiced-up gooey cream cheese and topped with crunchy panko breadcrumbs? I mean, really–what could go wrong in this scenario?
Did I add that they are unbelievably easy to make? Granted, prepping the peppers and stuffing them is slightly on the time-consuming side, but let me tell you–they are worth it! If you want to cut down on prep, prepare the filling in advance and then stuff and bake the day of your event. Also, don't stress too much. These are terrific hot out of the oven, but they also taste great as they cool.
And soooo adorable! These stuffed mini sweet peppers would make the perfect appetizer for a Cinco de Mayo party, or any other party for that matter.
Or for a midnight snack. Or a morning snack.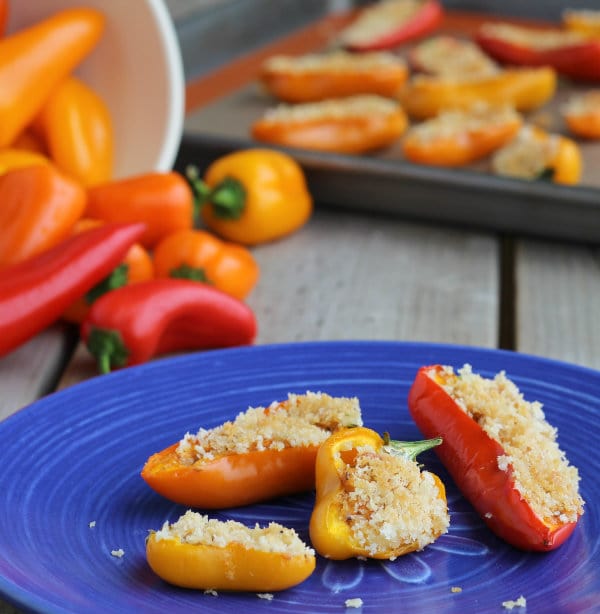 Needed for this recipe:
Southwestern Stuffed Mini Sweet Peppers
Yield: 12 appetizer servings
Prep Time: 30 minutes
Cook Time: 18 minutes
Total Time: 48 minutes
These stuffed mini sweet peppers have a perfect touch of the southwest. Spicy, creamy, crunchy and so tasty! What more could you want?
Ingredients:
1/2 pound of sweet mini peppers
8 ounces reduced fat cream cheese, softened
1 cup grated sharp cheddar (I used white cheddar)
2 tablespoons taco seasoning
1 cup panko bread crumbs
2 tablespoons unsalted butter, melted
Directions:
Preheat oven to 350 degrees F.
Cup peppers in half, leaving stems on. Remove seeds and ribs.
In a bowl, mix together cream cheese, cheddar cheese and taco seasoning with a fork. Fill each pepper half with this mixture, so it is level with the edges (not heaping). Place pepper half on a large rimmed sheet pan and continue until all peppers are stuffed.
In a small bowl, pour melted butter over panko crumbs and mix to combine. Top each stuffed pepper half with these bread crumbs, lightly patting down to adhere. Return to sheet pan.
Bake peppers for 15 minutes, turn oven off and turn broiler on. Broil for 2-3 minutes or until breadcrumbs are browned. Watch carefully! Cool slightly before serving.
Verdict: Better than potato chips. Wait, did I just say that? No really, these things are so stinkin' tasty.
Husband's take: Ben loved these stuffed mini sweet peppers! So did my mother-in-law and everyone that tried them.
Changes I would make: Make more next time.
Difficulty: Slightly time consuming, but easy!
Update: My mom made these for a NYE party and she said they were a huge hit. She had some leftover filling and she said it was fantastic as a cold spread on crackers. So you could always make triple what you need and then enjoy it all week long.
PS: I love it when my mom makes and loves my recipes. And if you're raising an eyebrow, don't. She's totally honest and she would tell me if she hated a recipe. She also texts me when I have typos on my blog, for which I am eternally grateful.