Easy Crockpot Stuffing – perfect every time!
Try crockpot stuffing this Thanksgiving and free up valuable oven space. Once you have this stuffing in the slow cooker, it's hands off and never gets dried out.
Recipe Overview
Why you'll love it: This recipe makes great stuffing and it's easy to adapt it — make it your own!
How long it takes: 25 minutes to prep, 5 to 7 hours in the crockpot
Equipment you'll need: large skillet, large mixing bowl, slow cooker
Servings: 12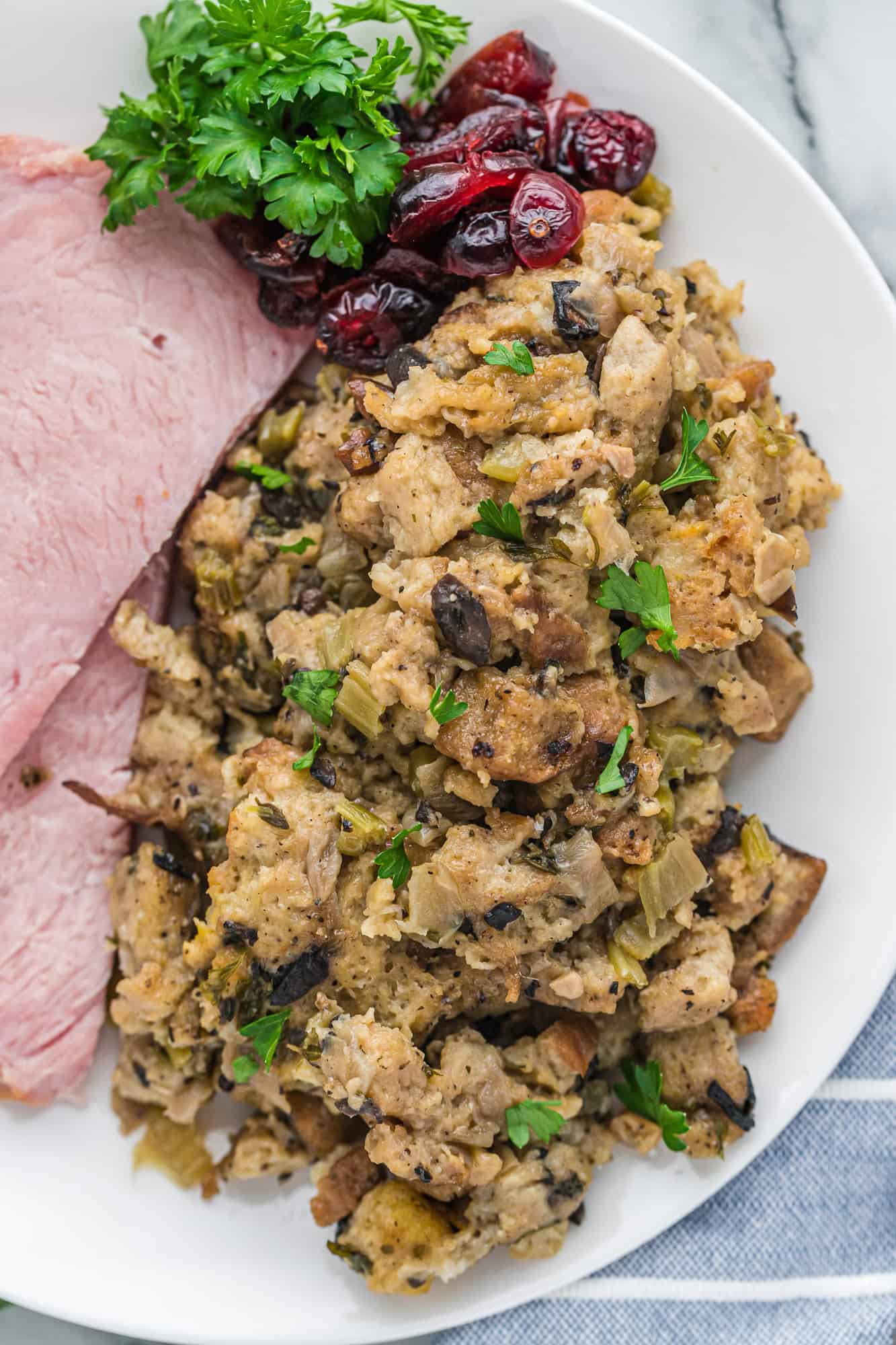 Stuffing, dressing, whatever you want to call it, it's hands-down my favorite part of Thanksgiving. (I mean, in terms of food. Because obviously I like my family more than stuffing. Most days.)
There are a thousand different variations of stuffing. Some like it with sausage or giblets, or made with cornbread. Some folks add apples, cranberries, raisins or chestnuts, and there are those who like it gluten-free and make it with quinoa or make farro stuffing.
The very best part of this stuffing? It's made in a crockpot. So technically, since it isn't stuffed inside a turkey, maybe we should call it dressing, but to me, stuffing is stuffing, in the bird or in a slow cooker.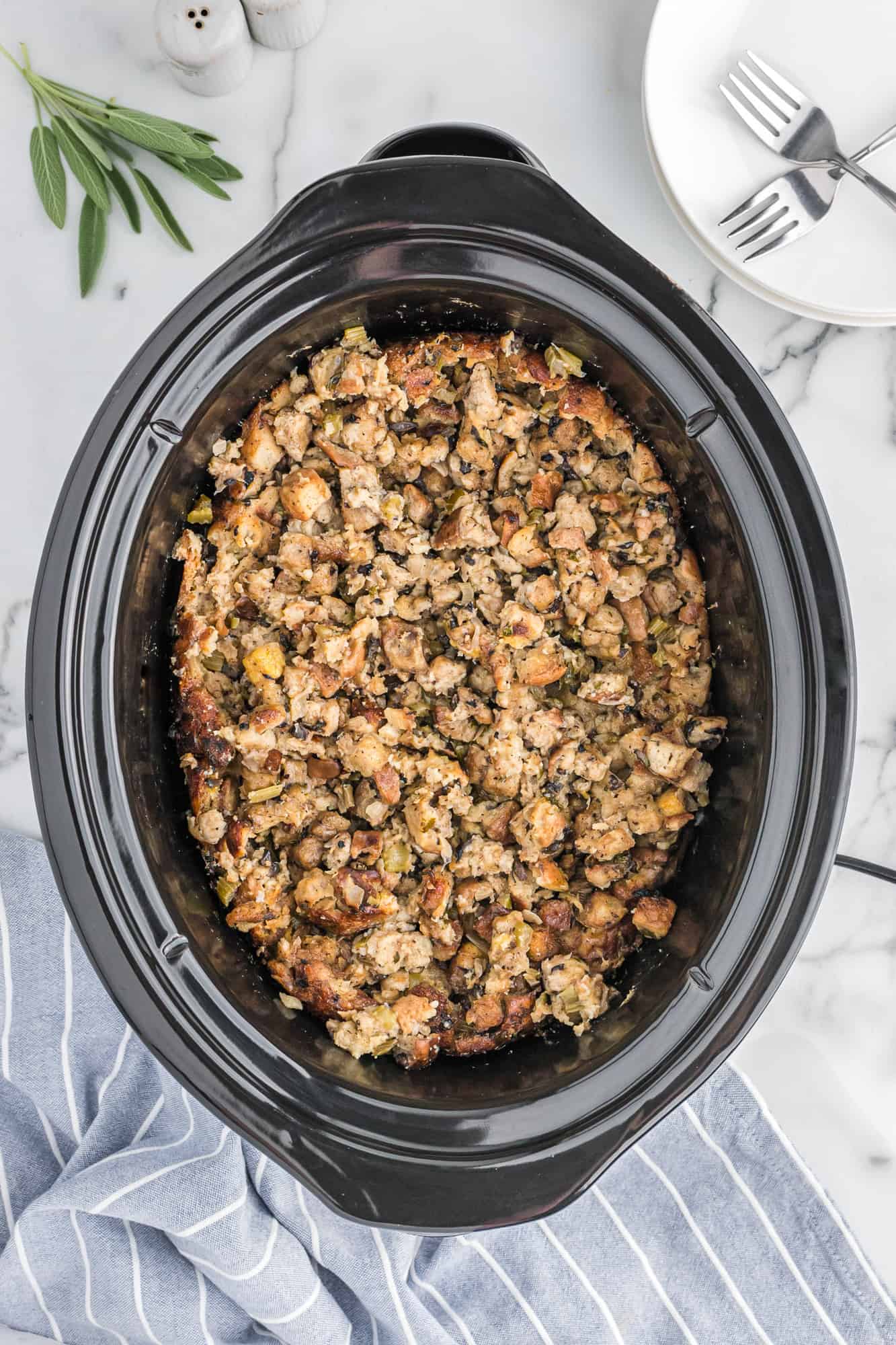 Why Make Crockpot Stuffing?
Each time I make this recipe, I'm more and more convinced it is THE WAY to go. Here's why:
Frees up valuable oven space. Turkeys are BIG, right? They take up tons of space in the oven. So until you have that dream kitchen with six ovens (ha!), it's helpful to have a little extra room for the bird and other delicious sides.
Moist and perfect stuffing every time. Have you ever had dry, hard stuffing? Ick. What a waste of calories. In the slow cooker, the stuffing never dries out.
End time is flexible. Timing is harder to screw up when you're using a slow cooker. So if your turkey isn't quite ready yet (and we've all been there), no worries! The stuffing will be just fine. You can take that little worry right off the plate.
Make ahead. It takes a little time to prep this stuffing but it's not difficult, just chopping lots of vegetables and herbs. But here's a good thought: you can do the chopping the night before!
It's hands off (fix it and forget it). The huge bonus is that once you get the stuffing in the crockpot, you can completely forget about it for six or more hours and focus on other parts of the big dinner, not to mention your lovely family and friends.
Easy to Transport
Not making dinner this year? If you've been invited to someone else's home for dinner, offer to bring a crockpot of stuffing! It's so easy to unplug and carry it with you. It will be ready whenever your host is. They'll be so relieved that they don't have to squeeze one more dish into their oven.
I'll get you started with the recipe here and give you lots of extra tips. The printable recipe card can be found near the bottom of the post, with complete instructions and nutrition information.
What You'll Need
Celery, Onion, Mushrooms, Garlic: This savory mix of veggies adds so much flavor and texture to dressing. Finely chopped mushrooms give it a meaty feel without adding any sausage or giblets.
Olive Oil: You'll need just a couple of tablespoons to sauté the veggies, which are seasoned with a bit of salt and pepper.
Butter: All good dressings include melted butter. You'll need a stick of unsalted butter.
Eggs: A couple of beaten eggs make the stuffing fluffy and moist, much like French toast or bread pudding.
Chicken Stock: Choose reduced or no sodium chicken stock. If you're really ambitious, make homemade turkey stock ahead of time to use instead. Vegetarians can substitute vegetable stock.
Herb Seasoned Cubed Stuffing: You'll need one and a half bags of dried bread cubes (18 oz.). I like the herb seasoned cubes best even though we're adding lots of fresh herbs, too.
Fresh Rosemary, Parsley, Sage, and Dried Marjoram: Fresh herbs really do make a difference! Fresh marjoram can be a little difficult to find so I use dried. If you have an herb garden, lucky you! Most woody herbs will grow well into the colder months even if you have to scrape a little snow off first!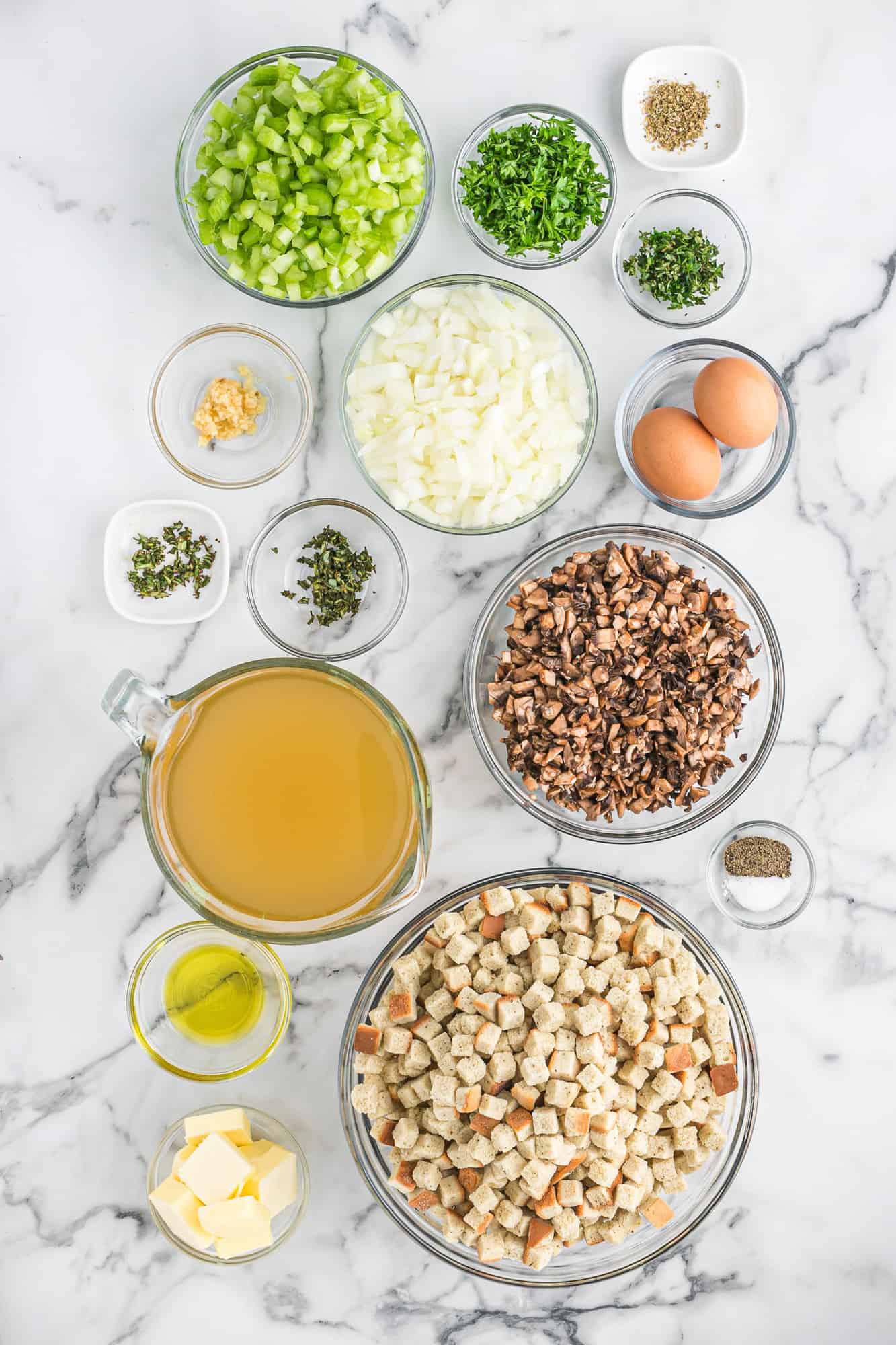 How To Make Crockpot Stuffing
Get started. Haul your crockpot out of the pantry or basement or wherever you store it. Make sure it's sparkling clean. Spritz the inside with a bit of cooking spray so you'll have an easy clean-up.
Gather all the ingredients you'll be using. You'll need a nice sharp knife and cutting board, too.
Chop the veggies. Start by chopping all the veggies to the size you like, whether it's little tiny bits of onion and celery or larger slices. It's totally up to you. Set the onion/celery mix to the side while you work on the garlic and mushrooms. If you chop the mushrooms finely, they will mimic sausage, giving your stuffing a more meaty texture. Mince the garlic, and set aside with the mushrooms. Go ahead and prep the fresh herbs, too.
Whew, lots of chopping, right? But now you're on easy street because the rest of the recipe is a breeze.
Sauté. Heat the oil in a large skillet on the stove and add the onions and celery. Cook them a few minutes until they start to soften. It only takes about five minutes.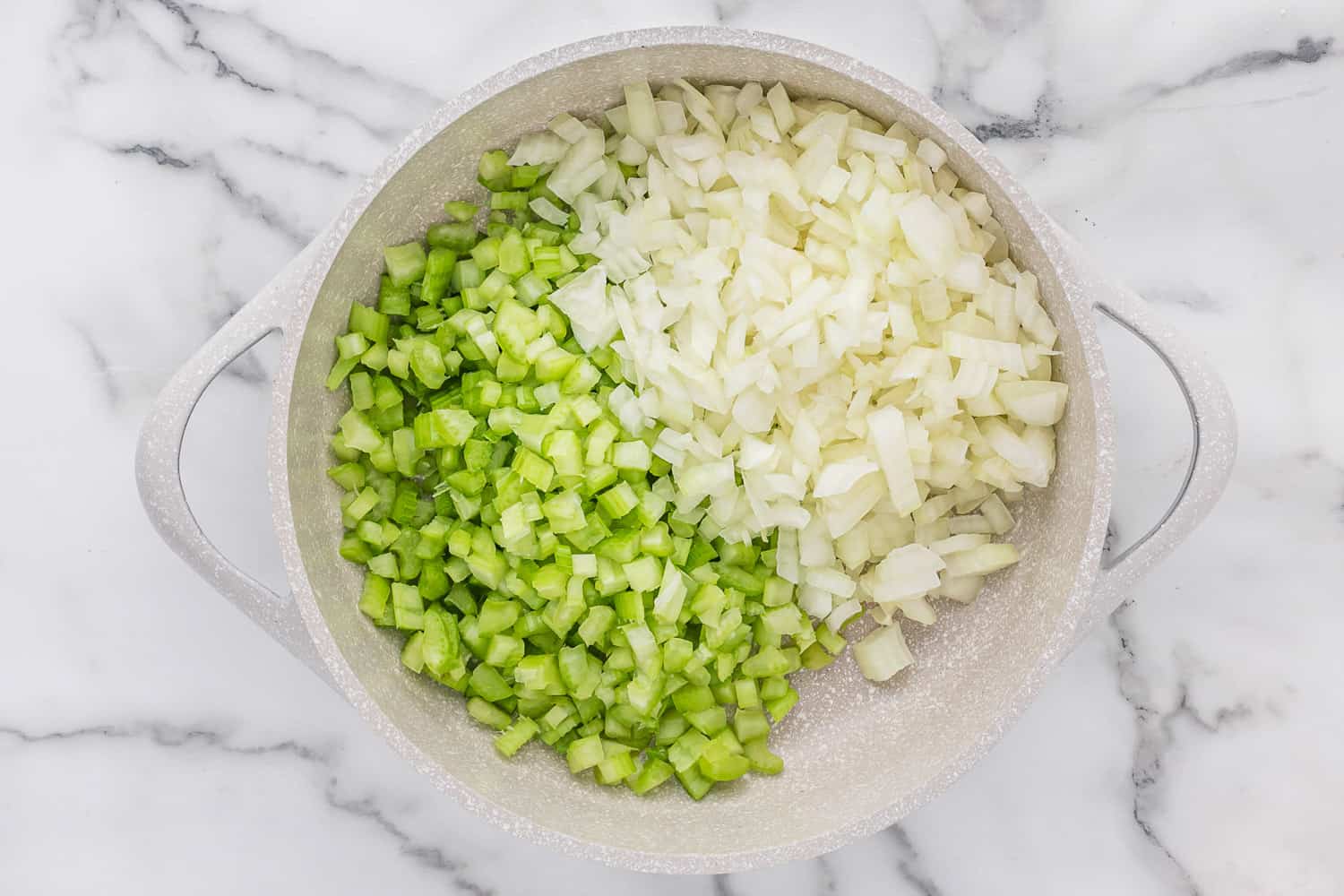 Add the mushrooms and garlic and cook them another five minutes or so, or until the mushrooms lose that raw look.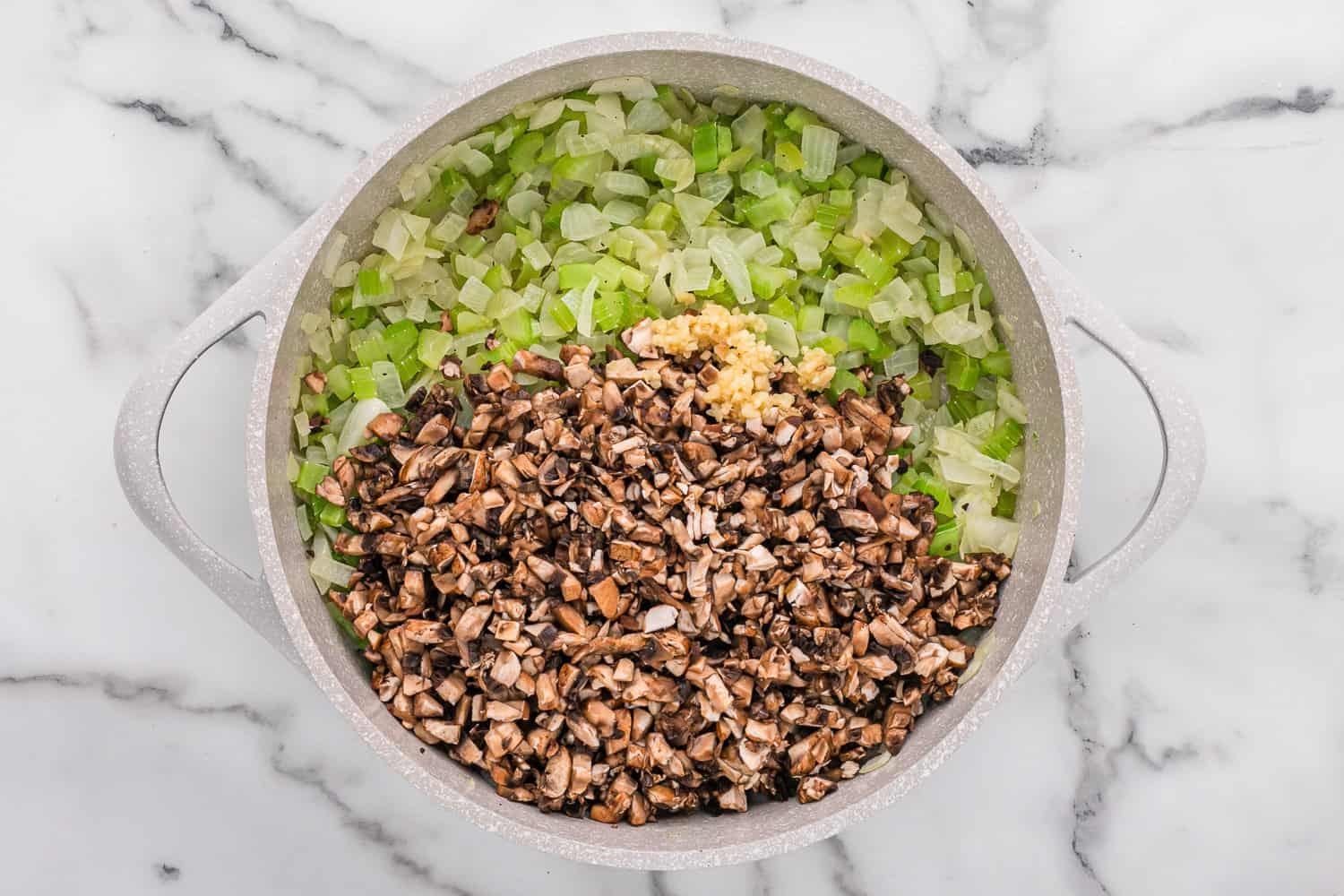 Add butter, broth, and herbs. Remove the pan from the heat and add the butter. It should be cut into small pieces so it melts quickly from the residual heat. Add the broth and herbs, giving everything good stir.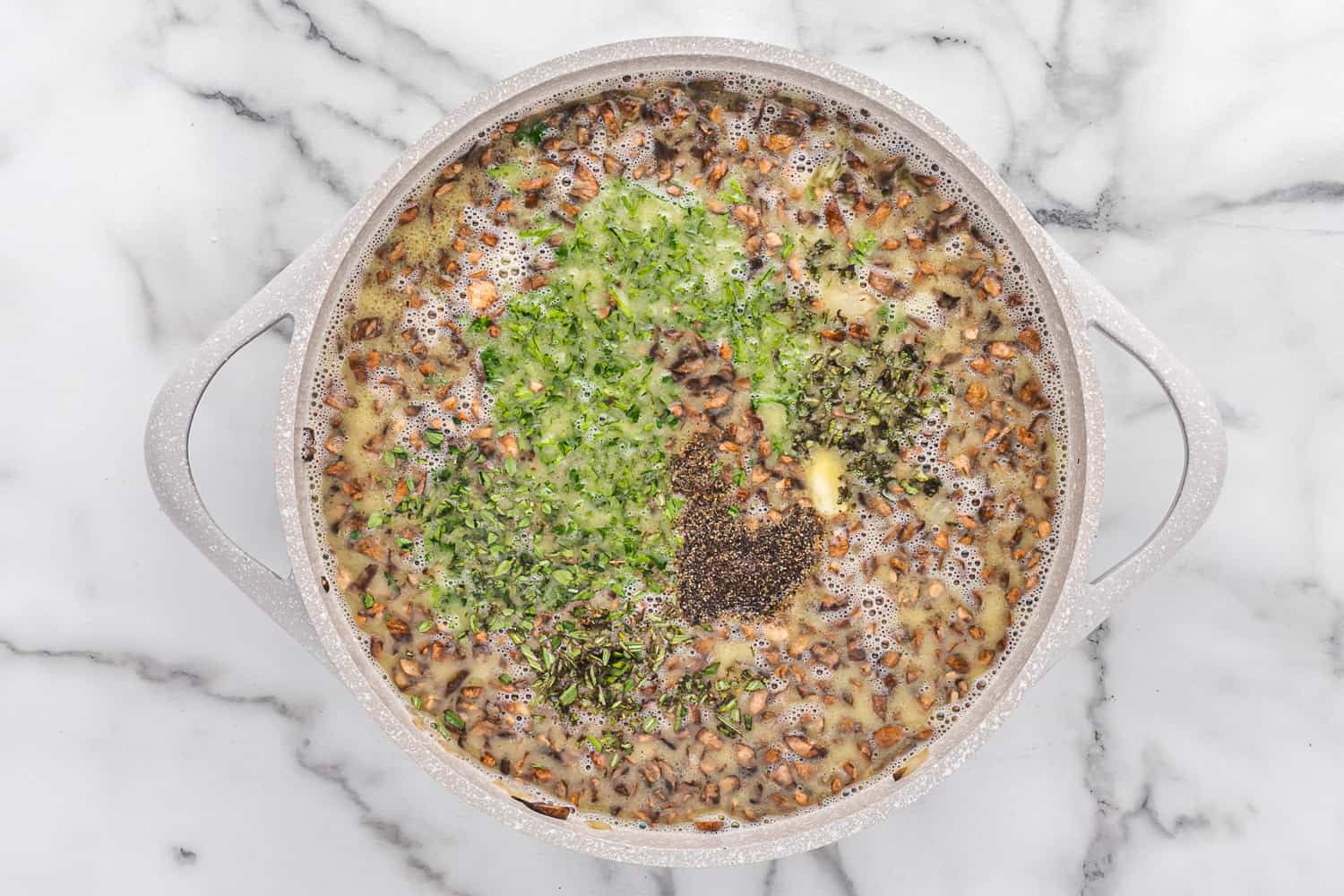 Beat the eggs. Find a nice big mixing bowl and beat the eggs until they're blended (just like you would do for scrambled eggs).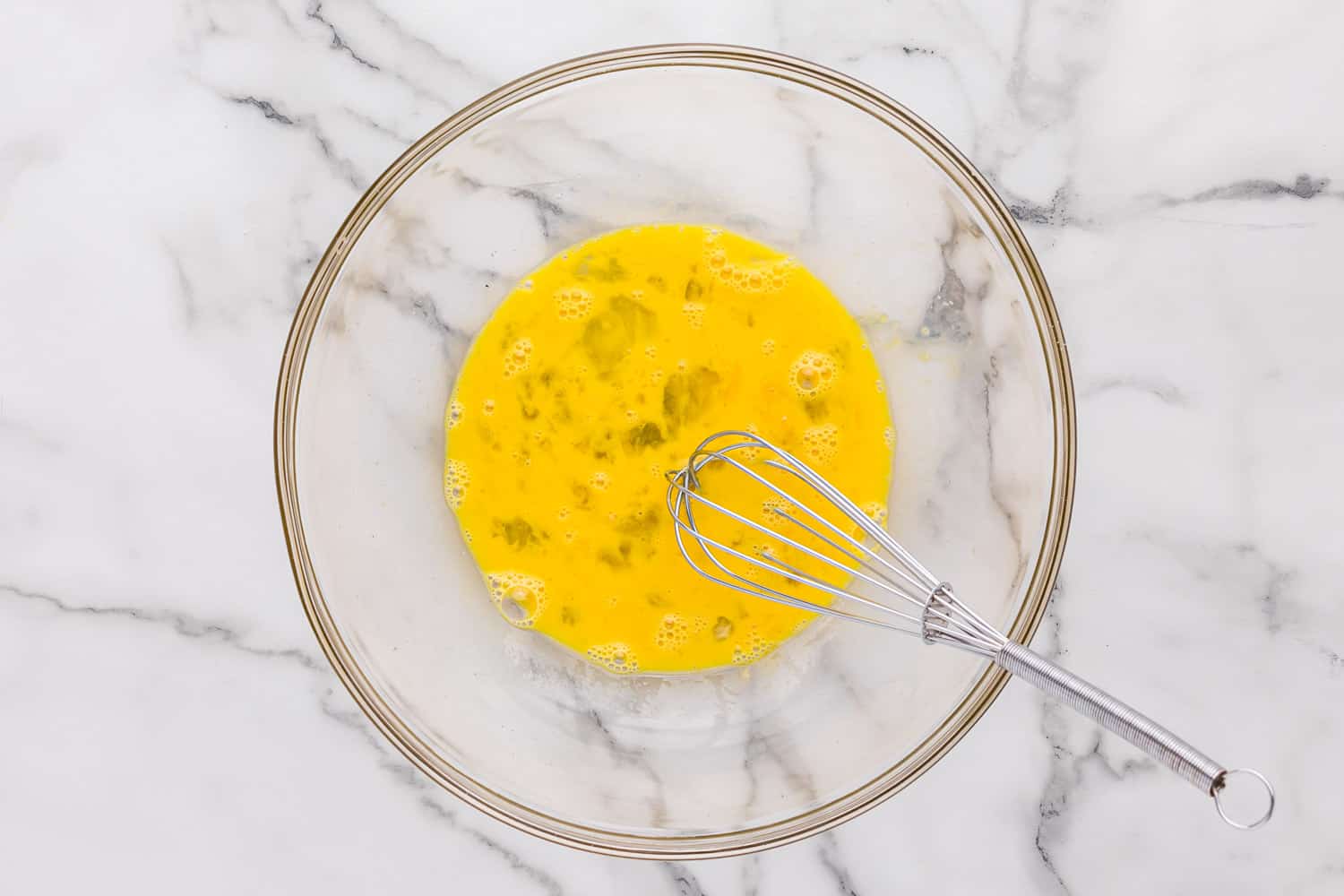 Add bread and combine. Add the dried bread cubes and then pour the broth mixture over the whole business. Stir lightly but thoroughly, folding the eggs through the mixture and making sure that everything is moistened and mixed together.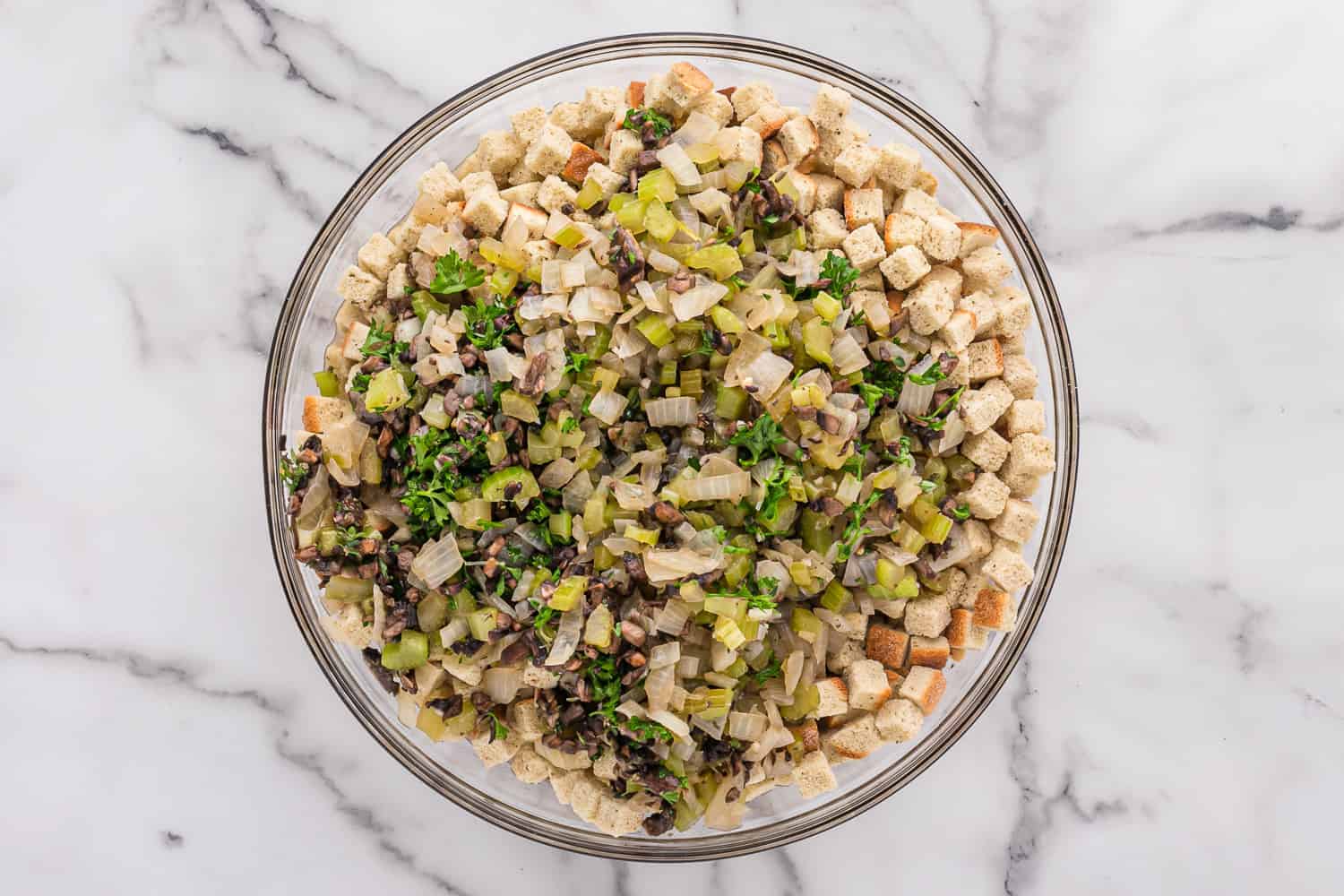 Slow cook. Transfer the whole business to your slow cooker and set it on High.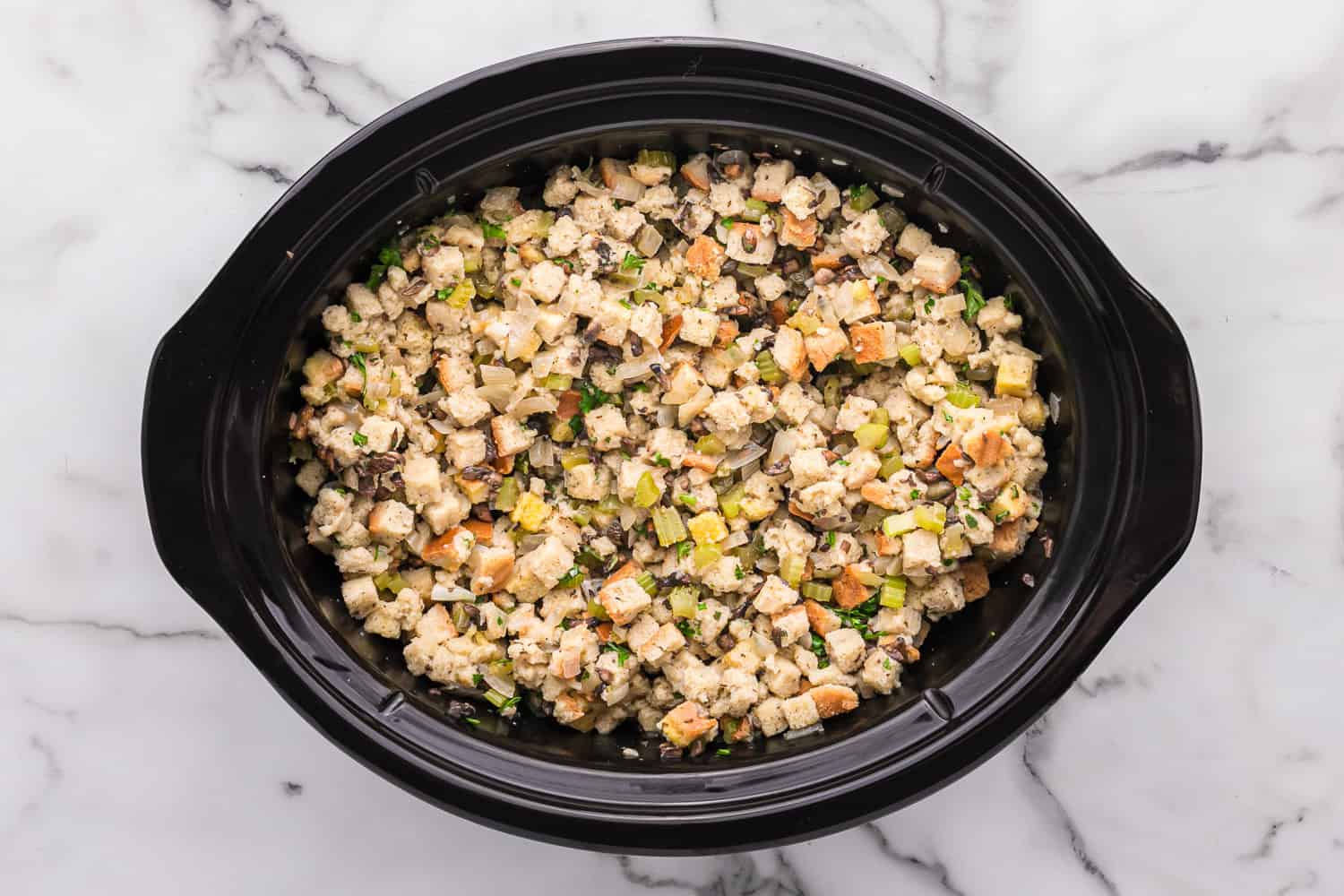 Cook for one hour and then turn the crockpot down to Low. Cook for an additional four to six hours. The stuffing will brown a bit on the bottom and edges but that's okay. The brown bits taste really good.
If your turkey is taking much longer than you were planning (and we all have had that happen), just turn the slow cooker to Warm when the stuffing is done.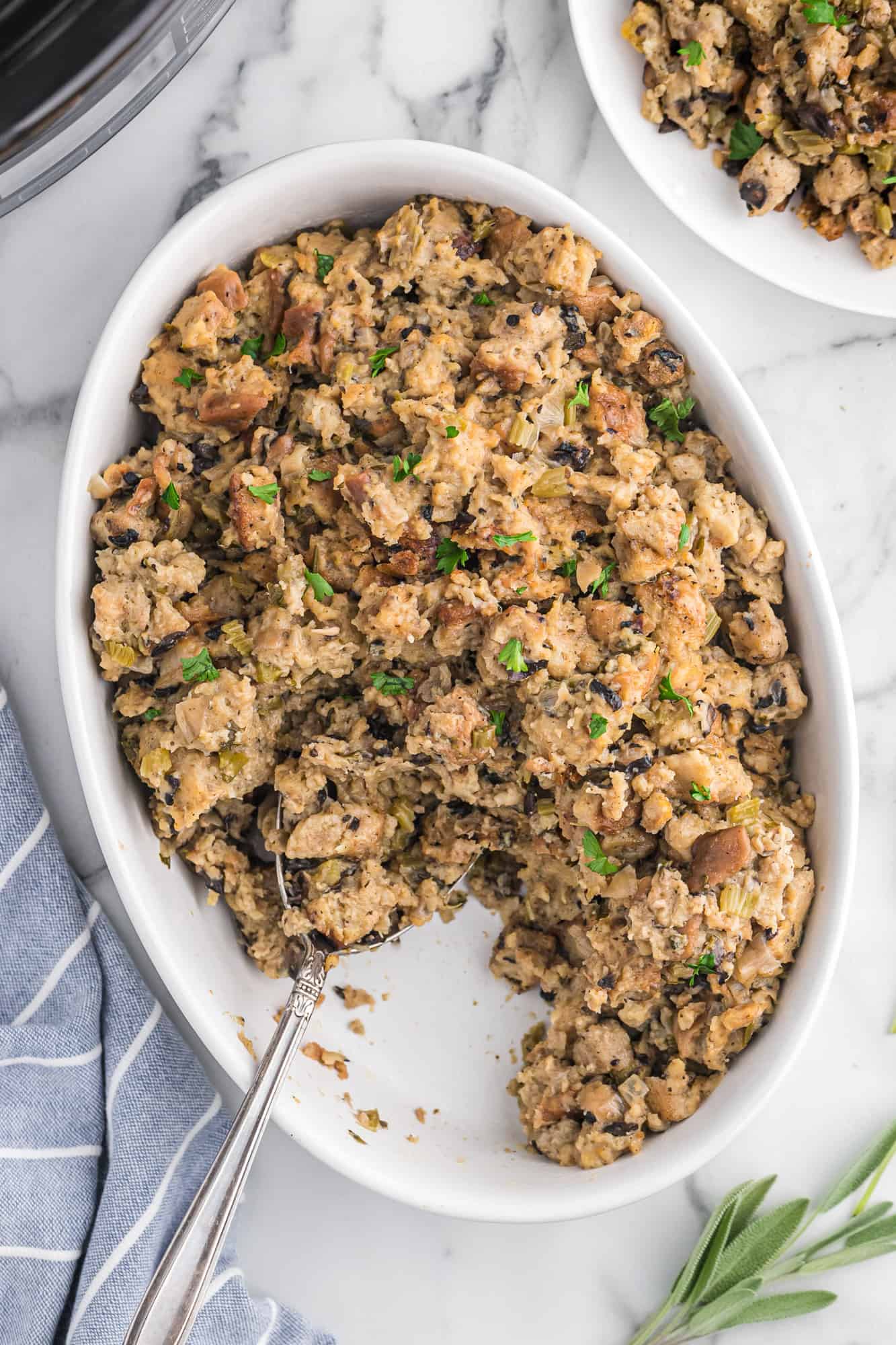 FAQs
Can I keep stuffing warm in a crockpot?
Certainly! Even if you made your stuffing inside the turkey or in a casserole dish, you can transfer it to a crockpot to keep it warm and at a safe temperature. If the stuffing is already hot, simply set the slow cooker to the Warm setting.
How do you reheat stuffing without drying it out?
I like to reheat leftover stuffing in a shallow baking dish, covered with foil. If it appears dry, add a bit of chicken stock to re-moisten it before reheating.
What is the difference between stuffing and dressing?
Although the terms are used interchangeably, technically stuffing means that it's been used to fill something, such as the cavity of a turkey. Dressing is cooked in a separate dish. Same thing, just cooked differently.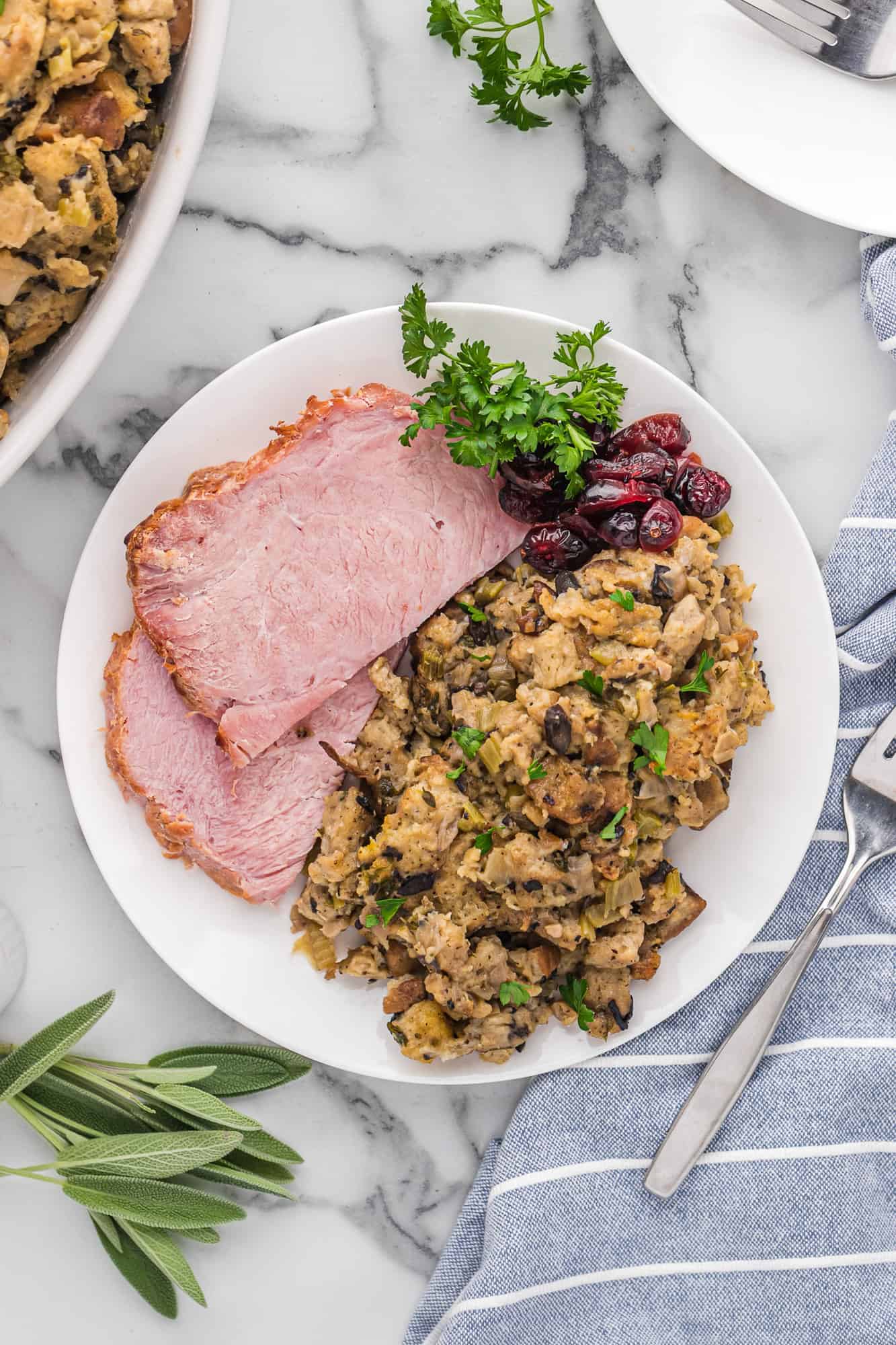 Make It Your Own
Vegetarian: Simply substitute vegetable stock for the chicken stock.
Meat-lovers: If desired, omit the mushrooms. Brown sausage or bacon to add to the stuffing. I love to add cooked and chopped turkey giblets and neck meat, too. Remove them from the cavity of the turkey and simmer in a small saucepan until they're tender. Chop finely.
More Add-Ins: Lots of folks love chopped apple, dried cranberries, raisins, or chestnuts. We love this apple stuffing made with sourdough bread and cranberries.
Make-Ahead Ideas
As I mentioned above, the celery, onions, and mushrooms can be prepped the night before. Store them in the fridge in a covered bowl or resealable bag. The fresh herbs can be prepped ahead of time, too, and stored in the refrigerator. That will save you at least fifteen minutes.
Storage & Reheating Tips
Refrigerate/Freeze: Remove leftover stuffing from the crockpot and put it into a container. If it's still very hot, let it cool a half hour or so before covering it and putting it into the refrigerator so that it doesn't bring down the temperature of your fridge. It will keep up to 4 days in the fridge or 3 months in the freezer.
Reheat: To reheat individual portions, just pop it into the microwave for a few seconds. If you're reheating a large amount, spread it into a greased baking dish, cover and heat in the oven at 350°F for 30 minutes or until heated through. If it seems a bit dry, stir in more broth before reheating. If you like a golden top, don't cover it.
Leftover Love
Other than using all of your leftovers to recreate another turkey and stuffing dinner, there are lots of ways to repurpose leftover stuffing, from waffles to muffins to soup. Check out 13 Easy Leftover Stuffing Recipes from Real Simple. You'll be glad you made a big batch of stuffing so you have enough left over for these yummy-sounding recipes!
Did you make this? Be sure to leave a review below and tag me @rachelcooksblog on Facebook, Instagram, or Pinterest!
Try crockpot stuffing this Thanksgiving and free up valuable oven space. Fix it and forget it, this stuffing never gets dried out.
Ingredients
2

tablespoons

extra virgin olive oil

3

cups

diced celery

3

cups

chopped onion

salt & pepper to taste

12-14

ounces

finely chopped fresh mushrooms

2

cloves

garlic, minced

½

cup

unsalted butter, cut into 8 pieces

(1 stick)

1

sprig

rosemary leaves, finely chopped

1 ½

tablespoons

fresh thyme leaves

¼

cup

chopped fresh parsley

½

teaspoon

dried marjoram

7

fresh sage leaves, finely chopped

½

teaspoon

ground black pepper

4

cups

reduced sodium chicken stock

2

large eggs

1 ½

bags

(12 oz. each) herb seasoned cubed stuffing
Instructions
In a large skillet, heat oil over medium high heat. Add celery and onion, season with salt and pepper, and sauté for about 5 minutes or until they begin to soften. Add mushrooms and garlic and continue to sauté until mushrooms are cooked.

Remove from heat, add butter and let the butter melt, stirring as needed. Stir in herbs, black pepper and chicken broth.

In a large bowl, beat the two eggs. Add cubed stuffing and pour the vegetables and broth over the stuffing. Stir to combine and put into a 7-quart slow cooker that has been sprayed with nonstick cooking spray.

Cook on High for 1 hour, and then reduce heat and cook on Low for 4 to 6 hours. If your dinner isn't ready yet, set your crockpot to Warm.
Notes
Vegetarian: Simply substitute vegetable stock for the chicken stock.
Meat-lovers: If desired, omit the mushrooms. Brown sausage or bacon to add to the stuffing. I love to add cooked and chopped turkey giblets and neck meat, too. Remove them from the cavity of the turkey and simmer in a small saucepan until they're tender. Chop finely.
More Add-Ins: Try chopped apple, dried cranberries, raisins, or chestnuts.
Storage Tips: Put stuffing into a covered container. Leftover stuffing will keep three to four days in the refrigerator or up to three months in the freezer.
Nutrition Information
Calories:
141
kcal
,
Carbohydrates:
7
g
,
Protein:
4
g
,
Fat:
11
g
,
Saturated Fat:
6
g
,
Polyunsaturated Fat:
1
g
,
Monounsaturated Fat:
4
g
,
Trans Fat:
1
g
,
Cholesterol:
48
mg
,
Sodium:
61
mg
,
Potassium:
310
mg
,
Fiber:
2
g
,
Sugar:
3
g
,
Vitamin A:
538
IU
,
Vitamin C:
8
mg
,
Calcium:
37
mg
,
Iron:
1
mg
This website provides approximate nutrition information for convenience and as a courtesy only. Nutrition data is gathered primarily from the USDA Food Composition Database, whenever available, or otherwise other online calculators.