Chicken Soup with Farro and Vegetables
Chicken Soup with Farro and Vegetables – an easy, healthy and filling weeknight meal. You'll love the texture of the farro in this soup.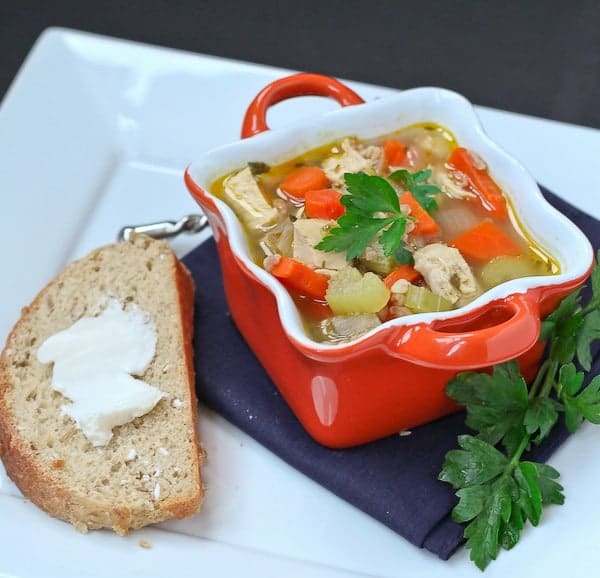 Here in Michigan, it has been collllllllllld. Winter has arrived in full force. This of course means I'm craving lots of warm soups and stews. Nearly all my soups turn out more like stew — we like them thick.
Less broth, more of the good stuff. If you have a guy in the house who might raise an eyebrow about eating soup as a main course – just make it super thick and full of great protein. He'll be happy and full – on soup alone!
As I mentioned earlier this week, I often buy and roast bone-in chicken breasts (I get the big ol' family pack of them). Once they are roasted and cooled, I'll shred them. Sometimes I keep the shredded chicken in the fridge but most often, I throw it into zip-top bags and freeze it. It makes for simple meals when I don't really know what I'm going to cook.
Just the other day, Ben came home from work for a few minutes before jetting back to work for an evening event. He was going to grab Subway on the way back to work but he had a bit of a sore throat.
So I convinced him to eat a quick dinner before he left again. I grabbed a bag of frozen shredded chicken out of the freezer and using that, I had homemade chicken noodle soup on the table in under 30 minutes. And he said his throat felt the best it did all day. The powers of homemade chicken noodle soup, my friends.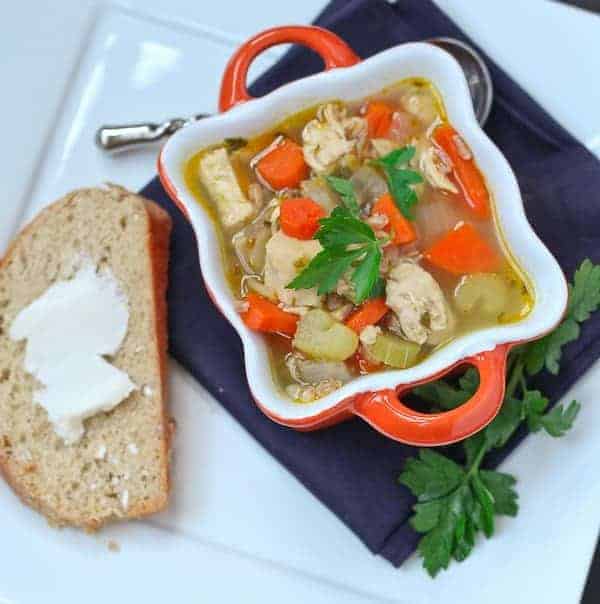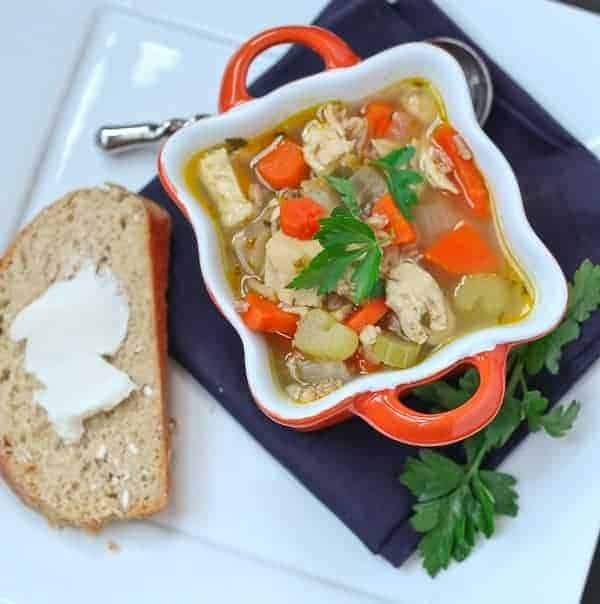 Instead of noodles, for this soup I use farro. Farro is a wheat grain — I'd describe it as similar in texture to barley. I often use barley for a soup like this (see my chicken barley soup with kale and butternut squash) but for variety, I decided to go with farro.
Farro helps to thicken this soup and it also retains a slight crunch to it. Not crunchy crunch – just a good bite. (I'm sure that totalllly makes sense. You better make this soup. Then you'll know what I'm talking about.)
Chicken soup for the soul. Enjoy!
If you love this, you'll also love Instant Pot Chicken Noodle Soup or Instant Pot Chicken and Rice Soup.
Craving more soup? Try: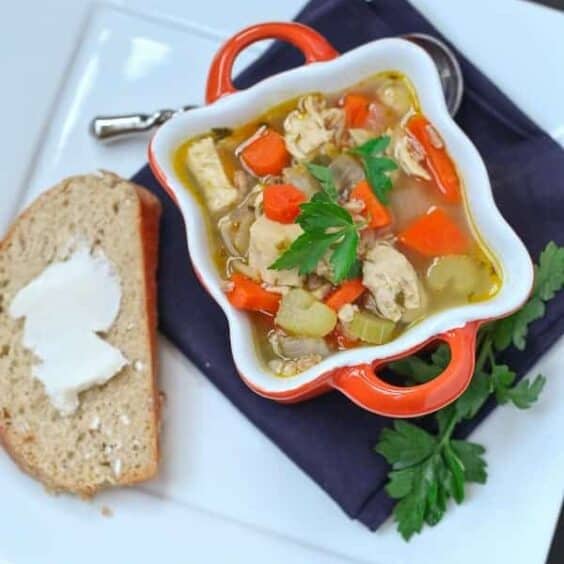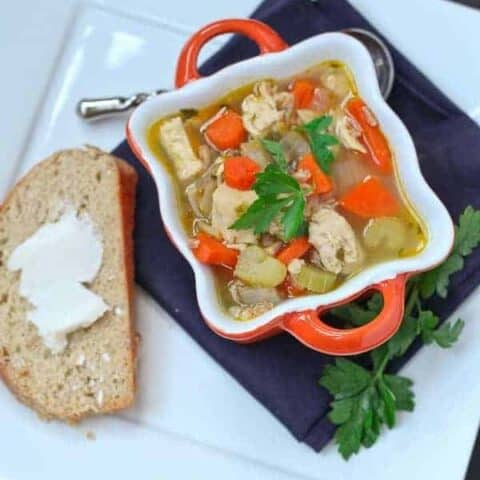 Chicken Soup with Farro and Vegetables
Yield: 8 servings
Prep Time: 10 minutes
Cook Time: 30 minutes
Total Time: 40 minutes
Chicken Soup with Farro and Vegetables – an easy, healthy and filling weeknight meal. You'll love the texture of the farro in this soup.
Ingredients
2 tablespoons extra virgin olive oil
1 onion, diced
3 carrots, peeled and diced
3-4 stalks celery, chopped
leaves from 2 sprigs fresh thyme (1/4 teaspoon to 1/2 teaspoon)
1/4 cup minced fresh parsley
1 bay leaf
4 cups chopped or shredded cooked chicken
4 cups reduced-sodium chicken broth
2 cups water
salt and pepper to taste
Instructions
Heat oil in large pot over medium-high heat. When oil is hot, add onion, carrots, and celery and season with salt and pepper. Sauté until softened, about 5 minutes. Add chicken, thyme, bay leaf, parsley, broth, and water. Bring to a boil.
Add rinsed farro and return to a boil. Reduce to a low boil, cover and cook for 15 minutes or until farro is tender. Taste for seasonings. Add salt and pepper as necessary. Add water if it has become too thick (we love ours super thick, more like stew).
Remove bay leaf and serve.
Nutrition Information:
Yield: 8
Serving Size: 1 cup
Amount Per Serving:
Calories: 245
Total Fat: 13g
Saturated Fat: 3g
Trans Fat: 0g
Unsaturated Fat: 8g
Cholesterol: 63mg
Sodium: 394mg
Carbohydrates: 13g
Fiber: 2g
Sugar: 3g
Protein: 20g
RachelCooks.com sometimes provides nutritional information, but these figures should be considered estimates, as they are not calculated by a registered dietitian. Please consult a medical professional for any specific nutrition, diet, or allergy advice.
Verdict
: Love the farro in this chicken soup. Will definitely be making it again.
Husband's take:
Chicken soup with farro. I'm sure his first thought was "What in the world is farro?!?" But he loves it!
Changes I would make:
None are necessary but I always throw in whatever vegetables I have in the fridge.
Difficulty:
Easy.