Boston Cream Pie Pancakes
Megan from Country Cleaver is a relatively new friend of mine in the food blogging world. But let me tell you–I am so happy we "met" each other on Twitter. Megan is awesome, her site is awesome and I think we can all agree these pancakes are awesome.
And that I should stop saying "awesome."
Did I mention that Megan used to be a lumberjack? Yes, a lumberjack. Awesome.
Here is some of Megan's awesome incredible content from her awesome fun and beautiful blog: Chocolate Stout Crepes and Irish Cream Whip, Bananas Foster Creme Brulee, Chicken Mole Salad, and Blueberry Coconut Bread Pudding.
~~~~~~~~~~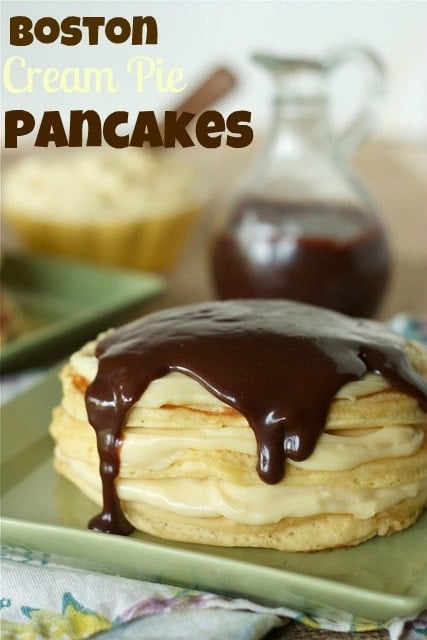 Good morning, shining faces! I'm Megan from Wanna Be A Country Cleaver and can't wait to share this obscenely delicious pancake party in your mouth with you. I know this sentence is ripe with grammatical inaccuracies but just go with it – you won't be disappointed.
I like opposite days. Days where you throw caution to the wind, turning left on that road you haven't traveled before, eat dessert first when all rationale dictates you eat your vegetables instead and when "no", really means "yes". As in – Yes, you should really eat a heaping stack of these pancakes. Especially because they're practically dessert. And it's even better when you can eat your dessert for breakfast. Way to change it up there you rebel, you.
And what better way to have your dessert for breakfast by making Boston Cream Pie Pancakes. What. Up?
My bestie (Kvetchin' Kitchen) and I couldn't help but imagine a world where cakes and pancakes – two utterly divine creations in themselves – were combined to create a confection of epic proportions. As girls we are naturally drawn to the mystical and healing properties of chocolate (as any girl – chocolate heals – if nothing else but our sanity) and an ethereal fluffy pastry cream that is delicious enough to bathe in.
Why not combine that beauty of a Boston Cream Pie with classical breakfast fare?
Why not, indeed?! I command you to make these. They are the salvation of PMSy girls everywhere.
It was great visiting with you today – stop by and say Hi soon!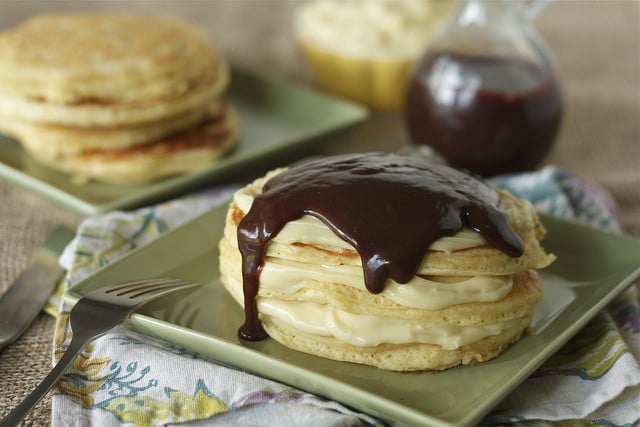 Boston Cream Pie Pancakes
Prep Time: 2.5 Hours (For Pastry Cream and cooling Time)
Cook Time: 25 Minutes
Servings: 8 6-inch Pancakes
Ingredients:
Pancakes:
1 cup Yellow Cake Mix
1 cup Dry Pancake Mix
1 cup Milk
1 tsp Vanilla
2 Eggs
Pastry Cream:
⅓ cups Sugar
1-½ Tablespoon Cornstarch
1 cup Milk
1 cup Half-and-half
1 whole Vanilla Bean, Split And Seeds Scraped
3 whole Egg Yolks, Beaten
1 Tablespoon Butter
Chocolate Ganache:
8 oz. Chocolate
1 cup Heavy Cream
Directions:
Pastry Cream: Make up to 24 hours in advance and refrigerate until 1 hour prior to use.
In a medium saucepan, heat the milk and vanilla bean to a boil over medium heat. Immediately turn off the heat and set aside to infuse for 10 to 15 minutes. In a bowl, whisk the egg yolks and granulated sugar until light and fluffy. Add the cornstarch and whisk vigorously until no lumps remain. Temper the eggs by whisking in 1/4 cup of the hot milk mixture until incorporated. Whisk in the remaining hot milk slowly.
Pour the mixture back into the saucepan. Cook over medium-high heat, whisking constantly, until thickened and slowly boiling. Remove from the heat and stir in the butter. Let cool slightly. Cover with plastic wrap, and press the plastic wrap on top of the pastry cream to make sure it doesn't form a skin. Chill at least 2 hours or until ready to serve
Chocolate Ganache:
In small saucepan, heat heavy cream. Stir in chocolate and whisk until melted and the two are completely combined. Remove from heat and set aside.
Pancakes:
In large bowl, whisk together pancake mix and cake mix. Stir in milk, eggs and vanilla until the mixture is smooth. Heat a large griddle or large pan over medium high heat. Spray with non-stick cooking spray. Pour 1/3 cup of batter into pan or griddle and allow to cook until golden brown on the bottom, 2-3 minutes. Gingerly flip pancake over and continue to cook until the other side has turned golden brown – about 1 ½ minutes. Remove from griddle/pan and allow to cool.
To assemble – stack pancakes and layer with prepared pastry cream between each pancake. Pour chocolate ganache over the top and promptly devour.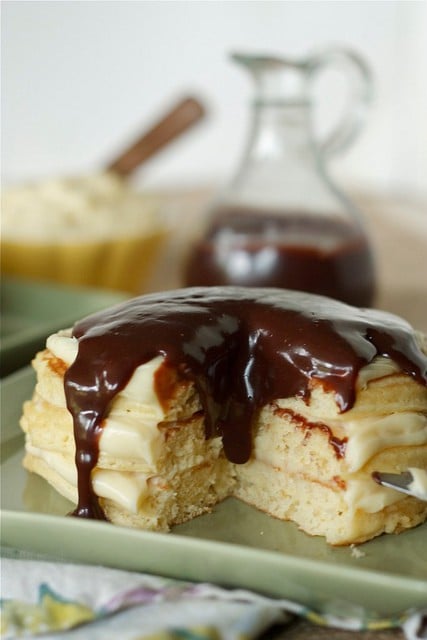 ~~~~~~~~~~
I am loving everything about these beautiful pancakes. What a treat they would be!
You can find more of Megan on Facebook, Twitter, and Pinterest.
Remember to follow along with all the pancakes this month, just click on the picture below!