Flourless Mexican Hot Chocolate Cake
Fudgy and dense, fragrantly spicy with cinnamon and chipotle chile, this flourless Mexican hot chocolate cake is unforgettably delicious! Fabulous with a just a dollop of whipped cream or dressed up with ganache for an extra special occasion!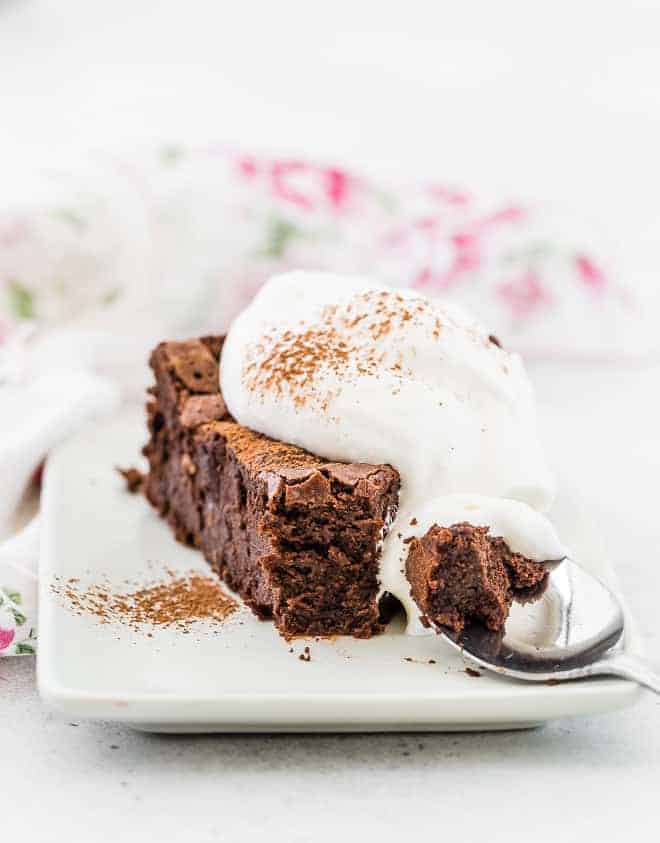 I am obsessed with how good this flourless Mexican hot chocolate cake is! In fact, I'm almost glad when the last piece has been eaten because when it's in my fridge, I can almost hear it calling my name. "Rachel, Rachel…I'm still in here, eat me, you know you want to, why don't you have just one bite….or two…!"
Normally, I'm not a sweets kind of girl. I tend to reach for the salty snacks, or my ultimate snack, popcorn. But if I'm craving something sweet, it has to be dark chocolate. You can always find a bag of good dark chocolate mini candy bars in my pantry, perfect for when the chocolate craving hits. The darker the chocolate, the better I like it.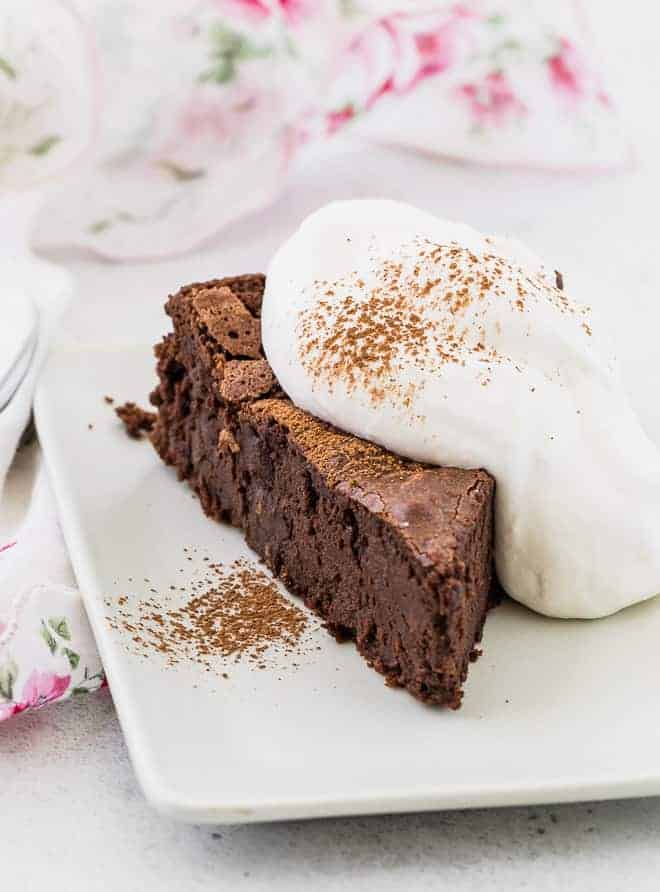 This flourless Mexican hot chocolate cake satisfies any dark chocolate craving you may have. If you haven't tried a flourless cake before, please do! With a delicately crispy exterior, and rich creamy interior reminiscent of cheesecake, the unique texture is totally unlike any other cakes you've had. Think of the best brownie in the world, and multiply it by about ten. That's how good it is!
While a flourless cake is gluten free, that isn't the reason you'll make this dessert. You'll make it because it's out of this world delicious!
About this Flourless Mexican Hot Chocolate Cake:
Flourless cakes are unique in that they are made without, you guessed it, flour! Flourless cake, made in a springform pan, has a luxury foundation of good quality dark chocolate. The better the chocolate is, the better the cake will be.
What sets this flourless Mexican hot chocolate cake apart from other flourless chocolate cakes is the addition of cinnamon, vanilla, and a touch of chipotle chile powder. Cinnamon and vanilla are an essential part of traditional Mexican chocolate. Chipotle chile powder adds just a touch of spicy heat that enhances the chocolate, cinnamon, and vanilla.
Simply melt chopped chocolate with butter in a double boiler pan. If you don't happen to own a double boiler, don't worry, neither do I! You can make your own double boiler pan by setting a heat proof bowl over a pan of simmering water. Melting chocolate in the microwave works well, too.
After the chocolate and butter has melted, stir in 1/3 cup grapeseed or canola oil, cinnamon, vanilla, chipotle chile powder, and a pinch of salt. Replacing some of the butter with oil makes this cake a little lighter in saturated fat. Set this mixture aside to cool slightly.
While it's cooling, you can take care of the next step. Using an electric mixture, beat six eggs and a cup of sugar until the mixture is light and fluffy, about 4 minutes. Don't get impatient and stop after a couple of minutes. It's necessary to beat the eggs fully so your cake will have the best texture.
Fold in the chocolate mixture and mix by hand just until blended. Pour into a prepared springform pan and bake.
The delicious smell wafting from your oven while this cake bakes is almost worth making it for!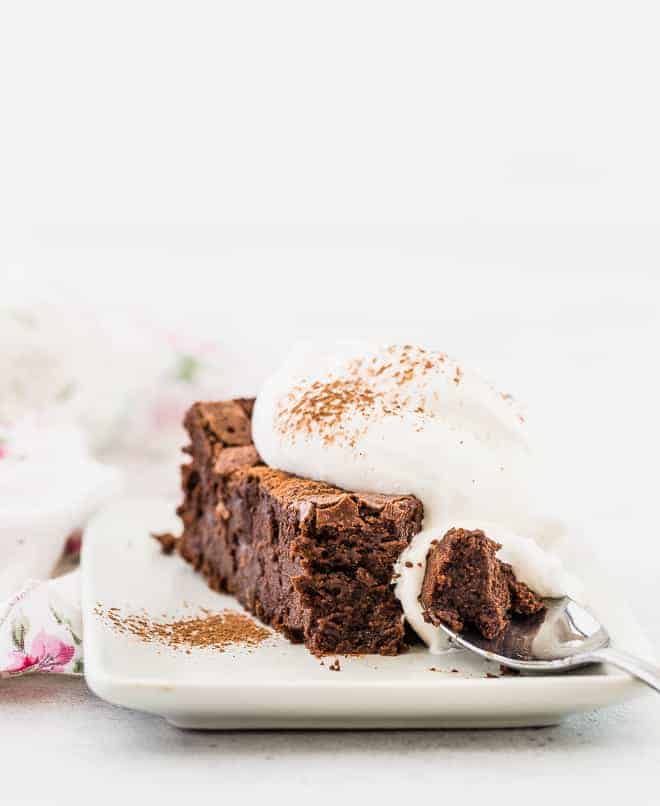 How to make this cake your own:
Leave out the cinnamon and chipotle chile powder if you'd rather not make a "Mexican hot chocolate" flavored cake.
Not a dark chocolate fan? Try making the cake with milk chocolate.
Toppings! This flourless chocolate cake is perfect with a simple sprinkling of powdered sugar but if you want to dress it up, a dollop of whipped cream is super delicious. Or, make a ganache topping and pour it over the cake for truly decadent treat. I love this flourless cake with ganache and toasted coconut. Fresh berries would be lovely, too.
Storage Tips
Store your flourless Mexican hot chocolate cake, well-wrapped, in the refrigerator for up to 3 days. For best flavor, let the cake stand on the counter for about 30 minutes before serving.
Other cake recipes:

Looking for that perfect cake recipe? Whether it's for a special occasion or an everyday treat, I have a few ideas for you: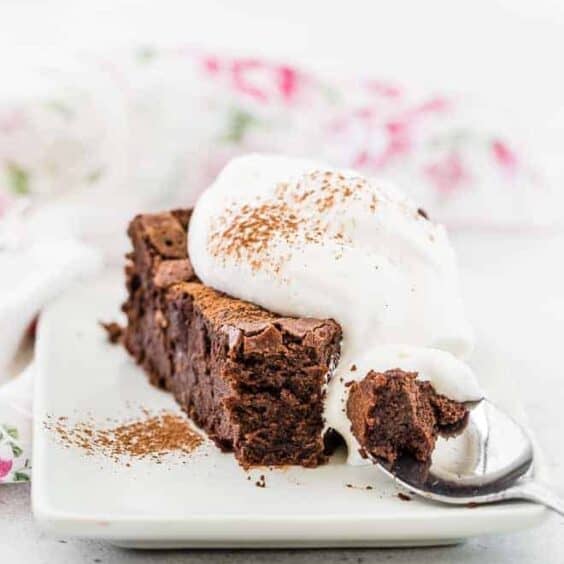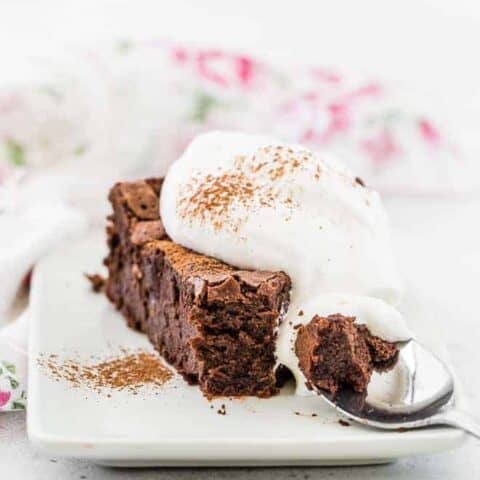 Flourless Mexican Hot Chocolate Cake
Yield: 16 slices
Prep Time: 20 minutes
Cook Time: 35 minutes
Additional Time: 4 hours
Total Time: 4 hours 55 minutes
Fudgy and dense, fragrantly spicy with cinnamon and chipotle chile, this flourless Mexican hot chocolate cake is unforgettably delicious! Fabulous with a just a dollop of whipped cream or dressed up with ganache for an extra special occasion!
Ingredients
12 ounces dark chocolate, chopped
1/2 cup (1 stick) unsalted butter, cut into slices
1/3 cup grapeseed or canola oil
1 teaspoon pure vanilla extract
1 teaspoon ground cinnamon
1/2 teaspoon chipotle chile powder
1/2 teaspoon kosher salt
6 large eggs, at room temperature
1 cup granulated sugar
Confectioners' sugar and/or whipped cream for garnish and serving
Instructions
Preheat oven to 350ºF. Spray bottom and sides of a 9-inch springform pan with nonstick cooking spray, then line bottom of pan with parchment paper, and spray parchment paper with nonstick cooking spray.
Bring 2 inches of water to a boil in a saucepan. Carefully place a heat-proof bowl over boiling water (so that it's not touching water) and add chocolate and butter to bowl. Stir constantly until chocolate is melted and combined with butter (see note).
Remove from heat, stir in oil, and add vanilla, cinnamon, chile powder, and salt, stirring until completely blended together. Set aside to cool.
Meanwhile, In a separate large bowl, beat eggs and sugar with an electric mixer on medium-high speed until mixture is light in color and fluffy in texture, about 4 minutes.
Fold in the chocolate mixture until just combined. Pour batter into prepared springform pan. Bake until the cake is just set and the top is beginning to crack, about 35 minutes.
Let cool completely in the pan on a wire cooling rack, about 1 hour. Remove the pan sides and cover the cake and refrigerate for at least 3 hours or up to 3 days.
Flavor and texture of cake is best if you let it stand at room temperature for 30 minutes prior to serving. Use a very sharp knife to cut slices, cleaning the knife between cuts.
Serve topped with confectioners' sugar, whipped cream, ganache, or fresh fruit.
Notes
If you have a double boiler, you may use that to melt the chocolate and butter. Microwaving is another option. Put the chocolate and butter in a microwave safe bowl. Heat at medium power for 15 seconds, stir well, and repeat process until chocolate is almost melted. Don't overheat or boil.
Top this cake with ganache, if desired. To make ganache: Combine the 1 cup of chocolate chips and 1/2 cup heavy cream in a microwave-safe bowl, and heat until the cream is very hot, but not simmering. Remove from the microwave, and stir until the chocolate melts and the mixture is completely smooth. Spoon the ganache over the cooled cake, letting it run down the sides.
Adapted from Eating Well magazine, Jan/Feb 2020 Issue
Recommended Products
As an Amazon Associate and member of other affiliate programs, I earn from qualifying purchases.
Nutrition Information:
Yield: 16
Serving Size: 1
Amount Per Serving:
Calories: 273
Total Fat: 14g
Saturated Fat: 5g
Trans Fat: 0g
Unsaturated Fat: 8g
Cholesterol: 73mg
Sodium: 101mg
Carbohydrates: 33g
Fiber: 2g
Sugar: 30g
Protein: 3g
RachelCooks.com sometimes provides nutritional information, but these figures should be considered estimates, as they are not calculated by a registered dietitian. Please consult a medical professional for any specific nutrition, diet, or allergy advice.
Verdict:
Rich, delicious, and just the perfect amount of spice. This one is a winner!
Husband's take:
First bite…he said it was a little spicy. Then he ate two slices. So you be the judge.
Changes I would make:
None are necessary!
Difficulty:
Easy!