Healthy Chicken Piccata in the Instant Pot (Whole30, GF, DF) – with video
This healthy chicken piccata isn't breaded or fried, but it still has all the flavor of the original. As a bonus, it's ready in less than 30 minutes using your pressure cooker or Instant Pot!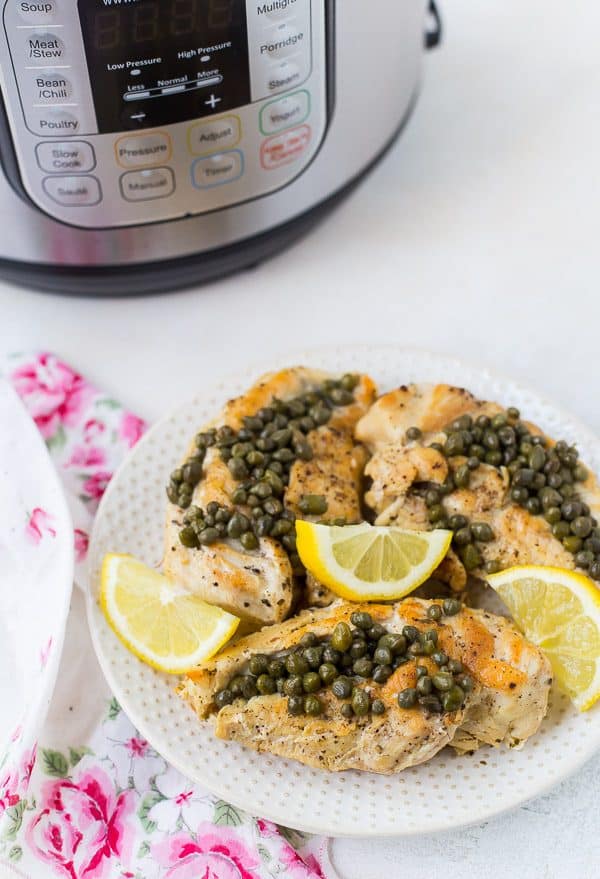 I bought an Instant Pot awhile ago and while I mainly use it for making boiled eggs, I also frequently cook chicken in it. I should probably branch out, but I tend to be a creature of habit. Chicken with salsa verde, chicken with regular salsa, and Shelly's chicken piccata. We love Shelly's chicken piccata.
Since I was doing Whole30 and I was still craving chicken piccata, I decided to make it compliant to the program and also lighten it up a bit (it's not a super heavy recipe to begin with but this version is lower calorie, gluten-free, and dairy-free. Ben and I both loved this version, and truthfully, it's easier too since it eliminates a couple of steps.
There I go again, making things easier and healthier. It's kinda what I do.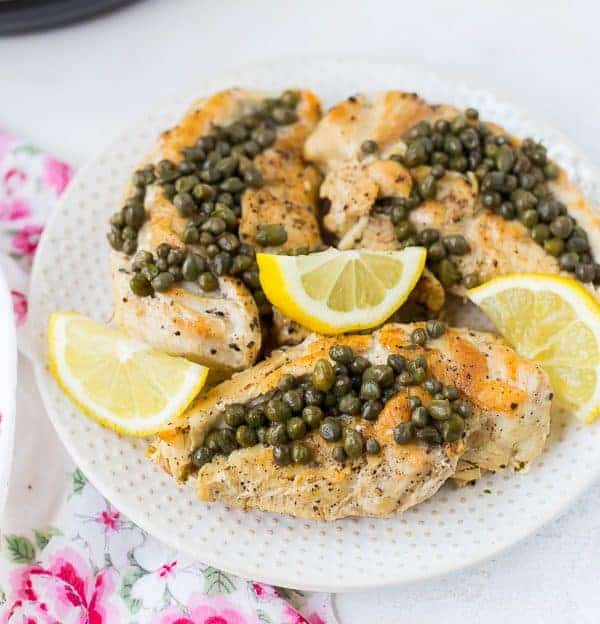 This healthy chicken piccata is ready in 30 minutes, which is probably one of the reasons it is one of my go-to recipes. It's full of flavor thanks to garlic, lemon, chicken broth, oregano, and basil. The capers add a nice salty bite that keeps you coming back for more.
Tip: If you're following the Whole30 program, make sure you're reading labels! I found that many store-bought chicken broths and chicken stocks contain sugar or honey.
Once it cooks, you'll serve it with the sauce in the pan. I usually serve it to Ben with rice and we always have vegetables with it (asparagus and green beans are my favorites with this healthy chicken piccata). It's also great with pasta – you could slice it and serve it over a bed of pasta with the sauce that you find in the Instant Pot when it's done cooking.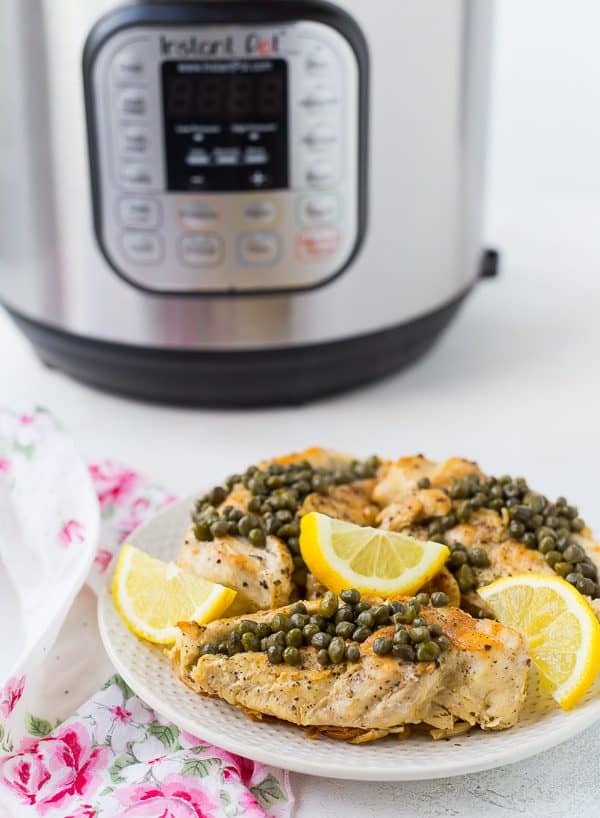 If you keep capers stocked in your pantry like I do, this recipe uses all ingredients you're likely to have on hand!
Enjoy!
PS: If you love this recipe, try my Instant Pot Chicken Marsala! It's one of our favorites.
Healthy Chicken Piccata in the Instant Pot (Whole 30 Compliant)
Healthy chicken piccata isn't breaded, but it still has all the flavor of the original. Plus, it's ready in less than 30 minutes using your pressure cooker!
Ingredients:
1 tablespoon olive oil
1.5 – 2 pounds boneless skinless chicken breasts
Salt and pepper
1 clove garlic, minced
3/4 cup reduced-sodium chicken stock (see note)
1/4 cup fresh lemon juice
1 teaspoon dried oregano
1 teaspoon dried basil
1 jar (4 oz) capers, drained
Directions:
Heat Instant Pot to Saute and add oil. Salt and pepper both sides of the chicken and add to hot Instant Pot. Brown chicken for about 4 minutes on each side and then remove to a plate.
Add garlic and cook, stirring constantly for about 1 minute or until fragrant.
Add broth, lemon juice, oregano, and basil and scrape any brown bits off the bottom of the Instant Pot. Return chicken to Instant Pot and sprinkle capers on top.
Put cover on (make sure vent is turned to "seal"). Set Instant Pot to Manual for 10 minutes.
Once done, quick release the pressure. Use an instant read thermometer and ensure chicken has an internal temperature of 165 degrees Fahrenheit.
Serve chicken with sauce in pan.
Note: Many chicken broths and stocks contain sugar or honey. If you're doing Whole30, make sure to read the label and find one that is compliant. Making your own is always a great option, too! 
Nutrition Information
Yield: 3-4 servings, Serving Size: 1 of 4
Amount Per Serving:
Calories:

239 Calories

Total Fat:

8g

Saturated Fat:

1g

Cholesterol:

114mg

Carbohydrates:

4g

Fiber:

1g

Sugar:

1g

Protein:

42g
Actual nutrition may vary depending on how recipe is prepared.
All images and text ©
.
Verdict: I'll be making this time and time again.
Husband's take: I made this once before when it wasn't coated in flour and Ben said he liked it better with the flour. However, the latest time I made it, he loved it and said he would like it this way every time I make it!
Changes I would make: None are necessary.
Difficulty: Easy!