Whole30 Essentials: Food, Tools, Tips
Whether you're embarking on your first Whole30 or your 30th Whole30, this guide of Whole30 Essentials will make your life just a little bit easier!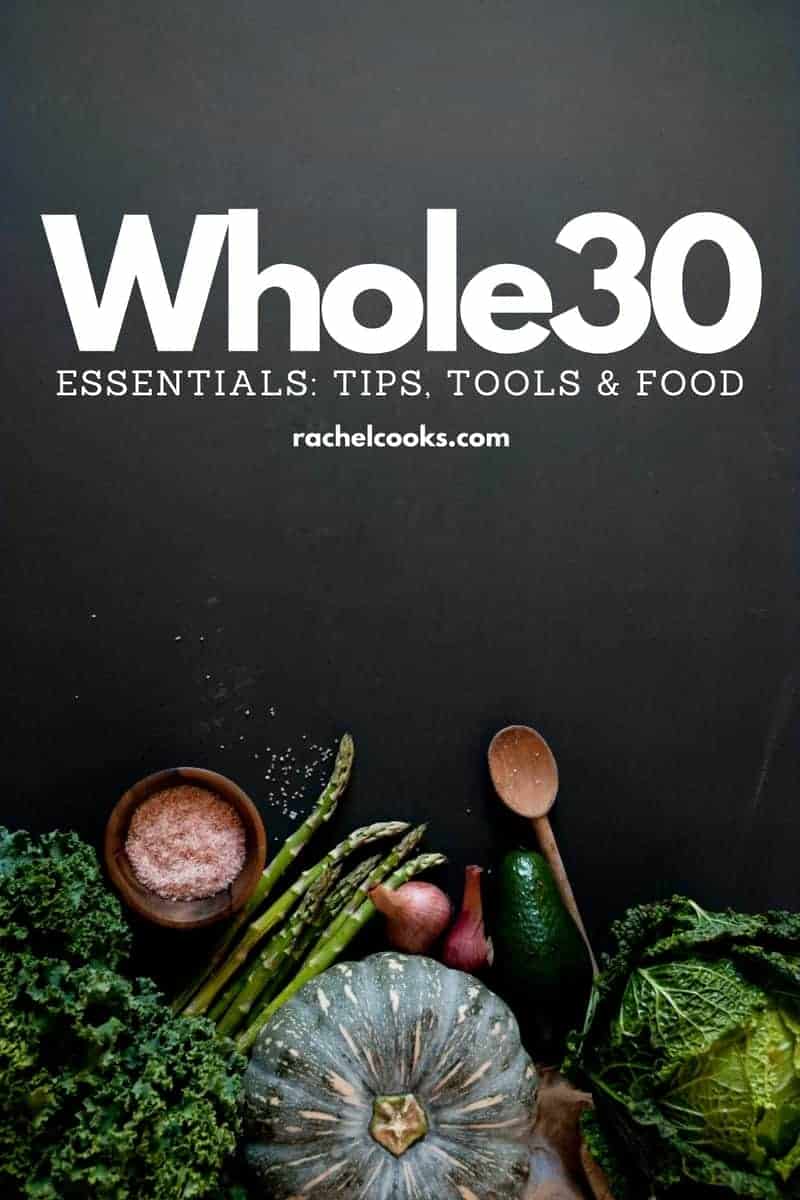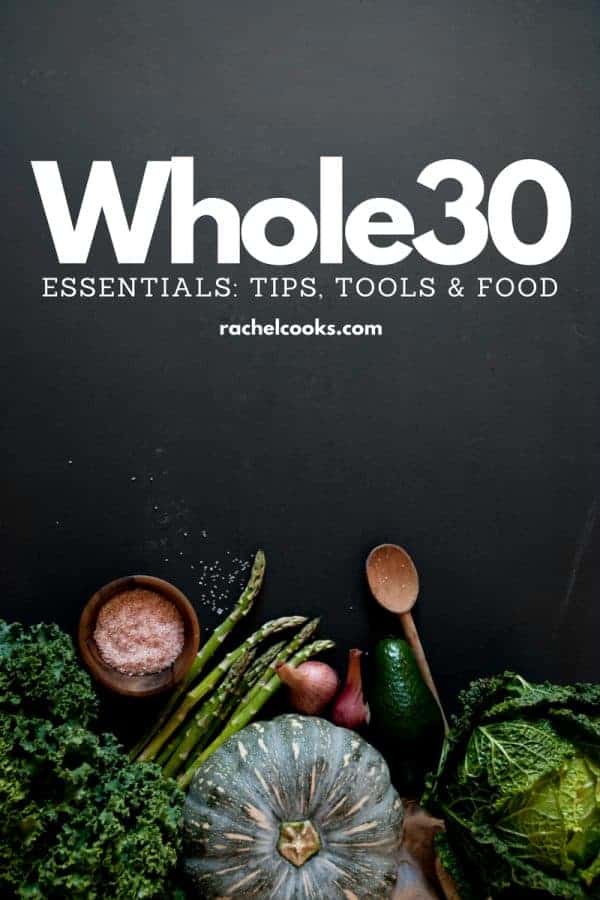 Well, I made it. 30 days without cheating once. I'm a little proud of myself, to be honest! I maintain a fairly healthy diet 80% of the time, but this was a fun (and very difficult) experience. Okay, more difficult than fun, but I'm the type of person that likes to challenge myself, and this was definitely a challenge. Thanks to everyone that held me accountable on Instagram, I had fun sharing the experience with you!
First things first, what the heck is Whole30? I got that question a lot during the last 30 days. You can learn everything you'd like on the official website, but basically, it's 30 days without added sugar, sweeteners (natural and artificial), grains (gluten and non-gluten), legumes (peanuts and soy included), dairy, gluten, and alcohol. It's a lot of vegetables, eggs, meat, and avocados. You can also eat fruit and nuts (except peanuts), and sweet potatoes and regular potatoes. I ate a lot of sweet potatoes because with my workout schedule, I need at least some carbs throughout the day.
In this post, I'm covering some Whole30 Essentials that really helped me have success with this program. I'll start with tips, then talk about some kitchen tools and food that helped me get through the 30 days. At the end of the post, I'll discuss what changes I experience and if I'd do it again.
Worth noting: I was NOT paid to promote any of these Whole30 Essentials and was NOT sent anything for free…this is all stuff that I purchased myself. Well, with exception of the book that my friend was kind enough to loan me.
Key Tips:
Prep, prep, PREP. I didn't go as far to portion out meals for the week, but I did try to get ahead on meal prep and have somewhat of a plan of what I was going to eat. I always had greens in the fridge as well as a tasty Whole30 compliant salad dressing (I love this basil vinaigrette – I used it on salads, vegetable hash, chicken, salmon, and zucchini noodles!). Also in the fridge were always boiled eggs, chopped sweet potatoes (I kept them submerged in water to keep them fresh), guacamole in case my avocados failed me, and usually some roasted vegetables too. Often I'd cook shredded salsa chicken and have that ready and waiting in the fridge too. I loved roasting vegetables ahead of time, too – I almost always had some roasted broccoli in the fridge. Another great thing to prep is spaghetti squash. Make sure to check out this post to learn how to cook spaghetti squash – I cover five methods!
Don't do it over a holiday or a vacation. JUST DON'T. Life is too short. My Whole30 took place when I had two birthday parties to attend (one that I threw for my daughter), but I was able to stick with it through that. However, I would not have scheduled it if MY birthday was happening during the 30 days.
It's not really 30 days, it's actually 42. The program recommends a reintroduction (you can read about that here if you're interested). Basically you reintroduce 1 food group at a time, and then go back to Whole30 foods for two days after each food reintroduction. Since a big part of the reason I chose to do Whole30 was to see how my body responded to different foods, this part was very important to me. I'm not quite done, but I can't wait to see how I feel!
SIMPLE variety. I ate a lot of the same foods during the Whole30 month. It's only 30 days and I was pretty focused on getting it done. I didn't try too many new things because I wanted to keep things simple. However, I have a great collection of delicious and easy Whole30 recipes you may want to try and there are tons of great recipes in the Whole30 cookbook.
Don't neglect your family. I cooked for my kids and Ben as I normally would. Which is another reason I kept recipes simple. For example, I'd make compliant pasta sauce with ground turkey and for them, I'd make cheese tortellini and I'd eat zoodles or spaghetti squash. Another meal that worked great was tacos. They'd eat tortillas and chips, I'd have a taco salad or a burrito bowl with cauliflower rice. I also kept microwavable frozen rice packages so if I made a chicken dish for example, I'd heat up rice for Ben and I'd have an extra serving of vegetables or a small salad.
Have someone you can vent to. This is important. Sometimes you need someone to give you a little moral support. Make sure you have a friend or two to text when you're having a hard time (if they've done Whole30 before, that's a huge bonus). When I was staring down a leftover piece of birthday cake, one of my friends said, "Don't give in just for a piece of cake." It was exactly what I needed to hear and chatting about it was enough to get it out of my system (thanks, Alison!).
Kitchen Gadgets:

Food!
Results:
Well, I know what you all want to know, and I lost about 11 pounds. Worth noting: I ate more than I typically would the weekend before I started (had to clear the house of all non-compliant foods, ya know?) so I was up 1-2 pounds due to some bloating and water weight. I also noticed healthier looking skin (my friends actually pointed this out) and maybe a slight increase in energy.
One of the main reasons I wanted to do this program is because I wanted to regain control over what I eat and in general, I want to be a more mindful eater. There needs to be a healthy balance between eating to fuel your body and eating for pleasure. I also enjoyed cooking more! Yes, it was a lot of the same foods (in my case), but I did a whole lot more chopping of vegetables and slowing down to create something good to eat, rather than just throwing a bagged salad in a bowl and rushing through it at lunch.
I'm reintroducing foods now and I'm excited to see how my body responds.
Overall it was a great experience and I might just be crazy enough to do it again!
Have any of you done the Whole30? Do you agree with my Whole30 Essentials? I'd love to hear what you couldn't live without!
Next question, would any of you want to do it as a group? In January? Email me if you're interested! I'm thinking a Facebook group for support and also some simple meal plans?