Skillet Gnocchi with Chicken and Tomato Sauce (whole wheat)
Cozy and comforting, this skillet gnocchi with chicken and tomato sauce is on your table in under 30 minutes — perfect for busy nights!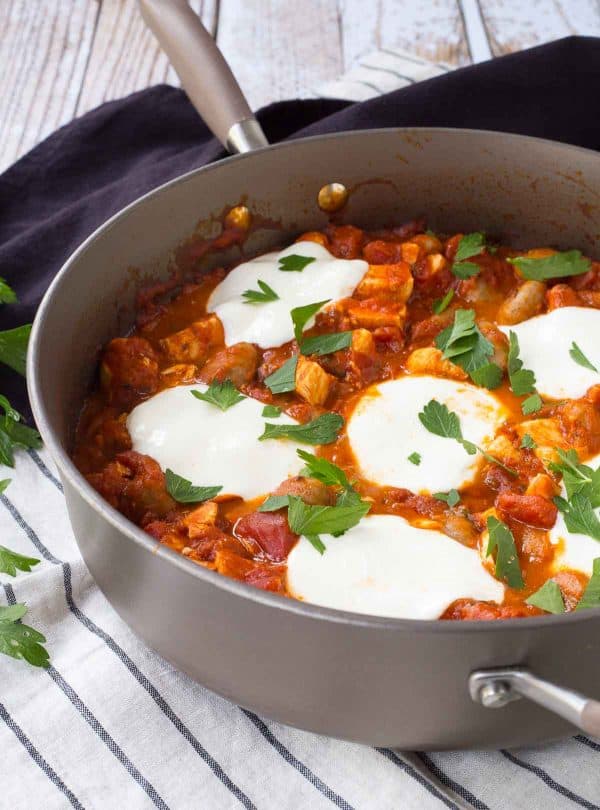 The theme for this month might just be "one pan." One pan meals are making all my wildest dreams come true. Okay, maybe wildest isn't the right word. Maybe this would be better: Tired-busy-just-let-go-of-my-assistant-and-I-am-exhausted-mommy dreams? Doesn't quite have the same ring to it. (PS: Anyone want a social media/marketing assistant job? Email me!)
Anyone care if we focus on one pan meals instead of cookies? Just kidding. Let's compromise and do some of each. Leading up to Thanksgiving, I shared a couple great one pot/pan/dish recipes including vegetarian lasagna soup, one dish Italian chicken and rice bake, and baked chicken Parmesan with broccoli, and I have a couple more coming this week.
There is such joy and beauty in only making ONE PAN dirty at dinnertime. Am I alone on this? Nothing makes me happier than a small pile of dishes after dinner. The only thing standing between me and family time (and then bedtimes), are dinner dishes, lunch making and coffee prep for the next morning. After those tasks, it's to the living room floor for games, puzzles, books, or whatever we decide to do that night.
For this suuuuuper simple recipe, I used chicken that I had already cooked (read about my method here), keeping this recipe to 25 minutes, but you could easily cook the chicken in the pan before adding the sauce — it would only add a few more minutes to the cooking time. It would also work great with that rotisserie chicken that I know you have in your fridge at least once a week.
One of the great things about this skillet gnocchi recipe is the gnocchi cooks right in the sauce. Thus making it one pan. See how that works? The other great thing? That mozzarella melted on the top. Oh yes.
Enjoy! More relaxation, fewer dishes.
PS: Unsponsored, BUT I love DeLallo whole wheat gnocchi, in fact I've never seen whole wheat gnocchi from another brand. I'm sure it exists…but maybe not? I also like to use Rao's Homemade pasta sauce when using a jarred sauce but you could grab anything with a short ingredient list and low sugar content. I'm always extra careful because N is allergic to sesame which can unfortunately be lurking in ingredients such as "natural flavor" and "seasonings," so I look to avoid those things as well.
Skillet Gnocchi with Chicken and Tomato Sauce
Cozy and comforting, this skillet gnocchi with chicken and tomato sauce is on your table in under 30 minutes — perfect for busy nights!
Ingredients:
1 jar (24 oz) tomato basil sauce (I like Rao's Homemade or any type with a short ingredient list)
1 can (14.5 oz) diced tomatoes
16 oz whole wheat potato gnocchi (I use Delallo)
3 chicken breasts, cooked and diced or shredded (about 3 cups diced chicken)
6 ounces fresh mozzarella, sliced
Fresh parsley or basil for garnish (optional)
Directions:
In a large high-sided skillet, heat pasta sauce and tomatoes over high heat until they come to a simmer (about five minutes).
Reduce heat to medium, add gnocchi and stir to combine and make sure that gnocchi are covered with sauce.
Cover and cook for five minutes over medium heat.
Add chicken and reduce heat to medium-low. Cover and cook for five minutes, remove cover and stir.
Add cheese to top and cover and cook for five more minutes.
Serve topped with fresh basil and/or parsley if desired.
All images and text ©
.
Verdict: Can't get enough!
Husband's take: He loves this quick and easy skillet gnocchi.
Changes I would make: None! But you know me and my vegetables! I wouldn't be surprised if I threw some spinach and mushrooms in here next time.
Difficulty: Very easy!