Brussels Sprouts with Cranberries and Walnuts (with video)
These Brussels Sprouts with Cranberries and Walnuts will be the perfect addition to your Thanksgiving or Christmas table. They are simple, festive, and delicious!
I'm partnering with California Walnuts to bring you a year of nutty and delicious walnut recipes. This post is sponsored by California Walnuts, but all opinions are my own.
Brusselssssss. Love 'em or hate 'em, they are a Thanksgiving staple. And I just so happen to love them, especially when they're roasted or shredded into a slaw. By the way, if you're a fan of Brussels sprouts roasted, you should also try my maple cayenne roasted Brussels sprouts. Just pinky promise to judge those by their taste and not their photos because I posted that recipe five years ago. Five years! That's so crazy.
I decided to go full-on fall with these Brussels sprouts with cranberries. The addition of cranberries was a given considering Thanksgiving and the prevalence of cranberries right now. Their tart flavor shines against the rich Brussels. The addition of walnuts gives this side dish a perfect nutty crunch — the walnuts become unbelievably flavorful after just a quick jaunt in the oven at a high temperature. Not only do they add loads of flavor, but they also give this side dish a hearty helping of protein. So much so that I ate a bowl of these for lunch one day and was so satisfied and full.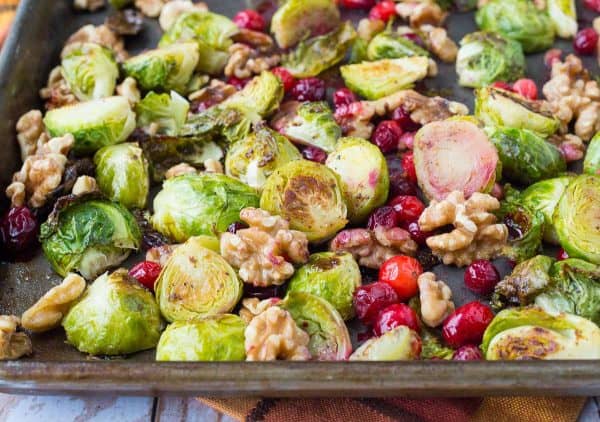 While we're talking about vegetables and walnuts cozying up, how good do these carrots look? I may never again roast vegetables without walnuts. This is a game changer.
Let's circle back around to these Brussels sprouts with Cranberries and Walnuts for a minute (I got distracted by those shiny carrots!). I tied all the flavors together by roasting these in maple syrup and Dijon mustard. I've used this combination before with my roasted sweet potatoes and shallots and it works just as well with these Brussels sprouts. The crowning glory of this tray of roasted vegetables is a squeeze of an orange on top of everything. The fresh orange juice makes the flavors pop and brightens things up. Once you try these, they are going to become a repeat player at all your future Thanksgiving celebrations. They'd be great for Christmas too! After all, they are green and red!
Watch this one minute video to see how to make these Brussels Sprouts with Cranberries!
Brussels Sprouts with Cranberries and Walnuts
These Brussels Sprouts with Cranberries and Walnuts will be the perfect addition to your Thanksgiving or Christmas table. They are simple, festive, and delicious!
Ingredients:
1 pound fresh Brussels sprouts, stem cut off and halved (quartered if large)

1 tablespoon extra virgin olive oil

1 teaspoon pure maple syrup

1 teaspoon Dijon mustard

1/4 teaspoon ground black pepper

1/4 teaspoon salt (more to taste)

3/4 cup frozen or fresh cranberries

3/4 cup California Walnuts

Juice from half an orange
Directions:
Preheat oven to 425 degrees Fahrenheit.

Placed halved or quartered Brussels sprouts on a rimmed sheet pan. In a small bowl, combine olive oil, maple syrup, Dijon mustard, black pepper and salt. Pour this mixture over Brussels sprouts and stir to combine (you can use your hands or a spatula).

Roast for 15 minutes or until golden brown and mostly tender.

Add cranberries and walnuts. Return to oven and roast for another 5-10 minutes, watching carefully as both the cranberries and walnuts will burn if you keep them in too long.

Remove from oven and squeeze orange over Brussels, cranberries and walnuts. Toss to combine again if desired. Best served immediately.
All images and text ©
.
Verdict: So tasty! I loved these Brussels Sprouts with Cranberries and Walnuts as both a side dish and as a quick and tasty lunch.
Husband's take: He liked these — his favorite part was the walnuts. And I'm not just saying that because they're my partner for this post. He didn't know it was a blog recipe and he said, "I love these walnuts, they're so flavorful."
Changes I would make: None! Except maybe I'd make a double batch…
Difficulty: Easy!
This Brussels Sprouts with Cranberries and Walnuts Recipe is sponsored by the California Walnut Board. All opinions are always my own. Thank you for supporting Rachel Cooks by reading about products and food I use and love in my own home.