Southwestern Chopped Salad in Mason Jar
A salad so beautiful, you'll barely want to eat it! But you'll definitely want to because this southwestern chopped salad is full of flavor thanks to an easy to make dressing and tons of great vegetables.
Beautiful layers of flavor and nutrition make this mason jar salad a meal prep dream come true! You'll look forward to this vegetarian southwestern chopped salad waiting for you in your fridge.
Mason jar salads are all the rage lately, and for good reason! The dressing waiting at the bottom is kept separate from the other ingredients, preventing the horrors of a soggy salad. They are perfect for meal prep on the weekend and easy weekday meals, all ready to go with no soggy salad. Have you tried my caprese zucchini noodle and farro mason jar salad? Try it with that basil in your garden you need to use!
Let's talk about the dressing on this salad for a minute. All you need are two simple ingredients, Rachel Cooks partner Old El Paso's enchilada sauce and Greek yogurt. It's full of flavor thanks to the enchilada sauce (you can use mild or medium, whatever you prefer) and the yogurt makes it so creamy.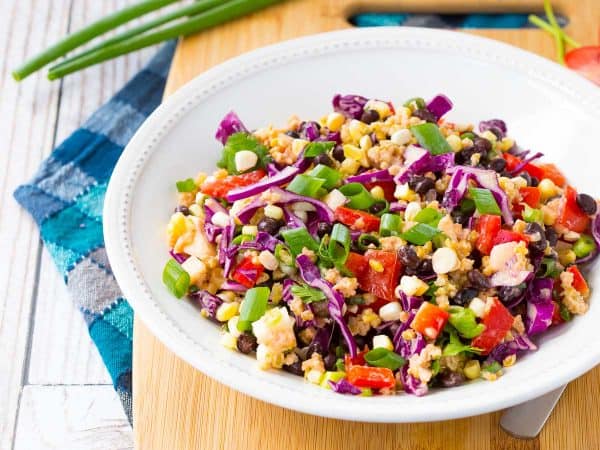 Layered on top of the dressing in the mason jar is your favorite grain. I used freekeh in mine, but quinoa would be amazing and brown rice would be fantastic too. On top of the grain, add black beans – they provide protein so you'll be full all afternoon.
Lastly are all the beautiful vegetables. I used green onions, tomato, jicama, red cabbage, bell peppers, corn and cilantro. When you're ready to eat, you just need to dump it in a bowl and mix in the dressing.
Happy lunching!
Southwestern Chopped Salad in Mason Jar
This southwestern chopped salad has an easy dressing and tons of vegetables – it's almost too pretty to eat. ALMOST. But it's worth every beautiful bite.
Ingredients:
For Dressing (makes enough for 4 salads)
1/2 cup Old El Paso Red Enchilada Sauce (from a 10 ounce can)
1/4 cup plain Greek yogurt
For 1 Mason Jar Salad
3 tablespoons dressing
1/2 cup cooked and cooled quinoa, freekeh, or rice
1/2 cup drained and rinsed black beans
2 tablespoons diced green onions
1 roma tomato, seeds removed, diced
1/2 cup diced jicama
1 cup shredded red cabbage
1/4 cup diced red bell peppers
1/2 cup fresh sweet corn
Cilantro to taste
Directions:
In a small bowl or measuring cup, whisk together Old El Paso Red Enchilada Sauce and Greek yogurt until combined.
Place 3 tablespoons of dressing in the bottom of a mason jar. Follow with your favorite grain (freekeh is pictured, but quinoa or rice would be great too – choose what fits your personal needs/tastes).
Follow with remaining ingredients, creating beautiful layers. Place in fridge until ready to serve, or up to 3-4 days depending on freshness of the produce used.
When ready to serve, pour into a bowl and mix to combine dressing.
Note: This is a very flexible recipe – if you can't find all the vegetables, it will still be great. I recommend definitely using red cabbage for its terrific crunch though.
Note: This is a great recipe for meal prep on the weekends – the salad keeps great in the fridge due to the layering.
All images and text ©
.
Verdict: Loved this salad – it was the perfect vegetarian salad – so filling and flavorful.
Husband's take: Ben is gone Monday-Thursday every week for work right now so he hasn't yet had the opportunity to try this.
Changes I would make: None are necessary but as I mention in the notes of the recipe, feel free to customize the vegetables and the grains to suit your tastes, what is in your fridge, or what is in season.
Difficulty: Easy.
Disclosure: I'm excited to partner with Old El Paso this year to bring you fresh and flavorful recipes. Thank you for supporting Rachel Cooks by reading about brands we love and use in our own home.