Easy Christmas Tree Rice Krispie Treats (with Video!)
Christmas tree Rice Krispie treats are SO simple to make and kids adore the fun shape and color. If you're scrambling for a last minute holiday treat, these are it!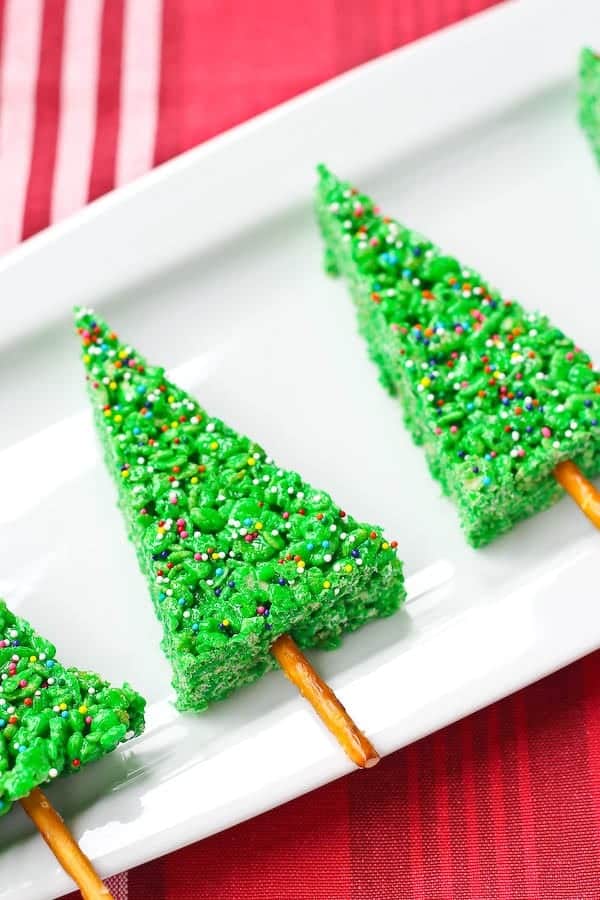 Last minute Christmas parties or school events… they happen to all of us. I'm not going to lie; this food blogger often defaults to Rice Krispie treats. They're SO easy to make (ridiculously easy), they're okay for my nut-free kids, and they're relatively neat.
Meaning when my toddlers eat them, I won't have to change their clothes. Or their teacher won't have to spend 10 minutes cleaning up the table. And chairs. And floor.
I've seen a couple versions of Rice Krispie treat Christmas trees, but they've all been cone-shaped. These are way easier to make, and I'd argue they are just as cute. It's as easy as dying them green, cutting them into triangles, and sticking a pretzel stick in them.
The hardest part is getting the pretzel stick to not break.
Seriously, that's the hardest part. I think you can handle this. Also – gentle but firm pressure is the key to the pretzel sticks. Plus if you break any, you have two options: a shorter tree trunk or a delicious pretzel snack.
I'd say this is a win-win situation, wouldn't you?
If you can't quite imagine how to cut the pan of rice krispie treats, I made this little graphic to help! You end up with a couple of half trees to use for quality control and taste testing. It's still way easier (and way less waste) than cutting them with a cookie cutter.
Note: Yield will depend on how skinny you cut your trees and you should expect 16-20 trees out of one pan.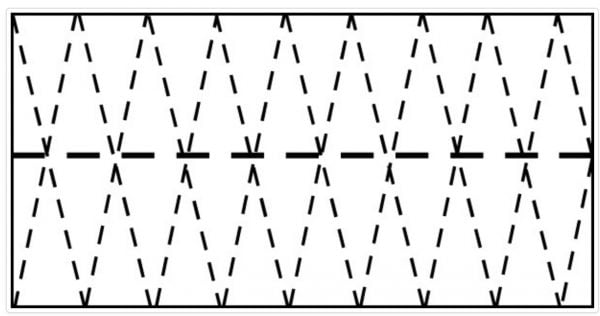 My kids adored these – they were absolutely obsessed. They did turn their mouths green, but that's part of the fun! They also turned other things green but maybe we won't talk about that? Okay, good.
If you've got a few extra minutes on your hands and you really want to impress the other parents at the school Christmas party, give these sandwich cookie snowmen a try. Another quick and easy holiday treat is this cookies and cream fudge. Holiday Oreos give it a fun and festive color.
If you're looking for more of a chocolate fix, these Santa hat brownies are pretty close to the cutest thing I've ever seen. Okay – these reindeer cupcakes definitely are putting up some strong competition for cutest holiday treat. Let's just eat both and call it a tie, okay?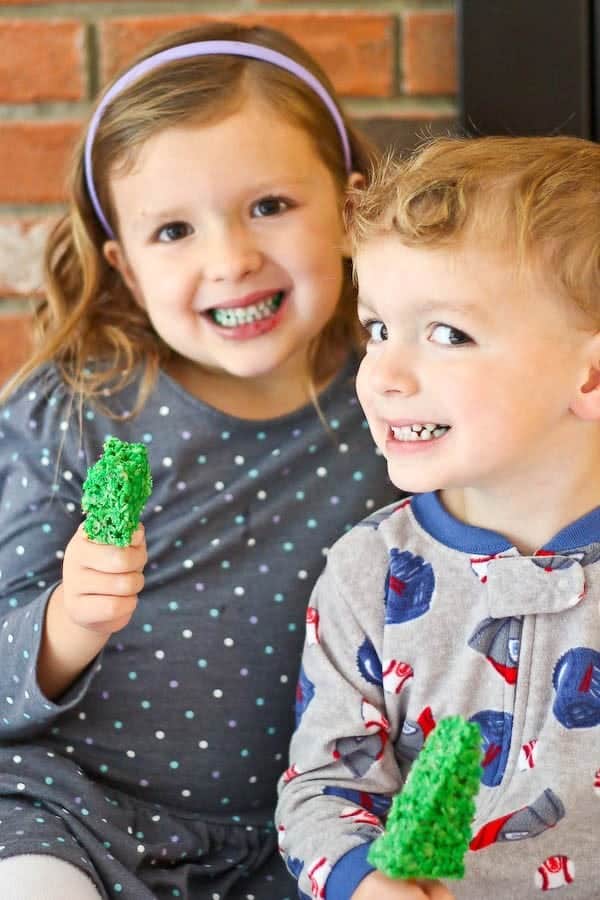 Now there's no excuse for not being that mom that brings darling treats into school. Well, besides kids, sleep, and general life craziness. Those are all fantastic excuses. But you can definitely handle these adorable Rice Krispie treat Christmas trees.
You can do it!
PS: This gel food coloring is the type I like to use.
I originally developed this recipe as a freelancer for Food Fanatic.