Cranberry Salsa – Easy, only Two Ingredients!
This two ingredient easy cranberry salsa will be the hit of the dip table at your next party – and it takes less than five minutes to make!
I recently had the absolute pleasure of spending some time with the people behind Meijer™. They hosted a few bloggers to learn about their True Goodness™ by Meijer products and I had the pleasure of being one of those bloggers. The event was in my hometown of Grand Rapids, Michigan. Grand Rapids was and always will be one my favorite cities. It's always good to be in the place where I've spent the majority of my life.
This was a quick trip, and although I wasn't able to see friends or family, it was still good to be "home." I even made the trip feeling quite under the weather, but it really was an event that I wanted to attend so I sucked it up, took some DayQuil, and got on the road at 5 AM to drive across the state.
Why was it so worth it to me, you might be wondering? Well, I grew up shopping at Meijer. I still shop at Meijer. My kids love to ride on the 1 cent pony named Sandy. I grew up trick or treating at the Meijer house (we lived one street over) – I remember they would always hand out Purple Cow coupons – the ice cream shop that was in their stores is now a line of ice cream sold in their aisles.
My sister worked at Meijer for many years in their graphic design department. I really do love shopping at Meijer – the one-stop shopping model means I can get my groceries, but I can also grab some school supplies or some things to throw together a house-warming basket for a friend. I can pick up lightbulbs or shoes for the kids. I can get crayons. I can get N a Matchbox car…just because.
Meijer is in the process of merging their natural and organic lines into one cohesive brand called True Goodness by Meijer. It will contain both organic and non-organic items (which will be clearly labeled) but they will all be what they call "clean label food." And it's still all the food you love! I really like that they made this line super accessible and appealing to every type of eater.
It's not just stuff that your mind instantly goes to when you think healthy: Quinoa, farro, things like that. There's also organic macaroni and cheese. There are chips (yummy ones like the spinach and kale chips in these pictures), there is orange juice, salsa, cereal and more.
In two years, they'll have over 450 different True Goodness by Meijer products on their shelves. All foods will be free of:
high fructose corn syrup
hydrogenated oils
food colorings
artificial food flavorings
artificial preservatives
antibiotics and steroids
Pretty great, right? I'm really excited about this line of products and I know that they'll be finding their way into my grocery cart on a regular basis.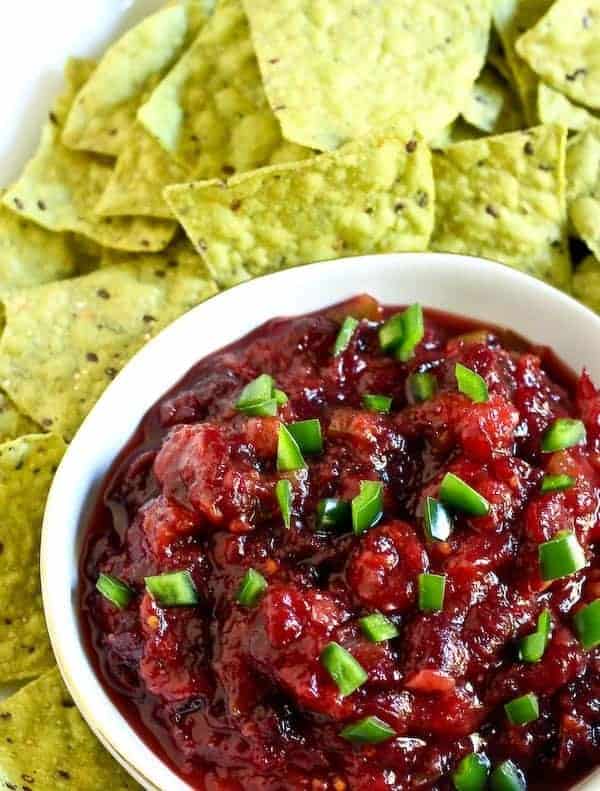 This easy cranberry salsa is made with two ingredients: whole berry cranberry sauce and True Goodness by Meijer Thick and Chunky Salsa. That's it! It's ridiculously easy to make and it's the perfect sweet and savory blend. Piled on a salty chip, it's pretty irresistible.
It's awesome as an appetizer on Thanksgiving or Christmas. (The colors are perfect for Christmas!) I brought ours to dinner at my in-laws…she made fajitas and this was great with those too!
Two Ingredient Easy Cranberry Salsa
Yield: 10 servings
Prep Time: 5 minutes
Total Time: 5 minutes
This two ingredient easy cranberry salsa will be the hit of the dip table at your next party – and it takes less than five minutes to make!
Ingredients
1 can (14 ounces) Meijer whole berry cranberry sauce
12 ounces True Goodness by Meijer Thick and Chunky Salsa (I used medium), drained of liquid
2-3 tablespoons jalapeños, chopped as garnish (optional)
chips for serving (I used True Goodness by Meijer Kale and Spinach Multi-Grain Chips)
Instructions
In a medium bowl, empty the cranberry sauce and mash slightly with spoon.
Drain the salsa and add to cranberry sauce, mixing until combined.
Garnish with chopped jalapeños if desired.
Serve with tortilla chips.
Notes
Recipe used with permission from Meijer.
Nutrition Information:
Yield: 10
Serving Size: 1/4 cup
Amount Per Serving:
Calories: 69
Total Fat: 1g
Saturated Fat: 0g
Trans Fat: 0g
Unsaturated Fat: 1g
Cholesterol: 0mg
Sodium: 258mg
Carbohydrates: 15g
Fiber: 1g
Sugar: 10g
Protein: 1g
RachelCooks.com sometimes provides nutritional information, but these figures should be considered estimates, as they are not calculated by a registered dietitian. Please consult a medical professional for any specific nutrition, diet, or allergy advice.
Verdict:
I love the sweet and savory flavors of this salsa.
Husband's take:
I'm not sure Ben has tried this – he's a traditionalist and this might weird him out. My mother-in-law loved it though and kept the leftovers!
Changes I would make:
None!
Difficulty:
SO easy. SO SO SO easy.
Disclosure: I was compensated for my time and travel expenses as well as the time required to write this post. All opinions are my own – as you can tell, I'm a pretty loyal customer of Meijer. I looked up my expenses and I spend over 800 bucks a month there. Don't tell Ben.