Rosemary Roasted Almonds Recipe
These olive oil and rosemary roasted almonds are an irresistible snack that you can actually feel good about eating!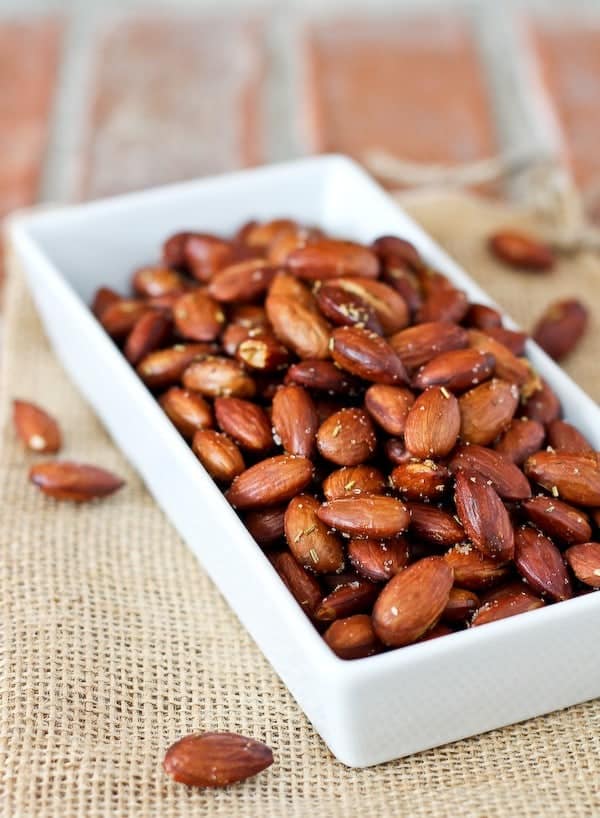 Sometimes I do stupid things.
Stupid things like making these olive oil and rosemary roasted almonds the same week I have oral surgery. So here I am toothless (okay, just missing one tooth in the back of my mouth). The house smells of the amazing aroma of these addicting almonds. Salty, crunchy, and full of fantastic flavor from good olive oil and dried rosemary. I try one (or a few), for quality assurance purposes of course, and find out three things:
They're dang good.
My mouth is not ready for crunchy almonds.
I am sad.
These, paired with a beverage of your choice (I'll take a beer!), results in snacking perfection. Luckily, I have a husband who will be able to enjoy that. And probably my neighbors too. I'll just have to wait until next time.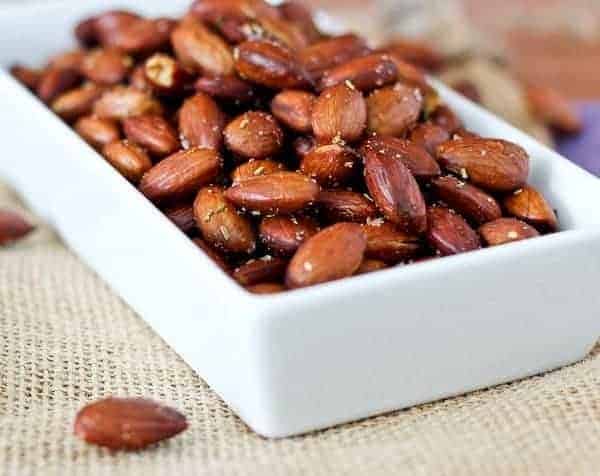 On a side note, it's been over a week since I had popcorn. This may seem insignificant to you, but I am dyyyyyying without it, you guys. I didn't realize how truly addicted I was to popcorn. You probably all realized it (my instagram feed is a dead giveaway), but it's really hard not snacking on popcorn. Without popcorn, I don't even enjoy sitting down with my DVR to catch up on Grey's Anatomy and How to Get Away with Murder. That's a lie. But it isn't near as enjoyable without a bowl of salty, buttery popcorn. Somehow applesauce just isn't doing it for me.
Eventually my mouth will return to normal (right??!?!) and I'll once again be devouring popcorn all too often. And of course these almonds are going to have to make another appearance asap.
You will love these rosemary roasted almonds!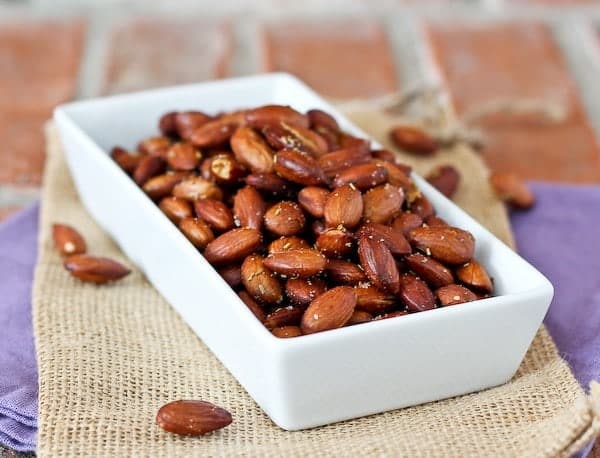 Olive Oil and Rosemary Roasted Almonds
These olive oil and rosemary roasted almonds are an irresistible snack that you can actually feel good about eating!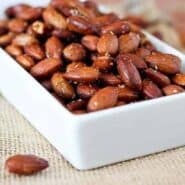 Ingredients:
3 cups (1 pound) whole raw almonds
2 tablespoons extra virgin olive oil
1 teaspoon fine sea salt
1 teaspoon dried (crushed) rosemary
Directions:
Preheat oven to 350°F.
In a medium bowl, toss together all ingredients until almonds are well coated.
Spread into a single layer on a large baking sheet.
Roast for 10 minutes, stir, and continue roasting for another 10 minutes.
Cool completely on baking sheet before storing in an airtight container.
All images and text ©
.
Verdict: I ate these until I couldn't anymore because of the pain, they were so good.
Husband's take: He loved how filling these were — a great work snack.
Changes I would make: None are necessary.
Difficulty: Easy.
Looking for more addicting, crunchy and flavorful nuts? Try these recipes: Sugar Free Cinnamon Roasted Almonds, Spiced Pecans Recipe, Vanilla Bean Candied Walnuts, Smoky Roasted Almonds, Sweet and Spicy Candied Bourbon Pecans, Honey Mustard Roasted Nuts from Naturally Ella, or Chili Lime Roasted Cashews from What's Gaby Cooking.