Strawberry Basil Freezer Jam (VIDEO)
You'll love the basil in this strawberry basil freezer jam — it is the perfect complement to your favorite slice of toast.
Strawberry freezer jam — one of the best parts about visiting my parents. My mom always has some stocked in the freezer for us to eat while we're there. I sometimes even manage to return home with a jar. Honestly, I could eat it by the jarful spoonful, but I try to hold myself back since there is…umm…quite a bit of sugar in it. But it's jam, so that's to be expected.
This strawberry basil freezer jam is a twist on my mom's classic strawberry freezer jam. The addition of basil makes it undeniably perfect for summer. I love it obvious things such as toast, bagels, corn bread, but it is also amazing stirred into some plain Greek yogurt, spooned over some vanilla ice cream, or even stirred into some hot oatmeal. Clearly, I find any possible opportunity to use the stuff.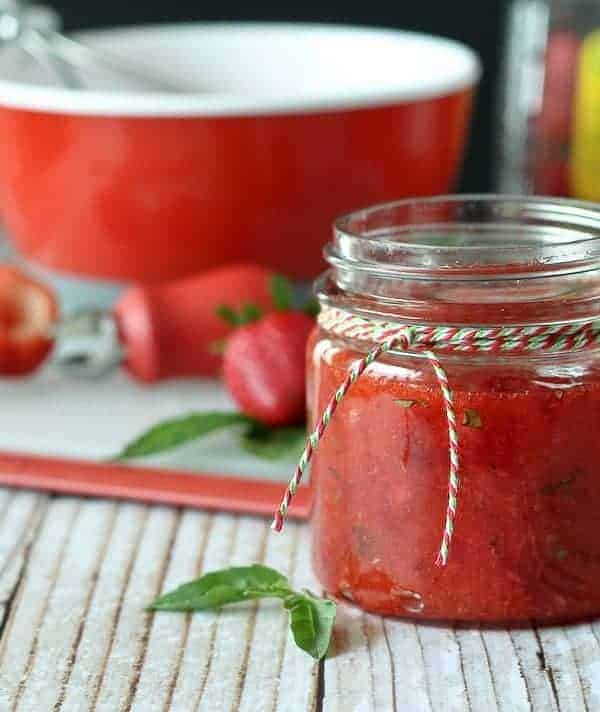 And it's unbelievably easy to make. One of my favorite brands, OXO, sent me some Driscoll's strawberries to create a recipe with — and I knew immediately that they would be destined for strawberry basil freezer jam.
Hulling the berries is easy (and dare I say fun?) with the OXO Strawberry Huller.
All you do to make this is mash up the berries (I used an OXO potato masher, of course). You'll want lots of good chunks in there still so don't worry about getting it completely pureed.
Then you stir in 4 cups of sugar. Yeah….4 cups. This is why it's called jam. And not healthy jam. Or fresh fruit purees. It's the sugar, baby. Totally necessary.
Then you stir in some fruit pectin, pour into jars, and freeze. Or keep the strawberry basil freezer jam in the fridge. Easy peasy!
(PS: I'm obsessed with spatulas — and OXO sent me some that are fabulous — three different sizes and bonus — they are the colors of strawberries. Red, green, and white. They were perfect for the stirring involved with this recipe. Ideal to make sure you're not leaving any sugar stuck on the edge of the bowl.)
Watch the video to see the step-by-step process!
Strawberry Basil Freezer Jam
You'll love the basil in this strawberry basil freezer jam — it is the perfect complement to your favorite slice of toast.
Ingredients:
about 1 pound of fresh strawberries (you'll need 2 cups crushed strawberries)
4 cups granulated sugar
one 1.75 ounce package of fruit pectin (I used Sure Jell)
1/4 cup finely chopped fresh basil leaves
Directions:
In a large bowl, mash strawberries using a potato masher. Measure out two cups and return to bowl. If there are extras, you can eat those. But you want to pretty exact with this recipe.
To the 2 cups of mashed strawberries, stir in 4 cups of granulated sugar. Mix well to combine and moisten all the sugar and then let stand for 10 minutes, stirring occasionally.
Meanwhile, in a small saucepan, combine fruit pectin and 3/4 cup water. Bring to a boil on high heat, stirring constantly. When it boils, set a timer for one minute. Continue to stir constantly and then remove from heat when it has boiled for one minute.
Stir pectin and water mixture into the fruit and sugar mixture. Stir constantly for about 3-4 minutes or until sugar is completely dissolved and mixture is no longer grainy. Stir in chopped basil leaves.
Pour mixture into freezer containers with tight fitting lids (jars work great). Let jam stand at room temperature for 8 hours before moving to the fridge or freezer. If you freeze it, thaw it in the fridge when you're ready to use.
adapted from Sure Jell
All images and text © .
Disclaimer: I was given free OXO products and Driscoll's berries to work with but was no compensated otherwise. All opinions are as always my own. Post contains affiliate links.