Easy Snowmen Sandwich Cookies
Adorable snowmen sandwich cookies are a cinch to make and will be a hit at any winter party.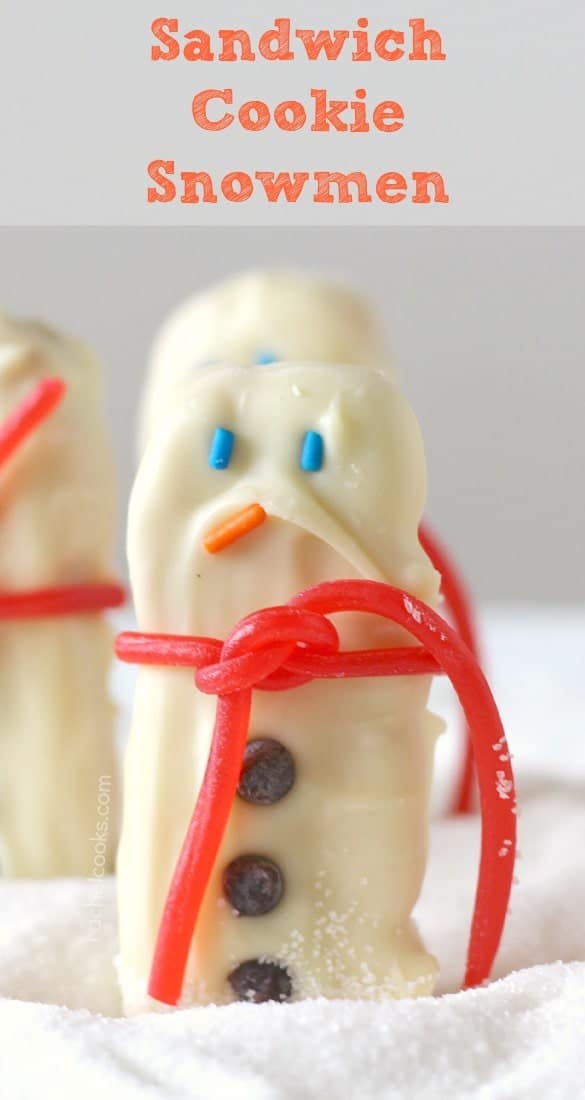 Hi, everyone! I'm busy planning N's first birthday party. CAN YOU BELIEVE IT? I'm having a seriously hard time believing that a whole year has passed since little man came into my life. I mean, really. HOW IS THIS POSSIBLE.
I'm going to blink and he's going to be 18.
Anyways, I'm planning a Winter ONEderland party for him. I'm really excited, I think it is going to be really cute! If you follow me on Instagram, you saw a little sneak peek of everything.
These cookies are a perfect fit for his first birthday party. They'd be great for any winter party! They would be darling on a plate of Christmas cookies, along with Christmas tree Rice Krispie cookies.
And they are really simple to make. It takes a little patience and a bit of a steady hand, but anyone can do it!
(I lack a bit in the steady hand department which is why I'm a physical therapist and not a surgeon. Well, that and I tried to observe surgery twice and both times I nearly passed out before they even really got started.)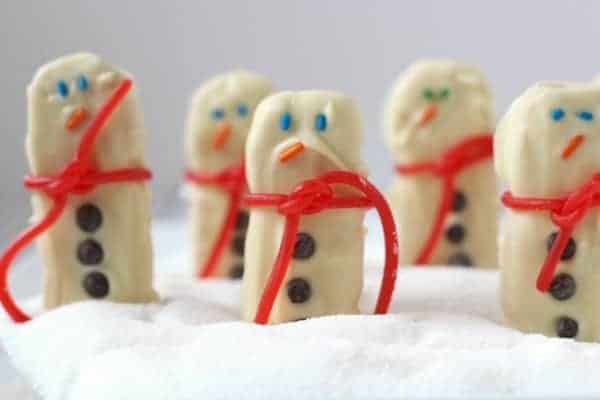 To make these snowmen sandwich cookies, dip an E.L. Fudge Cookie by Keebler's in white chocolate. Use an orange sprinkle for the carrot nose, and two blue sprinkles sprinkles for the eyes. Add a few mini chocolate chips for buttons. I use a Twizzler's pull-and-peel to make a scarf around each snowman's neck. Any kind of string licorice would work.
Aren't they cute little snowmen? Kids would love to make these, too.
PS: None of these brands are paying me — I buy their products on my own free will to make these cuties. If you can't find Keeblers' E.L. Fudge cookies, a plain rectangular oval cookie would work well, too.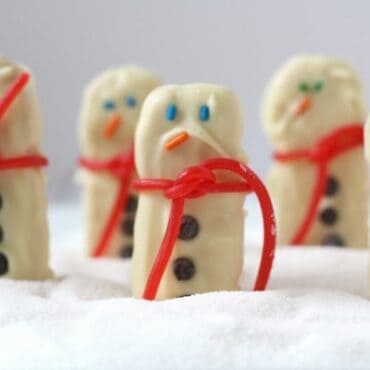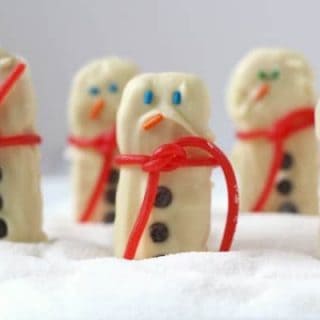 Easy Snowmen Sandwich Cookies
Yield: 8-10
Prep Time: 20 minutes
Additional Time: 1 hour
Total Time: 1 hour 20 minutes
Adorable snowmen sandwich cookies are a cinch to make and will be a hit at any winter party.
Ingredients
8 ounces white chocolate
8 or 10 E.L. Fudge Sandwich Cookies
about 30 mini chocolate chips (for buttons)
orange sprinkles (jimmies) — for nose
blue or green sprinkles (for eyes)
Twizzlers pull 'n peel licorice for scarves
Instructions
Melt white chocolate in microwave in 30 second intervals in a shallow bowl until melted. Be careful not to overheat.
Using two forks, coat the cookies in white chocolate. Place on a parchment paper lined baking sheet and immediately position mini chocolate chips as buttons, the orange sprinkles as a nose, and the green or blue sprinkles as eyes.
Let cool completely and allow chocolate to harden (you may also put it in the fridge to speed up this process).
Once cooled, take one strand of the licorice and tie it around the neck as a scarf. Make a knot in the front.
Notes
Nutrition information is very roughly calculated. Each E.L. Fudge sandwich cookie is 85 calories, without white chocolate and decorations.
This recipe would be very easy to double or triple, depending on how many snowmen you want to make!
Nutrition Information:
Yield: 10
Serving Size: 1 cookie
Amount Per Serving:
Calories: 100
Trans Fat: 0g
Cholesterol: 7mg
Fiber: 32g
RachelCooks.com sometimes provides nutritional information, but these figures should be considered estimates, as they are not calculated by a registered dietitian. Please consult a medical professional for any specific nutrition, diet, or allergy advice.
Verdict:
Tasty and cute, what more could you want?
Husband's take:
He loves these!
Changes I would make:
None are necessary.
Difficulty:
Requires a little patience, but easy.
Thanks for reading! As always, if you love this recipe, make sure to subscribe to my newsletter so you'll never miss a recipe, or you can always find me on Twitter, Facebook, Google+, Pinterest, and Instagram.
Disclosure: Post contains affiliate links.