Quinoa, Kale and Bacon Stuffed Butternut Squash
This is a Sponsored post written by me on behalf of P.F. Chang's. All opinions are 100% mine.
This stuffed butternut squash is filling, nutritious and full of the goodness of fall.
Flank steak, butternut squash, red quinoa, corn, Brussels sprouts, kale, candied walnuts, Chinese broccoli, Asian mushrooms, green apples, diakon sprouts, prawns, fresno peppers and scallions.
How inspiring is that list of fall ingredients?
P.F. Chang's is running a contest right now called The Goodness of Fall Contest based around their fall seasonal menu and these fall ingredients.
I was actually so inspired by this list of ingredients that I created two recipes, but I'm just sharing one with you today and the next will come in a few weeks as a member of a virtual Thanksgiving potluck. Brussels sprouts are the star of that upcoming recipe and I couldn't stop eating it. I can't wait to share.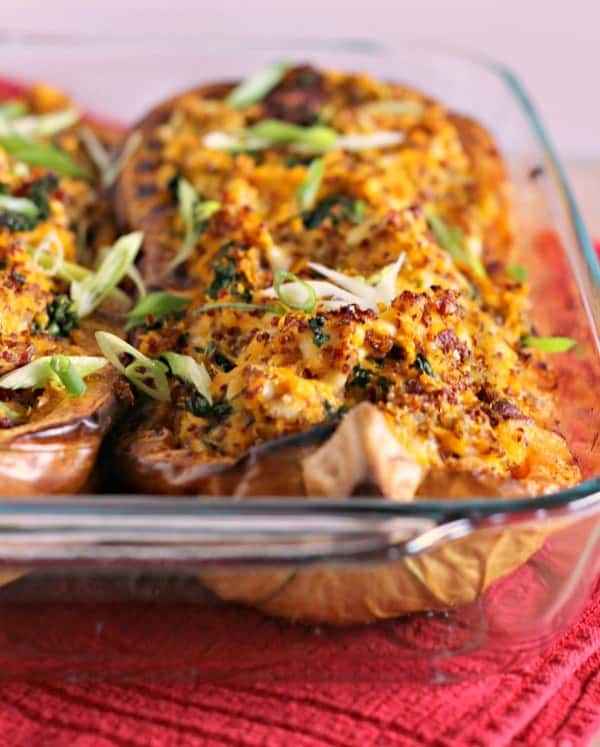 For this recipe, I used butternut squash, red quinoa, kale, and scallions. And I threw some bacon and extra sharp white cheddar cheese in for good measure. This is ultimate comfort food, you guys. And it's really quite simple to make! You roast the squash, scoop out the insides, mix the cooked squash with all the other goodies, refill it, and then bake it a little longer! It is perfect as a main dish but would also be great as a side dish on Thanksgiving.
Quinoa, Kale, and Bacon Stuffed Butternut Squash
This stuffed butternut squash is filling, nutritious and full of the goodness of fall.
Ingredients:
1 large butternut squash (mine was 5 pounds!)
1-2 teaspoons olive oil
salt and pepper
3/4 pound of thick cut bacon, cut into ~1-inch pieces
2 cups loosely packed kale, chopped small
2 cups cooked red quinoa
pinch of freshly grated nutmeg
1/2 pound extra sharp white cheddar cheese, shredded
1 teaspoon dried thyme
thinly sliced green onions (1-2) to garnish
Directions:
Preheat oven to 425 degrees Fahrenheit. Cut squash lengthwise and remove seeds. Rub or spray with olive oil and sprinkle with salt and pepper to taste. Roast for 40 minutes to an hour or until the flesh is tender. Mine took forever because it was the biggest squash I've ever seen.
Meanwhile, in a large frying pan, cook bacon until crispy over medium-high heat. Remove and place on a paper towel lined plate to drain. Reserve 1 teaspoon of the bacon grease and saute kale in bacon grease over medium heat until wilted.
When squash is cooked through, remove from oven and reduce oven temperature to 375 degrees Fahrenheit. Let squash cool slightly so it is cool enough to handle and then scoop out flesh, leaving a half-inch border around the edges. Place flesh of squash in a large bowl and mash up with a fork. Add quinoa, bacon, kale, nutmeg, cheese, and thyme. Mix until well combined. Return this mixture to hollowed out squash and bake at 375 degrees for 30 minutes or until heated through and cheese is melted. Let sit for about 5-10 minutes and then cut into slices and serve, garnished with sliced green onions.
All images and text ©
.
Are you feeling as inspired as I am by this list of ingredients? Entering is easy on P.F. Chang's facebook page and the grand prize winner gets trip for two to Napa Valley for two nights including a chef's dinner where two of the contest judges will be cooking up some of their favorites. There will be an extensive wine tasting guided by P.F. Chang's Director of Beverage. Sounds pretty amazing, doesn't it? Also, when you submit your recipe, you'll be entered into a daily drawing to win a $50 gift card to P.F. Chang's. AND head on over to the contest page to print a coupon for $10 off of $40 at P.F. Chang's.
Still not feeling inspired? Stop in to your neighborhood P.F. Chang's to try some of the items on their fall menu. I'm most excited about the Apple Cider Martini, the Shanghai Waldorf Salad, the Apple Dessert Wontons, and the Miso Chicken. I'm sure you'll leave not only full of great food, but also completely inspired to create a fall masterpeice.
Do you love P.F. Chang's as much as I do? Make sure to follow @pfchangs on Twitter and Follow P.F. Chang's on Pinterest. Which fall seasonal menu item are you most excited to try?