Cauliflower, Potato and Cheddar Bake
This Cauliflower, Potato and Cheddar Bake is a perfect side to either lighten up your usual potato dish or add in some extra vegetables. It is super easy to make and will taste great any time of year, not just at Thanksgiving.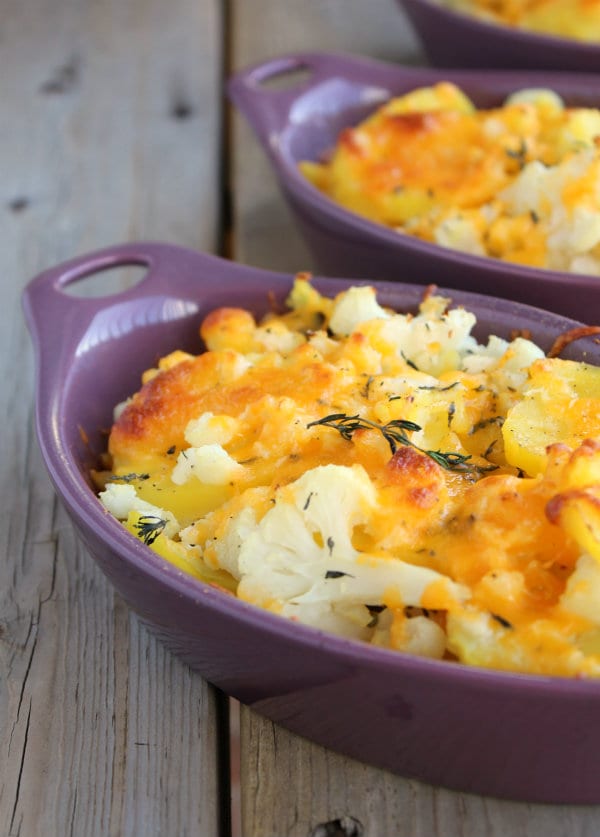 I made this using these pretty purple dishes and a great mandoline to slice the potatoes and cauliflower. I've been dying for a mandoline so when Big Kitchen approached me about teaming up it was my first choice. And I just love these adorable dishes! I can't wait to make individual servings of all sorts of things in them. I'll probably start with macaroni & cheese but that should come as no surprise. And the mandoline is great too! It took a little getting used to, but I have big plans for it as well. Once I got used to it, it was very easy to use. It has a button that you can just press to adjust thickness and it also has blades to julienne and cube. Another great feature is the storage holder for the extra blades. This is a huge safety advantage–this way they aren't loose in your pantry or wherever you store them. You can even use it as a drying rack to dry the blades after using them.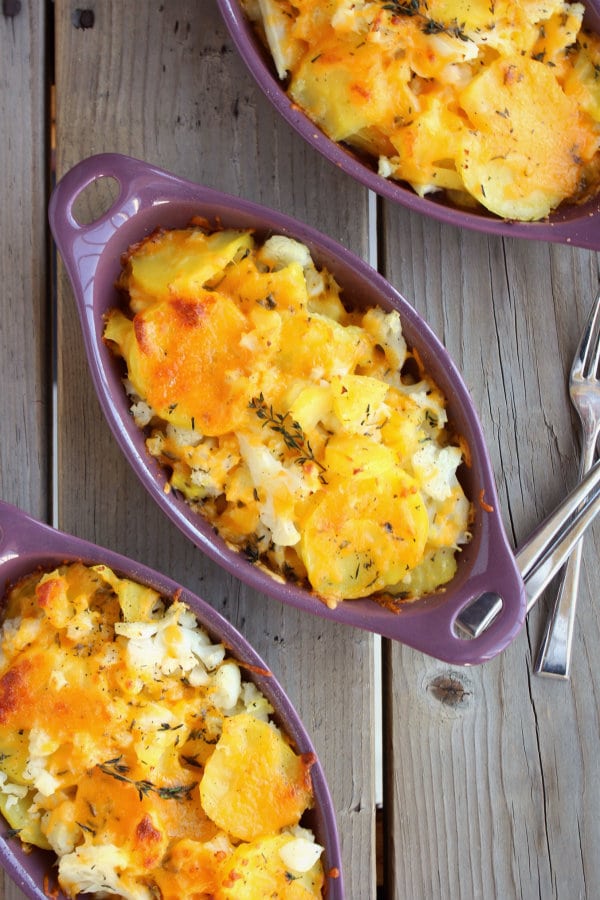 Cauliflower, Potato & Cheddar Bake
This cauliflower, potato and cheddar bake is perfect when you are looking for a slightly healthier potato side with plenty of cheesy goodness.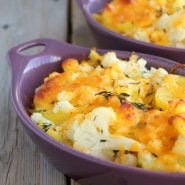 Ingredients:
1/2 tablespoon unsalted butter
3/4 pound of Yukon Gold potatoes (about 3 medium, peeled and sliced 1/4 inch thick)
salt and pepper to taste
1/2 small head of cauliflower (~1 pound), sliced 1/4 inch thick
2 teaspoons fresh thyme leaves, chopped plus more for (optional) garnish
3/4 cup shredded sharp cheddar
scant 1/4 cup of milk or chicken broth
Directions:
Preheat oven to 450 degrees F. Spray three 12-ounce baking dishes (or a 1 quart baking dish) with non-stick spray. In a large pot, cover potatoes with cold salted water. Bring to a boil. Once boiling, add cauliflower and cook about 8 minutes or until potatoes are just cooked through and cauliflower is tender. Drain in colander and let sit at least five minutes.
Divide the cauliflower/potatoes up between the three baking dishes. Sprinkle with pepper and thyme. Top with cheddar (divide evenly between three dishes). Pour over milk (divide evenly between three dishes) and dot with butter. Bake for 10-15 minutes or until cheese is golden brown and bubbling.
If you use a single larger baking dish, I would recommend doing two layers (potato/cauliflower, thyme/pepper, cheese, then repeat and then finish with milk and butter).
All images and text ©
.
Verdict: LOVE this flavorful cauliflower, potato and cheddar bake.
Husband's take: He loved this – he's not a huge potato fan so he enjoyed them being thinned out with cauliflower.
Changes I would make: None are necessary.
Difficulty: Easy.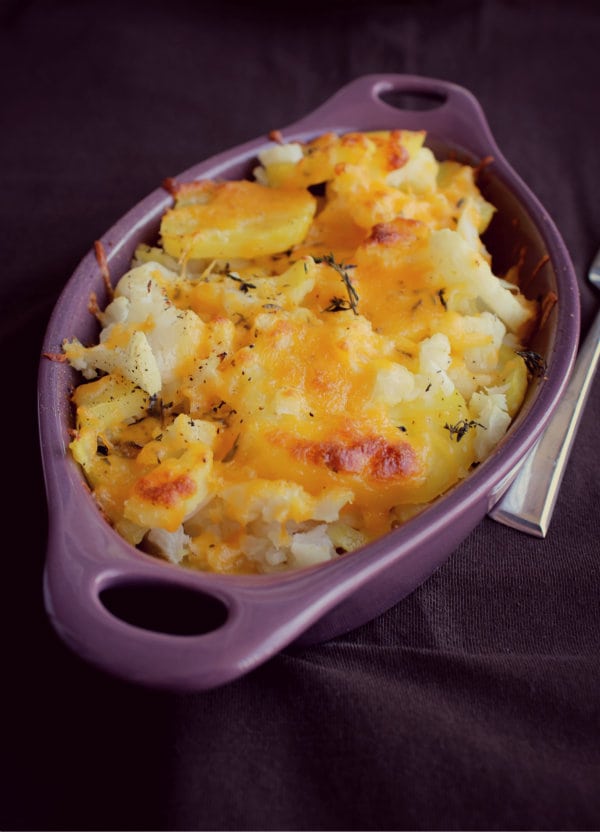 Looking for more great recipes to round out your Thanksgiving meal? Try:
Disclaimer: I was provided with the products mentioned above but no monetary compensation. Opinions are as always, 100% my own.