Rustic Four Berry Pie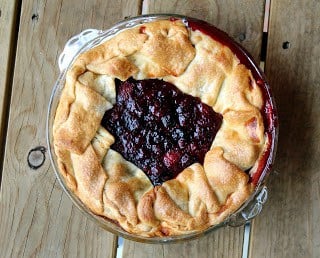 This might be the first pie I've ever made. It is certainly not the first pie that I've ever eaten. I've had two or three slices of pie. Okay, who am I trying to fool, I've had two or three million whole pies. I found the inspiration for this pie in the newest Rachael Ray magazine. I didn't make my own crust (gasp!) because I have an eight month old baby, was cooking a bunch of other stuff, and the weather was beautiful. Next time I'm making my own crust. My mom says she has an easy one for me that doesn't involve ice cold butter (we're rebels). However, the pre-rolled crust turned out to be more work that making my own probably would have been. I needed 13 inches to make the fold over style crust. The pre-rolled crusts are 9 inches. I figured if I rolled it out to 13 inches, it would be too thin and break. So I cut up the second crust in the box and pressed the pieces to the first crust to make a larger circle. I should be a surgeon. Not really, I shake like a leaf, all the time, worse on caffeine. And what surgeon isn't constantly juiced up on coffee? Also, I'm obviously not a very good surgeon–observe the seepage between the two parts (along the edge) of the crust? Bummer.
The original recipe called only three types of berries. I used four. Raspberries are the greatest berry ever, so I didn't want to leave them out. I threw in a six ounce container, minus three or four berries. They are so good fresh–they taste like summers in my grandma's garden running away from bumblebees. The original recipe called for lemon juice, I threw in some zest as well. The recipe recommended serving with strawberry ice cream, I served it with vanilla frozen yogurt. So this is healthy. Fruit and yogurt.
(Very) Rustic Four Berry Pie
adapted from Rachael Ray
2 pre-rolled pie crusts (or make your own–really, you should make your own). Shoot me an email if you want the recipe included in the magazine.
2 containers (6 oz. each) of blackberries
1 cup sugar, plus more for sprinkling
1/4 cup quick-cooking (not pearl) tapioca
2 Tbsp fresh lemon juice
1-2 tsp of fresh lemon zest
1 container (6 oz.) of raspberries
1 container (6 oz.) of blueberries
8 oz. strawberries (about two cups), quartered
1-2 Tbsp unsalted butter, cut into cubes
1 large egg white
1) In a large bowl, combine 1 cup blackberries, 1/4 cup sugar, the tapioca, lemon juice, and lemon zest and mash with a potato masher. Stir in strawberries, blueberries, raspberries, remaining blackberries, and 3/4 sugar. Let stand for at least 20 minutes, gently stirring once or twice.
2) Meanwhile, preheat oven to 400*. Make your pie crust and roll to 13″ or play surgeon like I did and rig two crusts together. I would recommend putting the nine inch crust in and then attaching the additional crust. I learned the hard way. Leave the excess crust hanging over the edge of a 9″ pie pan.
3) Spoon the berry mixture evenly into the pan, making sure to pour in all the juices that have collected in the bowl. Dot the top with the remaining 2 Tbsp of butter (I used slightly less). Gently fold the pastry up over the berries, pleating as you go around.
4) In a small bowl, beat the egg white with a fork until frothy. With a pastry brush, lightly glaze the pastry all over with the egg white. Sprinkle the dough with a few pinches (umm, be generous please) of sugar.
5) Bake the pie at 400* until the berry filling is bubbling well, about an hour (mine took 1 hour 20 minutes). Check after 40 minutes and if the crust is browning too quickly, cover loosely with a sheet of foil (I did–I used four strips of foil just over the crust and left the middle open). Let the pie cool completely, at least four hours, before cutting and serving with scoops of ice cream (or frozen yogurt).
Verdict: This was tasty! Summertime on a plate. A little runny, but still tasty.
Husband's take: Little too tart for him, but he ate two pieces, so you can come to your own conclusions.
Changes I would make: I would make my crust. I promise. I'll make my own crust. I swear.
Difficulty: Easier than a regular pie? Well, I don't really know, I've never made one. Maybe I've made a pumpkin pie. How bad is it that I can't remember?