Funfetti Pudding Pops {sprinkles!}
May I just forewarn you all that I do believe I might be obsessed with popsicles this year? (And I'm obviously obsessed with funfetti — who isn't?)
I bought these Tovolo Groovy Ice Pop Molds* and I'm not going to lie, I wanted to kill someone every time I tried to get a popsicle out. I practically dislocated my shoulder.
But now I think I finally have the hang of it and everyone is probably safe. Including my shoulder.
Now that I can actually get the stinkers out of the molds (75% of the time), my mind is going a million miles a minute with new popsicle ideas. Let's just start with pudding pops. Smooth, creamy and nostalgic. Plus these funfetti pops are so stinking cute. Kids will love them! And they are a good source of calcium. And sprinkles.
Another great thing about popsicles? Beyond easy to make. These start with an instant pudding mix — whisk it up, stir in the sprinkles and freeze. Done.
Enjoy!
Funfetti Pudding Pops
Yield: 4 large popsicles
Prep Time: 5 minutes
Total Time: 3 hours, 5 minutes
Easy to make, festive, and fun, these funfetti pudding pops will be a fun treat for the whole family.
Ingredients:
one 3.4 ounce package of instant vanilla pudding
1 and 3/4 cup 2% milk
1/4 cup multi-colored jimmies (sprinkles)
Directions:
Whisk milk and pudding mix for about 1 minute or until it begins to thicken.
Whisk in jimmies, pour into popsicle molds, and freeze until firm (at least 3 hours). Once frozen, remove from popsicle molds and enjoy immediately.
Verdict: Darn good.
Husband's take: Him and E both loved these fun pops.
Changes I would make: None!
Difficulty: So easy!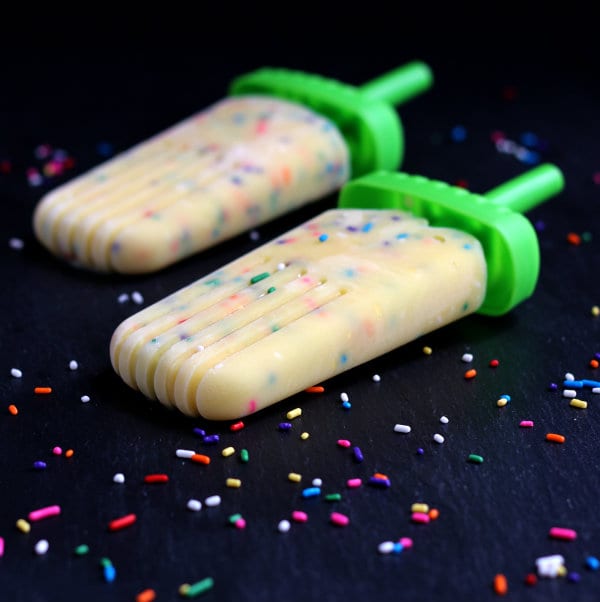 Craving More Funfetti?

Sky High Funfetti Brownies
Shortbread Cookies
Homemade Cupcakes by Gimme Some Oven
Salt Water Taffy by The Cupcake Project
Waffles by Krissy's Creations
*affiliate link