You haven't had a homemade strawberry milkshake until you make one with fresh basil. This combination is going to blow your mind!
I told you that I was going to be coming at you with more milkshakes. By now you should have all tried my mojito milkshake. No? Get on it!
Just kidding. Sort of, not really. I do think you should make it, but I'm not the bossy type. My husband and children might have a different opinion on that statement, but Ben doesn't really read this and the kids won't for years, so we'll just go with "I'm not bossy."
If I had to pick a favorite milkshake between this homemade strawberry milkshake with basil and the mojito milkshake, I'd choose both. I do have a soft spot for the combination of strawberry and basil, though. It started way, way, waaaaaaaaay back in the day with my strawberries with basil sugar.
By the way, I remember being really proud of those photos when I took them. My, how times have changed!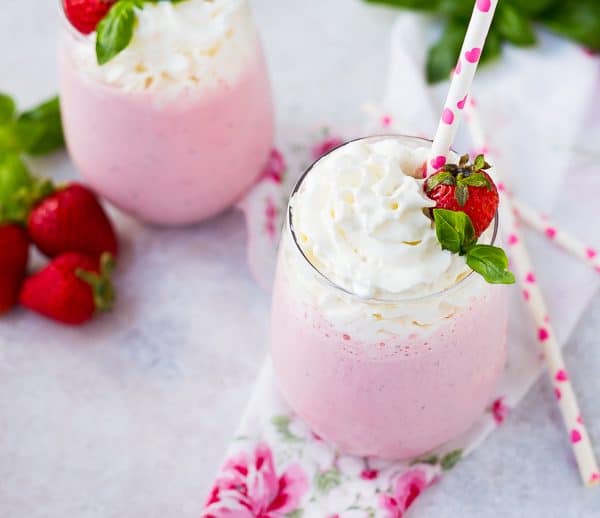 Then I upped the ante and stuffed strawberries with basil whipped cream. Next, I added basil to my favorite strawberry freezer jam. And then I stuffed French toast with strawberry basil cream cheese. AND GRILLED IT.
I promise I'm capable of creating a strawberry recipe without basil. I think so, at least.
I wouldn't recommend making these homemade strawberry milkshakes without basil though. You'll be so pleasantly surprised by the flavor it adds. It's super subtle, and people that are drinking them might not even be able to immediately recognize the flavor. But what they will say is, "What makes this milkshake so dang good?!?!" And then they'll ask for more.
Once again, I told Ben, I'm making a strawberry milkshake and I won't drink it (you know, always trying to slim down), so be ready to enjoy! And then I took a sip for quality control and before I knew it my whole glass was empty. I did share the other one with him, though. I swear I did…I'm not just writing that because he doesn't read this.
PS: If anyone is starting to think Ben is a subpar husband because he doesn't read my blog, you couldn't be more wrong. He's the best, and ultra supportive of this site. He's just unbelievably busy and he's not passionate about food like I am. Plus he hears me talk all the time and has probably already heard all this three times, so what would be the point of reading? I'm not offended, but I do like to give him a hard time here and there. Isn't that what marriage is all about?
PPS: You can find similar straws here. Aren't they cute? Perfect for a homemade strawberry milkshake, if I do say so myself.