This Grilled Shrimp Salad with Garlic Parmesan Italian Vinaigrette is summer perfection. You'll be full and satisfied without feeling like you need a nap when you're done!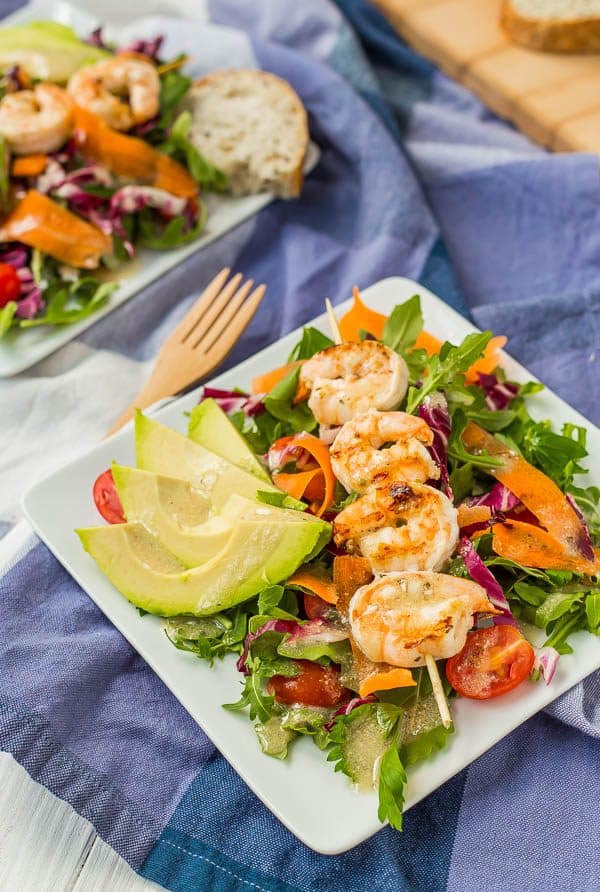 Disclosure: I'm excited to partner with Marie's Dressing to bring you this grilled shrimp salad. I have been compensated for my time, but all opinions are always my own. Thank you for supporting Rachel Cooks by reading about brands we love and use in our own home.
Summer isn't over yet! Thank goodness for that. It is going waaaay too quickly, though. But there's still time for plenty of colorful, crisp summer food. Well, if you ask me, that's something I plan to eat year-round. I might even use the grill year-round if Michigan is kind to us! (That probably won't happen, but thank goodness for a grill pan.)
Typically Ben does the grilling (even when I ask him to grill stranger things like grilled pizza or stuffed portobello mushrooms), but this year I've been delving more and more into it. Perhaps it has to do with his ridiculously long hours at work, or maybe it's just my independent, I-can-do-all-things spirit.
It's actually really fun to throw on my sunglasses and head outside to stand in the bright sunshine by the hot grill. It could be that I just love being in our new backyard, surrounded by apple trees and wildlife. I feel like this year I'm more relaxed and can really fully enjoy it. Last year, we didn't even move in until early September. What a whirlwind that was. I'm thankful for this year feeling much, much, much calmer. (Knock on wood.)
Ben had the kids out and about on the day I developed this grilled shrimp salad recipe. He knows that it's nearly impossible for me to work during the week and I'm so grateful that he helps out with the kids on the weekends so I can cook and photograph these recipes for you guys.
So, the grilling was up to me.
I'm embarrassed to admit it, but at first I couldn't start the grill. I just couldn't get it going. Lame, right? Thankfully, it gave me the opportunity to test this recipe out on the grill pan. I'm happy to say that it works great that way as well. The only downside is that you have to wash the grill pan, which is one of my least favorite kitchen tasks ever.
One of the things I love about fresh food like this grilled shrimp salad is that you're left feeling satisfied after eating it without being overstuffed. (Like me the other day, when it was too many chips at a popular fast-casual Mexican chain. I just can't resist the guacamole!)
This colorful salad will leave you "happy full." Happy-full is much better than I-can't-move-I-need-a-nap-full, am I right?