A rainbow birthday party is fun for any age but perfect for an adorable 1st birthday party. And great for boys and girls!


I think this is one of my all time favorite birthday party theme ideas. The bright colors are so fun, so perfect for a young child and it's perfect for either spunky little boys or sweet little girls. It's easy to find fun foods that fit the theme, bright and attractive decorations, and even crafts for the kids. Here I've compiled some of my favorite ideas to make your sweet little one's birthday a huge success.

Every great party needs to start with a great invitation. A hint at what's to come and a warm welcome to celebrate your little one. My talented friend Suzie of Color Bar Creative created this adorable invitation for my dream rainbow birthday party (I need to make this happen in real life asap). I also wish my address was really 123 Rainbow Lane. Suzie is not only a pro at birthday invitations but also does complete wedding packages, graduation open houses, and more. Find her on Facebook to see more of her great designs.
Following are more ideas to make your rainbow party colorful and perfect. I've covered decorations, food (duh), crafts, favors, supplies and presents. Read on to the bottom to enter to win a fun toy that would make any toddler's day.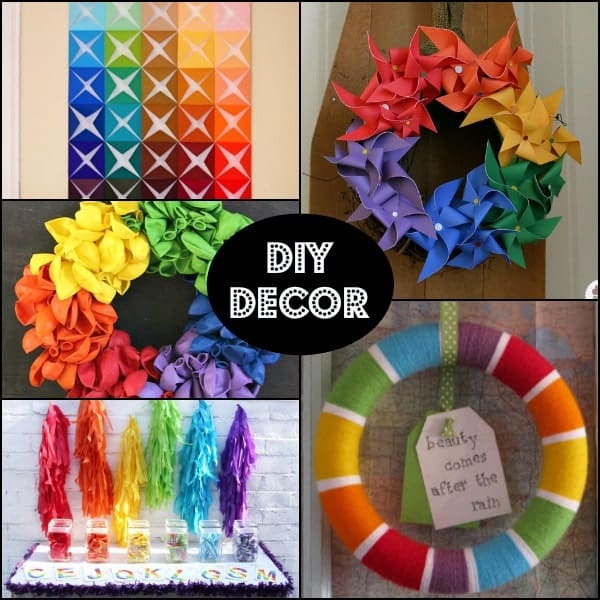 Decorations:
Rainbow Balloon Wreath {from Hoosier Homemade}
Rainbow Pinwheel Wreath {from Hoosier Homemade}
Rainbow Yarn Wreath {from Pure Heart}
DIY Folded Paper Wall Art {from How About Orange}
DIY Birthday Yard Sign {from Studio DIY}
Vertical Fringe Garland {from Studio DIY}
Menu Ideas: