Skillet Chicken Pot Pie – One Pan!
Creamy chicken and vegetables, flaky biscuits, and only one pan! This skillet chicken pot pie is comfort food at its best!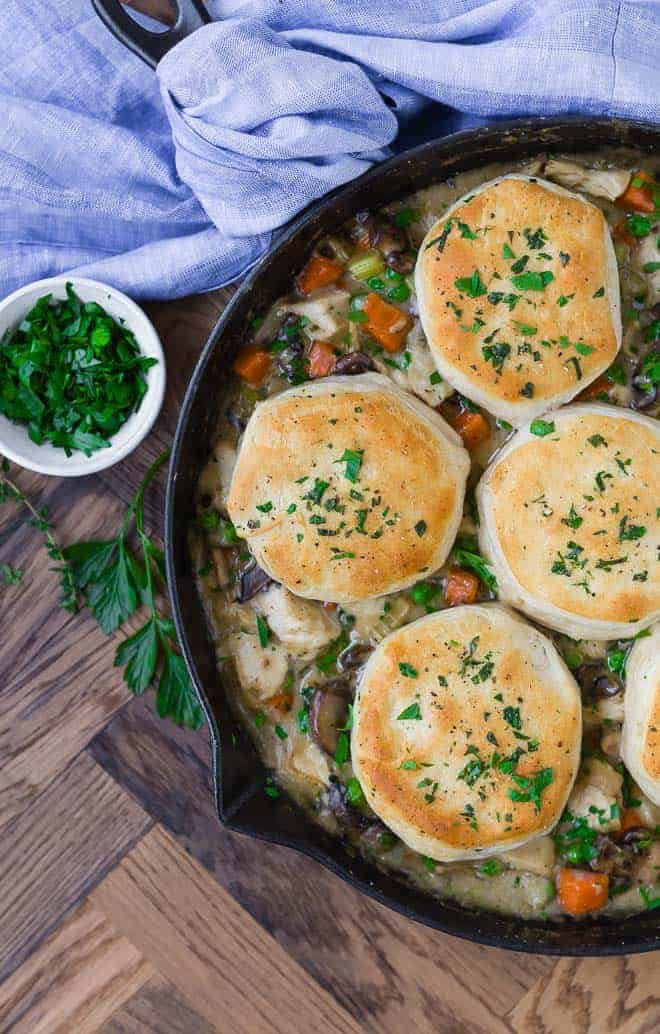 Don't you just love chicken pot pie?
I'm not talking about those little individual frozen pot pies that have been around forever with the cardboard crust, and hardly any chicken or vegetables, but loads of salty gravy. I'm talking about the real thing: big chunks of tender chicken, lots of colorful vegetables, creamy gravy, and a flaky crust. Now that's down home cooking at its best! So beautiful to behold and even better to eat.
So good, but kind of time consuming to make, right? Fry up the chicken, cut up and cook the vegetables, make the sauce, roll out the crust…phew! Sounds like a lot of dirty dishes too, doesn't it?
Good news! This skillet chicken pot pie with biscuits is prepared in one pan, from start to finish. I won't lie to you, that pan is going to get a work out. You'll spend a little time at the stove. While that chicken pot pie is in the oven, give yourself a little pat on the back and say to yourself, I did it! It looks gorgeous! The smells are heavenly! My family will think I'm a genius!
And then, maybe treat yourself to a little glass of wine!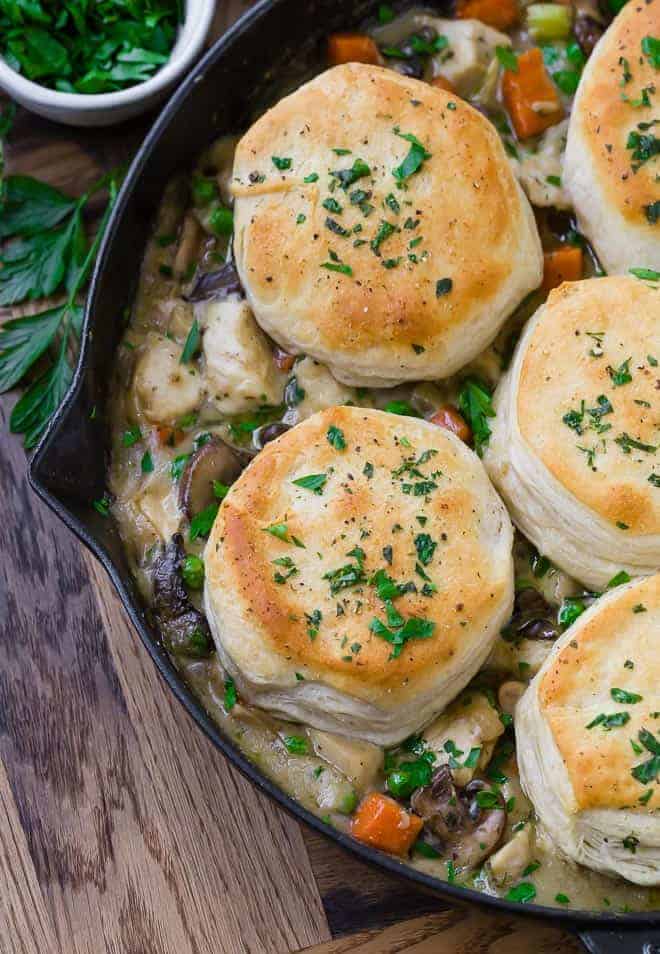 About this Skillet Chicken Pot Pie
To prepare this skillet chicken pot pie, use a large sized oven safe skillet. A cast iron skillet (12-inches or larger) would work beautifully. This is the one I use. Sauté the cut up chicken, remove it from the pan, and add the onions, carrots, celery, and mushrooms.
After the vegetables have softened and browned a bit, sprinkle in the flour and stir it around, coating the sauteed vegetables. Pour the broth in, and simmer gently until the sauce thickens up. Stir in the cream, chicken, peas, and herbs.
Open the can of biscuits and place them right on top of the chicken mixture. I brush the tops of the biscuits with a mixture of melted butter, garlic powder, and a little chopped parsley, just for a little extra wow!
How to make this pot pie your own:
I used traditional pot pie vegetables and seasonings for this recipe. If you would like to change it up a little, or if you don't have the listed ingredients on hand, I have a few suggestions for you.
Your kids just really hate peas? Or carrots? Substitute another vegetable they do like, maybe corn, or green beans, or even broccoli or cauliflower. Use what you have in the fridge.
I used canned biscuits for the topping. As you stand in front of the canned biscuit section of the store, you'll see so many varieties, ranging from flaky buttermilk to cornmeal to crescents. Choose the one that your family likes best. You could also use a refrigerated rolled pie crust instead of biscuits for a more traditional pot pie. Puff pastry would be delicious, too.
Change up the herbs. Instead of parsley and thyme, use tarragon or sage. Fresh or dried, either will work here.
Rotisserie chicken would work well in this recipe.
If you don't have a large oven proof skillet, you could make the chicken mixture in a regular skillet. Pour the chicken mixture into a 9×13 baking dish, place the biscuits on top, and bake. You'll have one more dish to wash but your chicken pot pie will taste just the same.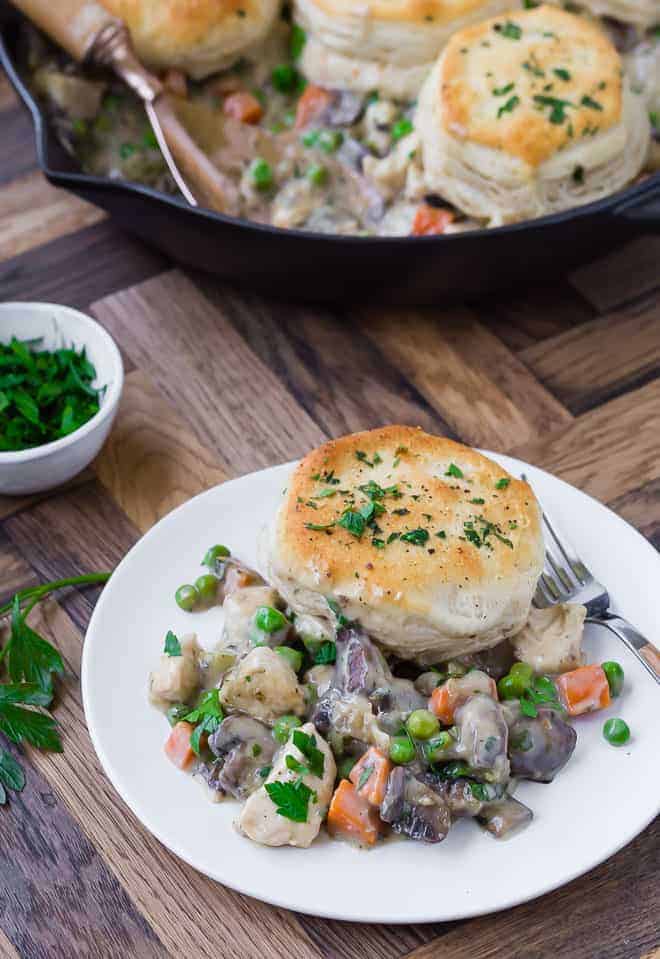 How to reheat leftovers of this recipe:
If you have leftovers, the best way to reheat this chicken pot pie with biscuits is to heat leftovers in the oven (or toaster oven) for 20 minutes or so, or until the chicken mixture is good and hot. You may want to cover the biscuits with foil to keep them from over browning. You can also heat leftovers in the microwave but the biscuits won't be quite as good.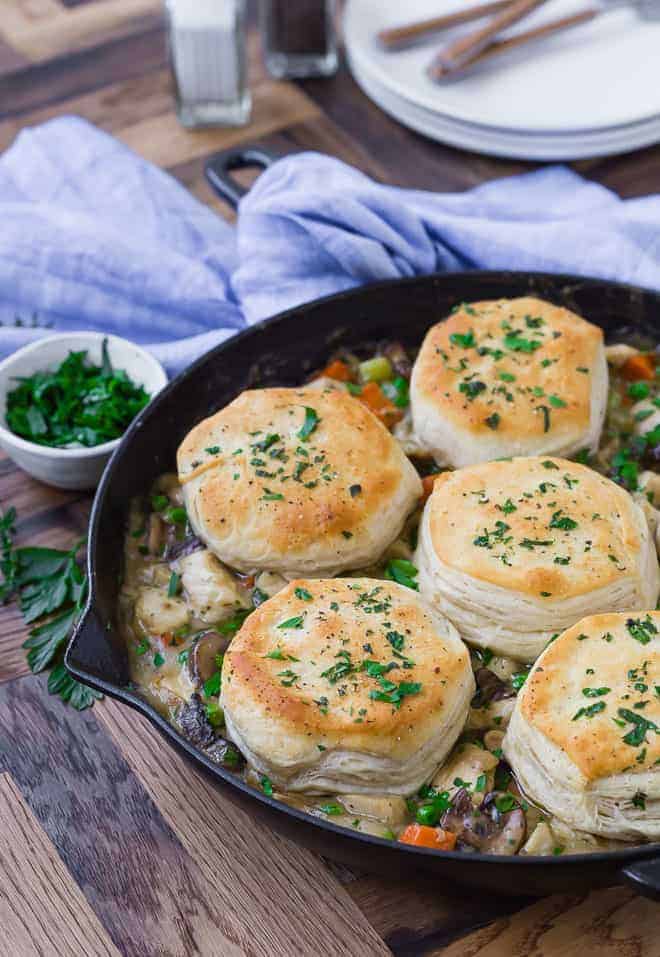 What to serve with this pot pie:

A hearty main dish like this goes great with a light salad! Try these:
Skillet Chicken Pot Pie - One Pan!
Yield: 6 servings
Prep Time: 15 minutes
Cook Time: 1 hour
Total Time: 1 hour 15 minutes
Creamy chicken and vegetables, flaky biscuits, and only one pan! Comfort food at its best!
Ingredients
Pot Pie
2 tablespoons olive oil, divided
1 1/2 pounds boneless skinless chicken breast, cut into 1-inch cubes
1/2 cup diced celery (about 1 large stalk)
1/2 cup chopped yellow onion (about 1 small onion)
1 cup chopped carrots (about 2 medium carrots)
¾ teaspoon salt
¼ teaspoon black pepper
8 ounce pkg. sliced mushrooms
2 tablespoons unsalted butter
1/3 cup all-purpose flour
1 tablespoon dried parsley (or 2 tablespoons fresh)
1/2 teaspoon dried thyme (or 1 teaspoon fresh)
1/4 teaspoon celery seed
2 cups low-sodium chicken broth
1/4 cup heavy cream
1 cup frozen peas
16.3 oz can refrigerated biscuit dough (see note)
Topping:
1 tablespoon unsalted butter, melted
1 teaspoon dried parsley flakes, or chopped fresh parsley
⅛ teaspoon freshly ground pepper
⅛ teaspoon garlic powder
Instructions
Preheat oven to 375ºF.
In a large oven-safe skillet, heat 1 tablespoon oil over medium-high heat.
Brown chicken cubes 10 minutes, or until mostly done; remove from skillet to plate.
Wipe out skillet. Heat 1 tablespoon oil over medium-high heat. Add celery, onion, and carrots and saute for 10 minutes, or until onions are translucent and vegetables are softened, stirring often.
Add mushrooms and continue to stir and cook until browned, about 5 minutes.
Add butter to pan, stir until melted, then sprinkle flour over vegetables. Continue to stir and cook for 2-3 minutes.
Slowly add chicken broth, parsley, thyme, and celery seed; bring to a simmer. Turn heat to medium and simmer 14-15 minutes or until thickened, stirring occasionally.
Turn off heat and gently stir in cream, peas, and cooked chicken.
Check seasoning and add more salt or pepper, if needed.
Place desired number of biscuits directly on top of chicken mixture. You should be able to see some of the filling in between the biscuits.
In a small bowl, mix the melted butter, pepper, and garlic powder. Using a pastry brush, brush mixture on top of biscuits.
Place in preheated oven and bake for 13-16 minutes or until biscuits are browned and chicken mixture is bubbling.
Notes
You may use whatever kind of canned refrigerator biscuits you prefer. I only used 6 biscuits out of my can of 8. Use directions on can as a guide for baking time. If biscuits begin to brown too quickly, cover lightly with aluminum foil.
Use low salt or no salt added chicken broth to reduce sodium count.
If you don't have a large enough oven-safe pan, you can prep the chicken filling in a skillet, pour it into a 9x13 baking dish, top with biscuits, and bake.
Recommended Products
As an Amazon Associate and member of other affiliate programs, I earn from qualifying purchases.
Nutrition Information:
Yield: 6
Serving Size: 1 of 6
Amount Per Serving:
Calories: 584
Total Fat: 21g
Saturated Fat: 8g
Trans Fat: 1g
Unsaturated Fat: 10g
Cholesterol: 123mg
Sodium: 1083mg
Carbohydrates: 54g
Fiber: 5g
Sugar: 8g
Protein: 46g
RachelCooks.com sometimes provides nutritional information, but these figures should be considered estimates, as they are not calculated by a registered dietitian. Please consult a medical professional for any specific nutrition, diet, or allergy advice.
Verdict: I love this cozy and hearty pot pie so much! I'm a sucker for biscuits and a warm, flaky biscuit on top of all the amazing flavors of this pot pie? I'm sold.
Husband's take: Ben loves this pot pie too. Would you believe he prefers to eat the leftovers cold? To each their own, I suppose…
Changes I would make: None at all are necessary!
Difficulty: It's a little bit of a labor of love and you'll be at the stove for a little while, but it's so worth it. The good news is, you'll get that time back because you'll only need to wash one pan when it's all said and done.