Bacon Guacamole Appetizer (low-carb!)
These bacon guacamole appetizer bites are perfect for game day or any other party – plus they're low-carb!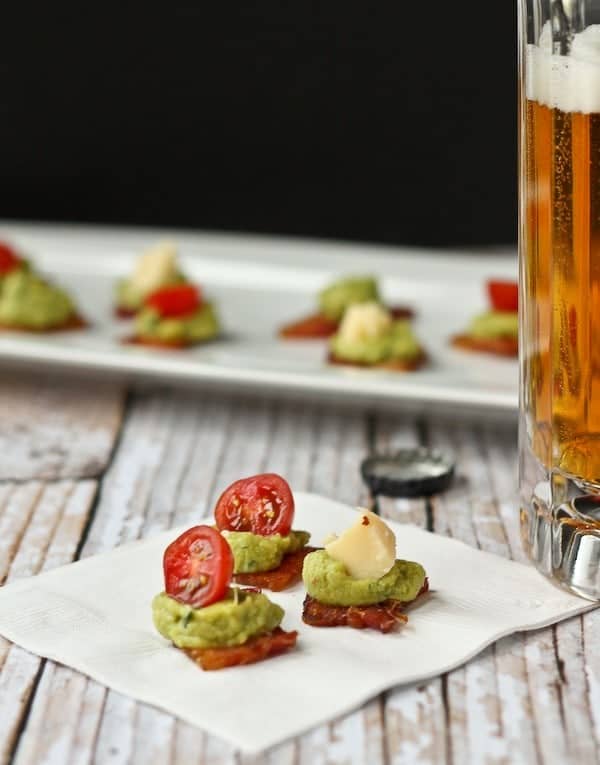 With Super Bowl approaching, it's time to start planning some game day eats and snacks. Because after all, that's what is about, right? Food and commercials. Right? Am I missing something? I don't think so.
Oh, and bacon. And guacamole. Food, bacon, guacamole, and commercials. I think that covers it.
This is a perfect Super Bowl snack because it's ridiculously easy to make. You don't want to be slaving away in the kitchen. As a bonus, it will make your house smell like bacon.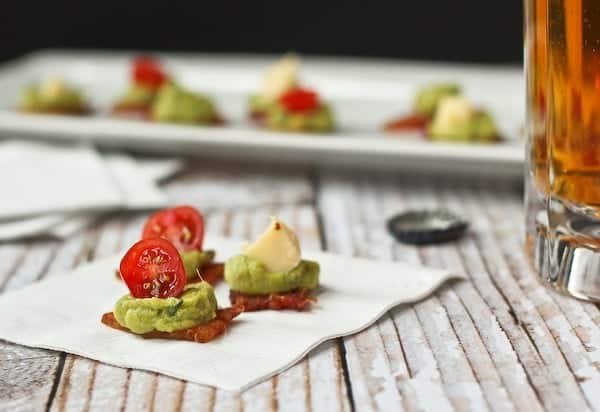 What makes this bacon guacamole appetizer even easier is that I use already prepared guacamole from my friends at Sabra.*
Using a great tasting prepared guacamole will take the stress out of this recipe. Goodness knows, living in Michigan, when I slice open an avocado, I never know what I'm going to get. There's a 50/50 chance it is going to be nasty, brown and stringy inside. Actually more like 80/20. It's a sad avocado situation here in Michigan. When I open a container of Sabra guac, I know I can confidently move forward with the rest of my recipe.
To avoid the bacon cracking or crumbling, slice it into bite-sized pieces prior to cooking (remember it will shrink slightly during cooking). I bake it so that it will remain nice and flat. I also line my baking sheet with parchment paper so I don't lose any precious bacon to a sticky situation with my baking sheet.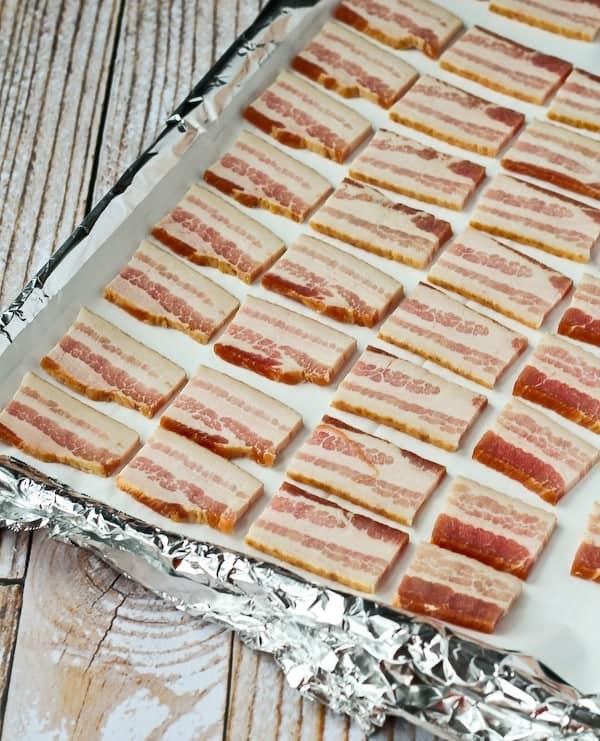 After the bacon is cooked and cooled slightly, use tongs to pick the bacon pieces up and lay them on a few layers of paper towels to drain, patting the tops with more paper towels to remove the excess grease.
To easily get the guacamole on the bacon pieces, spoon the guacamole from the container into a zip-top sandwich bag. Then cut a small corner off the bag and just squeeze the guac onto the bacon pieces.
I like to vary the toppings. My favorite is a halved grape or cherry tomato or a small piece of a nice sharp cheddar — both delicious. Other tasty toppings would be a sprinkle of fresh chopped cilantro or parsley, sliced green onions or jalapeño peppers, or pickled red onions. You could leave a few of the guacamole bites plain for traditionalists out there.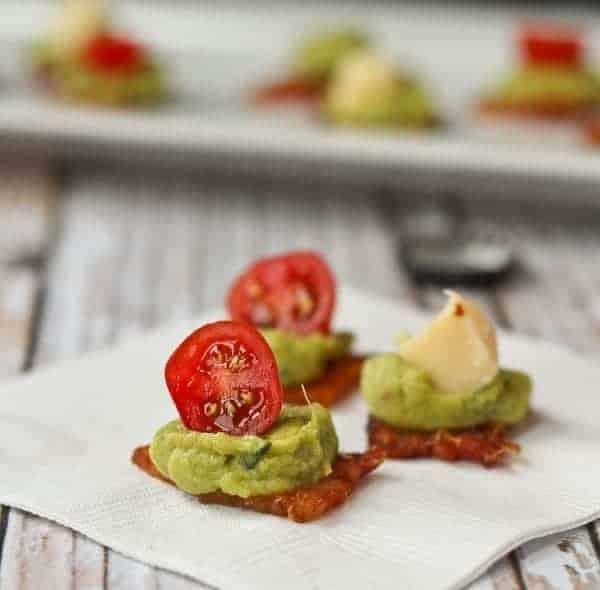 Enjoy! Happy snacking. Oh yeah, and watching football commercials.
Looking for more game day eats and fun appetizers?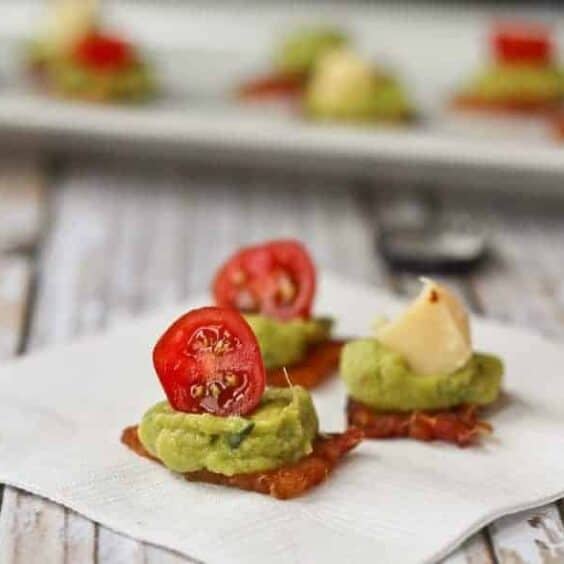 Bacon Guacamole Appetizer (low-carb!)
Yield: about 40 (depends on size)
Prep Time: 10 minutes
Cook Time: 28 minutes
Total Time: 38 minutes
These bacon guacamole appetizer bites are perfect for game day – plus they're low-carb!
Ingredients
about 1 pound thick sliced bacon, cut into 1 1/2 to 2-inch pieces
one 8 ounce package Sabra Guacamole (likely won't need it all – use the rest for chips)
grape tomatoes, halved
sharp cheddar cheese, cut into small chunks
Instructions
Line a baking sheet with foil and then with parchment paper. Arrange bacon pieces in a single layer so they are not touching.
Put bacon in cold oven and turn on to 400°F. Bake for 28 minutes total or until crispy and browned. Remove and place on a paper towel lined plate.
Meanwhile, put Sabra Guacamole in a small zip top bag and cut off a small corner. Squeeze a small amount of guacamole on each piece of bacon and top with either a cut grape tomato or a chunk of cheese. Serve immediately.
Notes
Nutrition for bites topped with tomatoes, not cheese.
Alternative toppings: chopped cilantro or parsley, sliced green onions, jalapeño peppers, pickled red onions.
Nutrition Information:
Yield: 20
Serving Size: 2 pieces
Amount Per Serving:
Calories: 101
Total Fat: 6g
Saturated Fat: 2g
Trans Fat: 0g
Cholesterol: 9mg
Sodium: 328mg
Carbohydrates: 2g
Fiber: 1g
Sugar: 1g
Protein: 5g
Verdict:
Hello. Bacon, guacamole. Yum, yum.
Husband's take: What dude wouldn't love a bacon guacamole appetizer? I shared these with the neighbors, too, and they loved them.
Changes I would make: None.
Difficulty: Super easy!
*Disclosure: I'm honored to have been selected to be a Sabra Tastemaker. I've been compensated for my time but all opinions are (as always) my own. Thanks for supporting my blog by reading about products I use and love.