Vegetable Cream Cheese Roll Ups (Extra Protein!)
These vegetable cream cheese roll ups are full of crisp vegetables, flavorful herbs, and smooth cream cheese. They make a great lunch or snack thanks to extra protein in the wrap!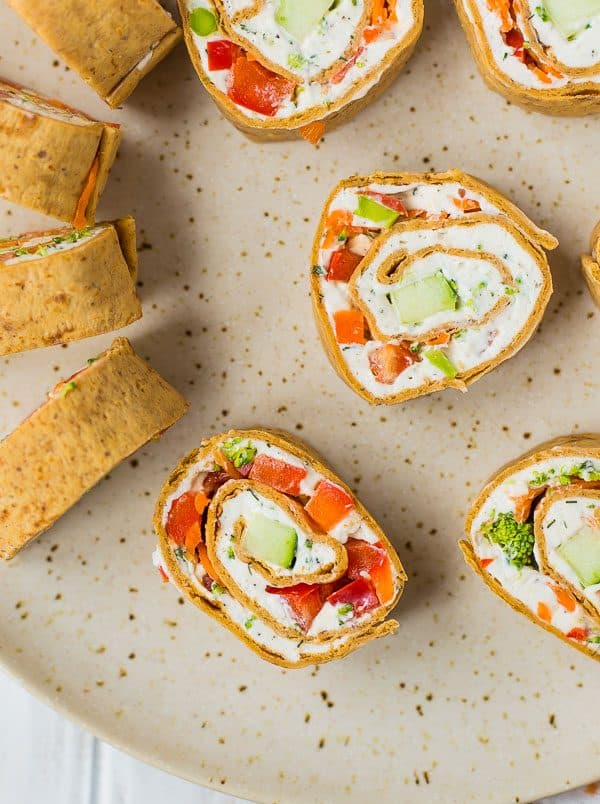 This post is in partnership with Flatout. Thanks for supporting Rachel Cooks by reading about brands I love and use in my home!
Anyone else getting tired of making school lunches? I need to mix it up a little but I of course want something that involves as little effort as possible. Making school lunch is not my favorite thing, at all.
Cream cheese roll ups are one of my favorite snacks or appetizers to make and they also work fantastic for lunchboxes. I typically make them with tortillas like I did with my southwestern cream cheese tortilla roll ups and my pizza tortilla pinwheels, but this time I reached for Flatout. I bumped up the protein in this recipe by using Flatout ProteinUP™ Carb Down® Flatbread. It's super soft and pliable but still strong. Plus, it has 12 grams of protein (in the wrap alone!) and only 130 calories. It's the perfect vessel for any healthy sandwich or wrap, or these fun cream cheese roll ups. And it will keep those kiddos extra full!
Customize These Cream Cheese Roll Ups!
You can customize the vegetables you use in these cream cheese roll-ups, whatever you have on hand. The only thing to be careful about is the moisture content, you won't want a super wet vegetable like tomatoes. As these are, they're best eaten the same day, unlike other cream cheese roll ups that are even better the next day. These tend to become a little soggy the next day. They still taste great but they're just not quite as…pretty.
In my pinwheels, I used cucumber (make sure to remove the seeds), red bell pepper, shredded carrots, and broccoli. You'll want to make sure to dice everything really tiny so it rolls up into a nice roll instead of a bumpy log. I cut the broccoli florets really finely, shredded my carrots and cut my red bell pepper into little tiny cubes. I chose to slice the cucumber into one long strip and put it right down the middle of the roll. I did this for a couple of reasons:
I thought it would look pretty! It does, doesn't it?
I wanted each roll to have a bite of cucumber in it.
Since cucumber is a more watery vegetable, I wanted it in the center and not all chopped up to minimize the effects of its moisture.
Everything else, I distributed throughout the rolls.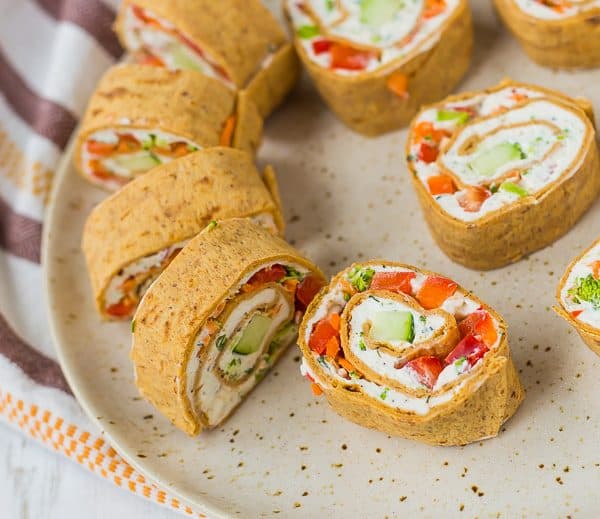 I also want to mention the cream cheese. I used plain cream cheese and mixed my own herbs in. You could also use a chive/herb cream cheese or a vegetable cream cheese. I'd still add the dill to either of those, because I love the flavor of the dill with the vegetables. I used a whipped cream cheese because it's easy to mix and spread, and I like easy. You know this about me by now, right?
Happy summer, folks! These scream summer. Thank you, dill! I hope you love them!
Vegetable Cream Cheese Roll Ups (Extra Protein!)
These vegetable cream cheese roll ups are full of crisp vegetables, flavorful herbs, and smooth cream cheese – a great lunch, thanks to extra protein!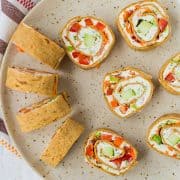 Ingredients:
one (12-ounce) container of plain whipped cream cheese
1 teaspoon dried chives
1/2 teaspoon dried dill
1/2 teaspoon dried parsley
1/2 teaspoon ground black pepper
1/4 teaspoon onion powder
1/4 teaspoon garlic powder
4 Flatout ProteinUp CarbDown Wraps
1/2 small red bell pepper, finely diced
1 cucumber, cut into long thin slices (seeds removed) (won't need all)
1 carrot, grated
1 small crown of broccoli, finely diced
Directions:
In a medium sized mixing bowl, mix together cream cheese, chives, dill, parsley, black pepper, onion powder, and garlic powder until well combined.
Spread this mixture onto a Flatout ProteinUp CarbDown Wrap all the way to the edges in an even layer. Repeat on 4 wraps. Place cucumber slice on one end of roll (the shorter of the two sides), and then sprinkle all other vegetables evenly over cream cheese.
Tightly roll up tortilla with the filling on the inside. Wrap in plastic wrap. Repeat until all tortillas are filled and rolled.
Place wrapped rolls in fridge and chill for at least 1 hour before slicing into pinwheels about 1/2-inch thick and serving. Best served same day.
Note: Chop your vegetables VERY – about 1/2 cup of each chopped vegetable is perfect!
All images and text ©
.
Verdict: I brought these as an appetizer to a Mother's Day gathering and everyone loved them!
Husband's take: Honestly, I don't even know if he tried them. Cream cheese isn't really his thing. My dad, however, doesn't like red bell peppers but he was devouring these!
Changes I would make: None are necessary.
Difficulty: Easy!
You can easily find Flatout Flatbread near you using FlatoutFinder.com. You can also follow along for recipe ideas on Facebook, Twitter, or their blog.
Disclosure: I'm excited to partner with Flatout Flatbread to bring you quick and delicious recipes like this vegetable wrap. I have been compensated for my time but all opinions are always my own. Thank you for supporting Rachel Cooks by reading about brands we love and use in our own home.