Beer Marinated Chicken Thighs
Beer marinated chicken thighs scream SUMMER loud and clear. The subtle taste of the beer in every bite of the chicken will have everyone singing your praises.
I have this thing about making twice as much grilled chicken as I need. It's all about streamlining the process. If I make double the chicken, I get double the meals with the same amount of work. Plus I just adore grilled chicken cold on top of a salad. It's great on a sandwich too.
And life is a liiiiiiiitle crazy right now so prepping food ahead is a must. I haven't shared a lot about what is going on because truthfully I've been so busy. Nothing bad, all good things. Ben got a new job. Same position (high school principal) at a new school. We're moving out of the Detroit area into a pretty rural area just east of Grand Rapids. We've wanted to move to the west side of the state since we got married. We love the area and all my family is still there. I'm so excited to be able to spend more time with my family and have the kids grow up with their cousins.
Here's the timeline of recent events:
June 15th – job offered and accepted (PS: Principal interviews are intense, folks. In his second interview, Ben had a 30 minute writing portion and then three 30 minute interviews in front of panels of 10+ people each. Better him than me! I do take comfort in knowing that our schools go through such a rigorous process to select the right candidate.)
June 16th – the kids and I leave for Grand Rapids for pre-planned trip for my niece's birthday
June 18th – Ben joins us and we look at houses all morning. Birthday party in evening.
June 20th – more house hunting, also visit a school for the kids, put offer in on house
June 20th (pm) – school board meeting – it's official! Oh and hey…we also got the house!
June 21st – head back home
June 22nd – Ben leaves for 3 day training in Traverse City. I frantically get house in selling shape and meet with two realtors.
June 25th – Ben and meet back in Grand Rapids for the inspection on our new house and also another school visit
June 27th – house showings start on our current home
July 4th – I work my final day at the hospital
July 7th – Ben starts work
July 7th (yes, the same day Ben starts his new job) – I head to Traverse City for a 4 day blogging event
July 9th – open house for our current house
July 11th – Ben heads back to the other side of the state at 3:45 in the morning to start another work week. We'll see him again late Thursday night!
Oh and we leave for a week long vacation soon. And our house hasn't sold yet. We close on our new house July 29th. Totally calm summer.
PS: Wanna see our new house?
It's on 3.5 acres in the counnnnnntrrrrry and we love it. I am already mourning the loss of all my favorite carry-out places but we're very close to Grand Rapids and all the great restaurants there. Now who wants to teach me everything they know about wells, water softeners, and septic tanks? (Clueless city girl here….)
I have to share just a couple more pictures because I just love it. Here's the kitchen…I've always wanted a white kitchen, but really, who is going to complain about this space?
And then the very very lovely deck. Can't wait to entertain at this house!

We'll definitely be firing up the grill and cooking this beer marinated chicken as soon as possible. Actually we'll be doing as much grilling as possible. This chicken is great because you can taste the beer in every bite and the spices used in this recipe make it completely irresistible – full of flavor but not overly spicy. It's a total crowd pleaser. This year I'll be rotating out my go-to greek style marinade more often for this flavorful marinade. You can't go wrong with either recipe. Either recipe would be great with a side of these grilled stuffed mushrooms that you all love so much.
Round out the meal with a great salad, perhaps? This one is a classy classy choice and this orzo salad is a major hit everywhere it goes.
I asked my newsletter subscribers about seeing more of the house and the overwhelming response was yes. What do you think…would you like a virtual tour?
Needed for this recipe:

beer — I like a light (in color) beer with a lot of flavor, IPAs work great in this recipe, and I if I remember correctly, the photographed chicken was marinated in Dos Equis.
a grill! I also like my stovetop grill pan….but you won't be able to do 40 ounces of chicken on that.
Love this marinade? Try my tequila lime chicken marinade or the fan favorite balsamic chicken marinade.
Beer Marinated Chicken Thighs
Beer marinated chicken thighs scream SUMMER loud and clear. The subtle taste of the beer in every bite of the chicken will have everyone singing your praises.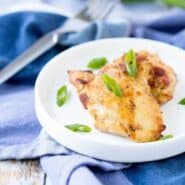 Ingredients:
Two twenty ounce packages boneless skinless chicken thighs
1/4 cup olive oil
1 1/2 teaspoon sea salt
1 teaspoon ground black pepper
1 teaspoon paprika
3/4 teaspoon cumin
1/4  teaspoon cayenne pepper
1/2 teaspoon garlic powder
3/4 teaspoon onion powder
12 ounces beer
Directions:
Mix all ingredients together in a zip-top bag. Move chicken around until fully coated in marinade. Place in a bowl or baking dish to protect your fridge from any possible leaks. Refrigerate for at least 4 hours or up to 24 hours.
Remove from marinade and grill over medium heat for about 5 minutes on each side or until fully cooked (chicken reaches an internal temperature of 165 degrees Fahrenheit when tested with instant-read thermometer).
Tent with foil and rest for 5 minutes prior to serving.
Note: This would also be amazing on chicken breasts!
All images and text ©
.
Verdict: I adored this beer marinated chicken. I loved how much you could taste the beer.
Husband's take: I made this on a weekend my parents were visiting and the whole family adored them. They have the perfect amount of spice and you can pick up the beer flavor in every bite, but it isn't overwhelming. Summer winner, for sure.
Changes I would make: None!
Difficulty: So easy!
PS: The house has 6 bedrooms. Time for another baby?
PPS: PROBABLY NOT. Bedroom distribution is as follows and as you can see, there's six occupied rooms:
master
E's room
N's room
office/studio
guest bedroom
gym