Easy Grapefruit Cheesecake Bars with Mint
This easy grapefruit cheesecake with mint is rich yet refreshing. It's a perfect summer dessert for any occasion.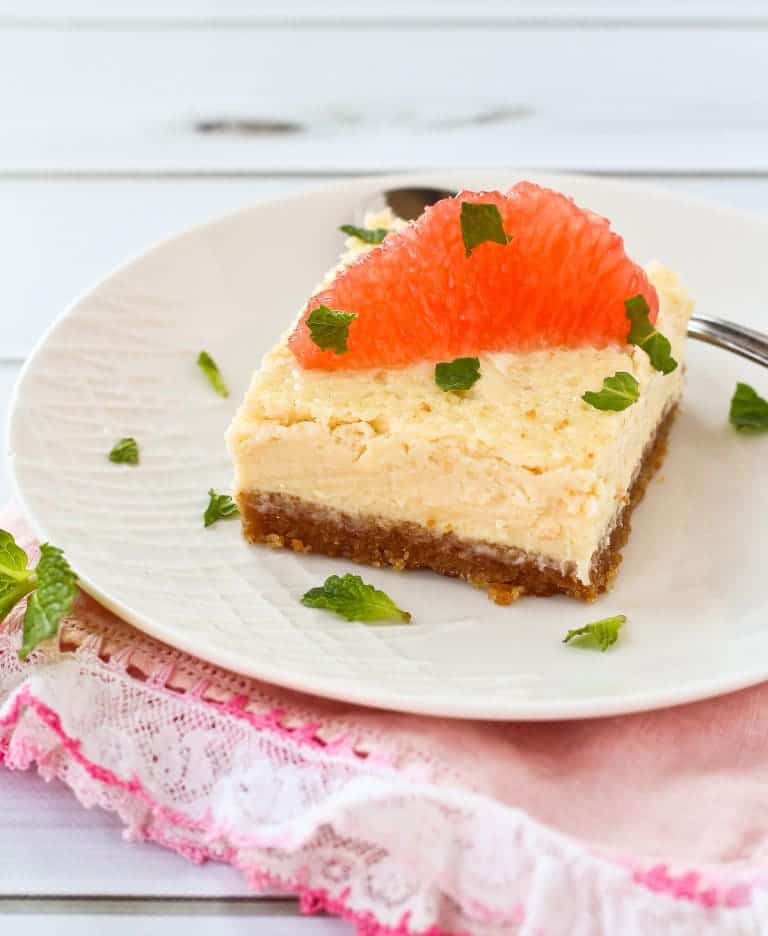 Spring has been a huge tease here in Michigan this year. We've had a few (very few) warm days and then it plummets back to cold and even snow. Saturday was gorgeous and sunny but so deceiving because it was cold! But hey, I'll still take the sun. I'm eager to get into our yard and start some planting and gardening. I'm far from having a green thumb, and really I just want an abundance of fresh herbs back in my life, but it's fun to plant something and see it (hopefully) grow. My chives are already off to a great start and I haven't even done anything besides remove some dead leaves from the ground. I wish all plants were perennials.
Spring is also the time of year when I try to cast aside my high-strung type-A personality and let the kids shovel dirt into the flower pots with me, making a gigantic mess. Of course, the battle to let them be kids and forget about that part of my personality is a constant internal struggle, but planting flowers is one job that they seem to especially enjoy.
Any gardening tips for me? Any new and fun herbs I should try planting? Last year I had rosemary, thyme, sage, chives, basil (didn't do so well), oregano, mint, and something else that died I think….can't remember what. Oh, cilantro! That was the hardest one to keep alive, and also one that I use the most often. SO sad!

About this Grapefruit Cheesecake Recipe:
Does cheesecake intimidate any of you? Springform pans, cracks, and 4 blocks of cream cheese? Seems a little scary to me too if I'm being honest. In true Rachel Cooks form, this recipe is significantly easier than the traditional version of cheesecake. They're made in an 8×8 or 9×9 pan on top of parchment paper. After you let the grapefruit cheesecake bars cool, all you need to do is lift that parchment paper out and slice into squares. They're SO easy.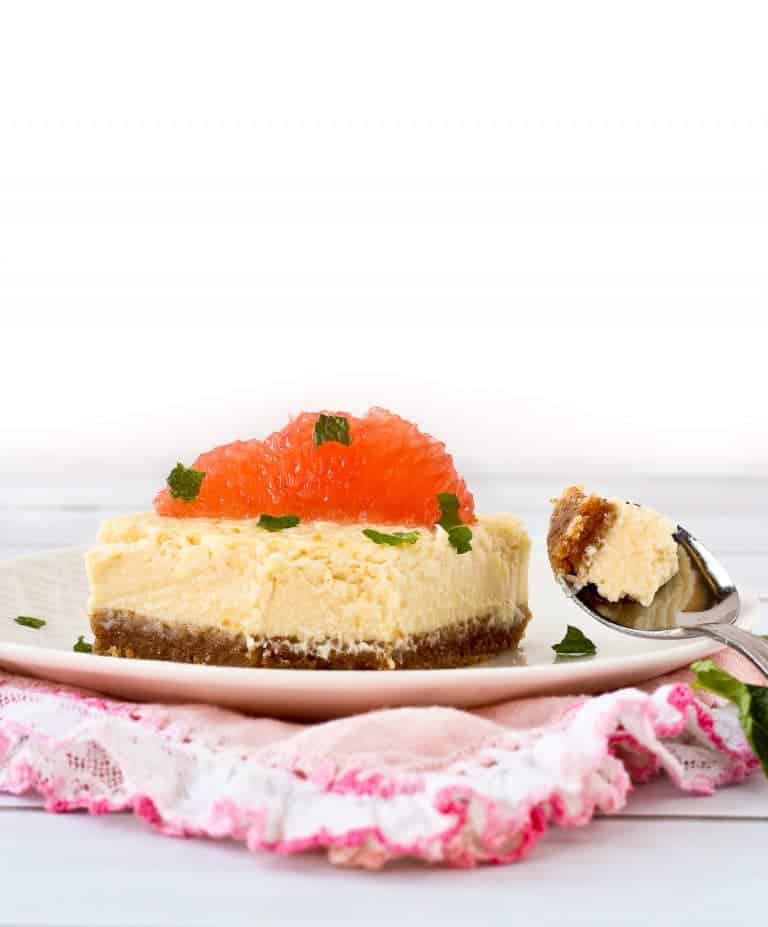 Used in this recipe:
Looking for more great recipes like this grapefruit cheesecake to add to your Mother's Day menu? (It's just around the corner!) Try these:
Easy Grapefruit Cheesecake Bars with Mint
This easy grapefruit cheesecake with mint is rich yet refreshing. It's a perfect summer dessert for any occasion.
Ingredients:
1 and 1/2 cups graham cracker crumbs (or 10 full sheets graham crackers)
6 tablespoons unsalted butter, melted
1/3 cup granulated sugar
8 ounces reduced fat cream cheese, room temperature
2 large eggs
1 (14oz.) can sweetened condensed milk
½ cup fresh squeezed grapefruit juice
1 tablespoon grapefruit zest
Grapefruit slices and fresh mint for topping
Directions:
Preheat oven to 350 degrees Fahrenheit.

Spray an 8 or 9-inch with nonstick cooking spray, line with parchment paper and spray parchment paper.

If you have whole graham crackers, use a food processor to crush crackers into fine crumbs. Stir in sugar and melted butter into the graham cracker crumbs and mix until combined. Press firmly into prepared pan. (I like to use the bottom of a measuring cup to do this.)

Bake crust at 350 degrees Fahrenheit for 7 minutes.

While the crust is baking, cream the cream cheese until fluffy using an electric mixer and then beat in the egg,  sweetened condensed milk, grapefruit juice and the zest until combined. Filling will be very runny.

Once combined, pour filling onto your crust and bake until golden brown around the edges and the middle is slightly jiggly, about 35 minutes.

Cool bars in refrigerator for at least 4 hours before slicing (they'll continue to firm up in the fridge). Top with fresh grapefruit slices and fresh mint immediately before serving.
All images and text ©
.
Verdict: Obsessed. I loved piling a bunch of the fresh grapefruit and mint on top of the grapefruit cheesecake bars – it added such a bright freshness that was the perfect contrast to the rich filling of the cheesecake.
Husband's take: He liked these more than I actually thought he would – he's not a big cheesecake fan usually…or grapefruit for that matter. He left behind some of the graham cracker crust, stating it was "too rich," but I think he's crazy and that's the best part!
Changes I would make: None are necessary!
Difficulty: For a cheesecake, easy! It will appear alarmingly runny, even after cooking. Trust your gut and the baking instructions and let it cool completely in the fridge. It will set up and be perfect for slicing.