Easy Chicken Cordon Bleu Kabobs with Swiss Cheese Dip – with Video
These easy chicken cordon bleu kabobs are a super fun take on the traditional combination of chicken with ham. The swiss cheese dipping sauce will keep you coming back for more.
This post is part of my partnership with Milk Means More.
When you think of chicken cordon bleu, what do you think of? A heavy, fried, kind of outdated, rich chicken dish? There's a time and a place for that but freshening things up is always a good idea too. Of course, I've already done a baked version of a this classic dish to create a healthier chicken cordon bleu, but isn't everything a liiiiiiittttle more fun on a stick?
These fun and easy chicken cordon bleu kabobs are not only a great dinner (kids think they are awesome!), but you could also put them on shorter sticks and make them a fantastic appetizer.
February is Lactose Intolerance Awareness Month and if you happen to be lactose intolerant, you don't have to miss out on this recipe. (Make sure to check out the easy hot chocolate recipe from last week, too!) While you could easily make this with regular milk, I made it with lactose-free milk and it worked perfectly. The swiss cheese in the sauce is low in lactose as well. The great thing about the cheese sauce (rather than the cheese being inside the chicken breast as it traditionally is), is that if you're lactose intolerant, you can "start low and go slow," beginning with just a bit of the sauce to see how your body responds to it before truly digging in. Once you dig in, I bet you'll find it hard to stop!
Used in this recipe:
Don't miss the video of these easy chicken cordon bleu kabobs!
Easy Chicken Cordon Bleu Kabobs with Swiss Cheese Dipping Sauce
These easy chicken cordon bleu kabobs are a super fun take on the traditional combination of chicken with ham. The swiss cheese dipping sauce will keep you coming back for more.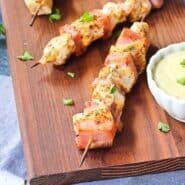 Ingredients:
for the skewers
6 8-inch bamboo skewers
2 chicken breasts (about 6 ounces each)
1 ham steak (6 ounces)
1 tablespoon dijon mustard
1 teaspoon pure maple syrup
1/4 teaspoon ground black pepper
1/4 teaspoon paprika
1 teaspoon extra virgin olive oil
for the sauce
2 tablespoons flour
2 tablespoons butter
1 cup lactose-free 2% milk
1 teaspoon dijon mustard
1 cup shredded swiss cheese
Directions:
Line a broiler pan with foil and spray foil
In a small bowl, combine dijon mustard, maple syrup, black pepper, paprika, and oil.
Brush this mustard mixture onto the chicken kabobs.
Broil (500 degrees Fahrenheit) for about 5 minutes, flip and continue to cook for 5 more minutes or until chicken is cooked through.
Meanwhile, for the sauce, melt butter in a small saucepan over medium heat. Whisk in butter and cook for 1 minute, whisking constantly. Gradually add milk, whisking constantly. Add mustard. Continue to cook for 5 minutes or until thick. Reduce heat to low and stir in cheese, whisking until melted.
Taste and add salt and pepper as desired.
Serve immediately with chicken and ham kabobs.
Serving size: 2 kabobs with sauce
Note: if using wooden skewers, soak in water for 1 hour prior to adding chicken and ham to prevent them from catching on fire.
Nutrition Information
Yield: 3 servings, Serving Size: 2 skewers
Amount Per Serving:
Calories: 449 Calories
Total Fat: 27g
Saturated Fat: 14g
Cholesterol: 120mg
Carbohydrates: 13g
Sugar: 2g
Protein: 39g
Actual nutrition may vary depending on how recipe is prepared.
All images and text ©
.
Verdict: Loved these! The flavors are spot-on and the Swiss cheese sauce is completely irresistible.
Husband's take: Meat, on a stick. What dude wouldn't be into that?
Changes I would make: None!
Difficulty: Easy!
PS: Looking for more chicken on a stick? DUH. Try my chicken kofta or chicken tawook!
PPS: Is beef more your style? These citrus beef skewers with grapefruit are SO good.
PPPS: You need dessert. On a stick, clearly. These patriotic fruit skewers would be perfect!
Okay, I'm done now.
**Disclosure: I am thrilled to be a dairy ambassador for Milk Means More. I have been compensated by Milk Means More for my time to develop this recipe and write this post. All opinions are as always, my own. Find out more about why Milk Means More on Twitter, Facebook, YouTube, Instagram and Pinterest.