Chicken and Spinach Pasta with Lemon Cream Sauce
This chicken and spinach pasta with lemon cream sauce is perfect for quick and elegant entertaining, or an easy weeknight meal.
Does entertaining stress you out? Do you default to ordering pizza when you have friends or family coming over? I GET IT. I run a food blog and develop recipes for a living and sometimes having people over still stresses me out! It's a lot of pressure, time management, different likes and tastes to think about, etc. etc. etc.
It can be so overwhelming!
I'm here to tell you, don't be afraid. Don't dial for that pizza. Don't order carry out online (best thing ever, by the way). You can make entertaining look effortless. I'll also tell you that no one is looking for perfection. At least not in the circles I hang out in. People are more interested in the conversation and quality time than the perfection of the meal in front of them.
This also means that they don't want you slaving over the food the whole time they are there. This TOTALLY defeats the purpose of having company. You need to sit down and enjoy the meal with everyone else.
This chicken and spinach pasta with lemon cream sauce is perfect for entertaining.
First of all, it is a crowd pleaser. Who doesn't like chicken and spinach bathed in a rich cream sauce?
Second of all, it's so easy to make. There is barely any prep work involved and it only makes two pans dirty.
Third, it's flexible and forgiving. What I mean by this is that it can be done early enough for you to enjoy a cocktail and a coq au vin stuffed mushroom with your guests before dinner. Just keep it on low heat…add a little milk if it gets dry…and serve when you're ready. This is also perfect if you're hosting those guests who might not be the most punctual. We all have friends like that.
We all have friends like that. If you don't know which friend it is, it's probably you.
I teamed up with Holland House Cooking Wines for this recipe – their white cooking wine adds a depth of flavor and richness to this pasta that really will wow your friends with minimal effort. A little lemon zest is included in this recipe to offset the richness of the cheese and cream.
It's going to be your new entertaining go-to recipe, I just know it.
Chicken and Spinach Pasta with Lemon Cream Sauce
This chicken and spinach pasta with lemon cream sauce is perfect for quick and elegant entertaining, or an easy weeknight meal.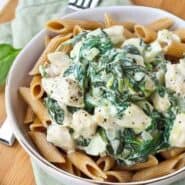 Ingredients:
1 tablespoon extra virgin olive oil
1.25 pounds boneless skinless chicken breasts, cut into bite-sized pieces
1 medium yellow onion, diced
1 clove garlic, minced
1/2 cup Holland House White Cooking Wine
10 ounces fresh baby spinach
1/2 cup heavy whipping cream
1 teaspoon lemon zest
1/2 cup shredded Parmesan cheese
1/2 cup shredded part-skim mozzarella cheese
4 ounces full-fat cream cheese
one package (13.25 ounce) whole wheat penne rigate
Directions:
Cook pasta according to package directions.
Meanwhile, in a large deep skillet, heat olive oil over medium heat. Add chicken and onion and cook until onions are translucent and chicken is cooked through. Add garlic and cook until fragrant, about one minute. Add Holland House White Cooking Wine and increase heat to medium-high. Cook, stirring occasionally until cooking wine is reduced by about half. Reduce heat to medium-low, add spinach and lemon zest and cover for 2-3 minutes or until spinach is wilted, stirring occasionally.
Reduce heat to low and add whipping cream, parmesan cheese, mozzarella cheese, and cream cheese. Continue to cook on low, stirring, until all the cheese is melted.
Serve over cooked pasta or stir pasta into sauce. Best served immediately.
Note: If reheating, heat over low on the stove and add cream or milk as needed to thin sauce.
All images and text ©
.
Verdict: Loved the notes of lemon and white wine in this decadent pasta.
Husband's take: He loved it. gobbled it down with no complaints.
Changes I would make: None!
Difficulty: Easy!!!
Want to learn more about Holland House Cooking Wines and Vinegars? Check out their website or find them on Facebook or Pinterest.
Looking for more fun pasta recipes? Try:
Or make sure to take a look at my pasta Pinterest board!
Follow Rachel Cooks | Rachel Gurk's board Pasta on Pinterest.
Disclaimer: This Chicken and Spinach Pasta with Lemon Cream Sauce was created in connection with my agreement as a contributor to the Holland House Cooking Wines. Holland House compensated me for the time required to create this recipe and share it with you. All opinions are always my own. Thank you for supporting my blog by reading about brands I use and love in my own home.