Egg White Muffins with Sausage and Broccoli (VIDEO)
What is better than a healthy breakfast that is ready and portable? You'll love these sausage and broccoli egg white muffins!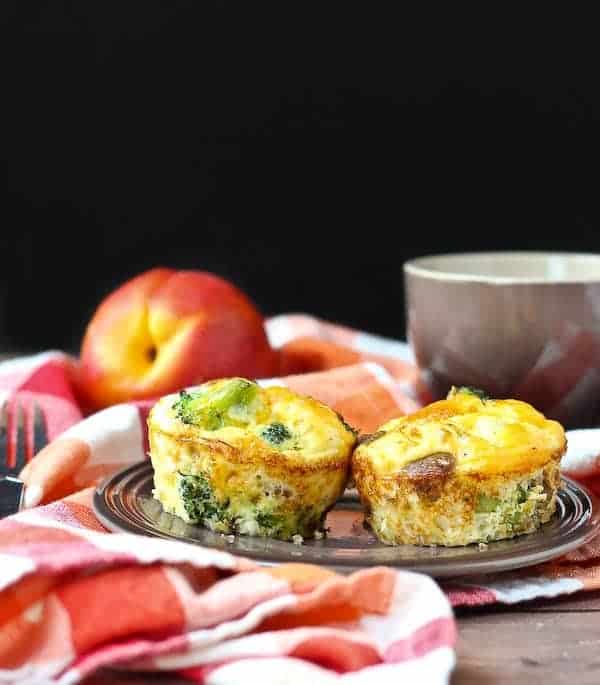 I think everyone is in the full swing of back-to-school now, right? I was getting into a good routine and then I got called for jury duty. I'm typing this now surrounded by the other (bored) jurors waiting to be called. Or not. So now the routine is a little thrown off, but not too much. Unless I get selected for a case. So this morning I had my raisin bran. I'm still on that good ol' raisin bran kick! Got the kids up, got them dressed, set them up with breakfast, gave my mother-in-law two pages of instructions, and hit the road.
For jury duty, we had to park in a lot a mile or so away and take a shuttle, which I expected to be a small bus. Nope, it was a van. So I squeezed in with 9 other folks and held on for my life. Fun times.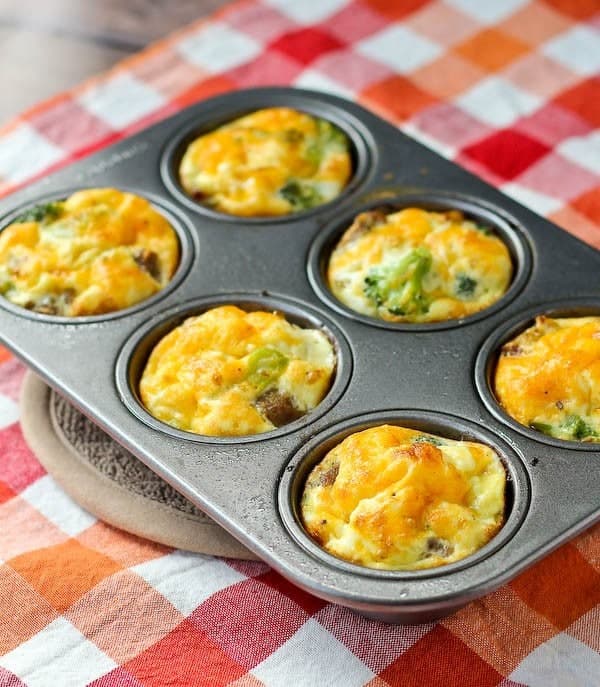 I must admit though, I'm getting a ton of work done. I'm praying my computer battery lasts forever because there's about a thousand people in here and not an outlet to be seen. My computer battery will last forever, right? RIGHT?
Back to breakfast, I am starting to get the itch to mix things up a bit. The good ol' Raisin Bran is getting slightly boring. I think during my meal prep this weekend, I'll have to whip up another batch of these. I love egg white muffins because you can just grab and go. Ben loves them too — breakfast with lots of great protein is so important but often difficult when you're rushing around and trying to get to work.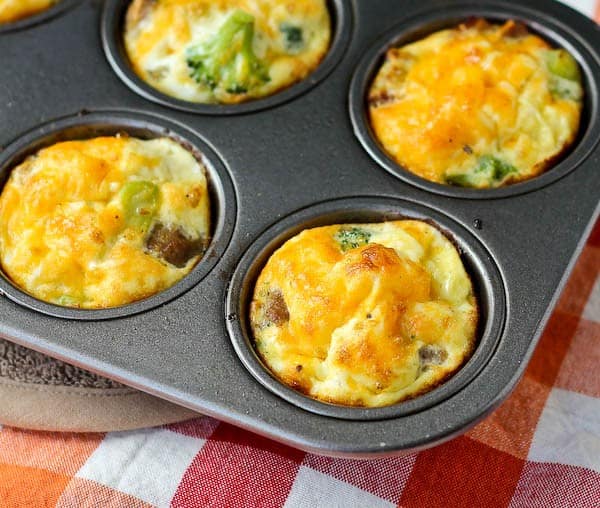 I love all the flavor in these egg white muffins. I've done other varieties but these might be my favorite. Although, the mini frittatas with spinach and red pepper are pretty irresistible.
Tips for making these turkey sausage and broccoli egg white muffins:

Make sure to spray, spray, spray your muffin tin. And then spray it again. These do have a tendency to stick. Or use a silicone tin or muffin cups. I just bought these but haven't tried them out yet.
If there is liquid in the sausage/broccoli mixture after you sauté it, drain it before adding the mixture to the muffin cups.
Use the sharpest cheddar cheese you can find for maximum flavor.
Happy breakfasting!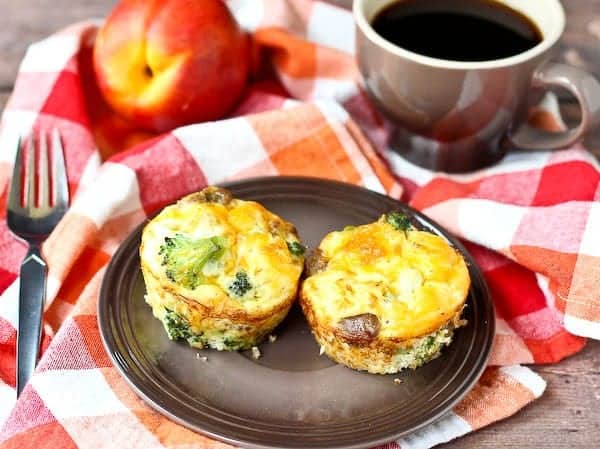 Watch the video to see step-by-step how to make these egg white muffins!
Turkey Sausage and Broccoli Egg White Frittata Muffins
What is better than a healthy breakfast that is ready and portable? You'll love these sausage and broccoli egg white muffins!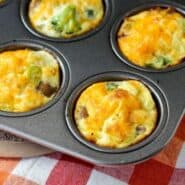 Ingredients:
1 pound mild turkey breakfast sausage
4 cups frozen chopped broccoli florets
10 egg whites
5 large eggs
1/4 cup skim milk
3/4 cup shredded sharp cheddar cheese
salt and pepper to taste
Directions:
Preheat oven to 375°F. Grease or spray a tin for 18 muffins. (Spray them really well!)
In a medium frying pan, brown the sausage over medium high heat. Break it up into small pieces as it browns. Once browned and cooked through, add broccoli and continue to cook until broccoli is thawed. Remove from heat and allow to cool for 5 minutes.
Meanwhile, in a large bowl, whisk together egg whites, eggs, skim milk, cheese, salt and pepper.
Add sausage and broccoli vegetables evenly to each of the 18 muffins tins.
Pour egg mixture evenly on top of the sausage and broccoli. I used a 1/4 cup measuring cup to do this – it works out almost exactly as 1/4 cup in each.
Bake for 20-25 minutes or until puffed up and golden brown. Leave in muffin tin for about 5 minutes before removing and serving.
Note: Serving size – 2 egg white muffins
Nutrition Information
Yield: 18 frittata muffins, Serving Size: 2 frittata muffins
Amount Per Serving:
Calories: 236 Calories
Total Fat: 18g
Saturated Fat: 6g
Cholesterol: 148mg
Sodium: 491mg
Carbohydrates: 2.8g
Sugar: 1g
Protein: 15.1g
Actual nutrition may vary depending on how recipe is prepared.
All images and text ©
.
Verdict: I can't get enough of these!
Husband's take: He loves when the fridge is stocked with these for breakfast.
Changes I would make: None are necessary. If you're not a broccoli fan, feel free to try out a different vegetable in there.
Difficulty: Easy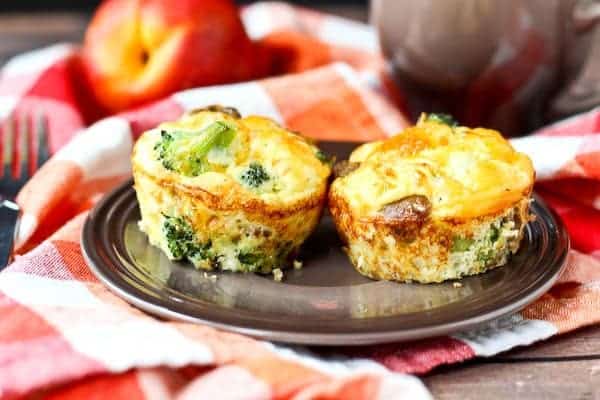 Looking for more great breakfast ideas? Try Blueberry Apple Crisp Smoothie Bowl, 10 Grain Savory Waffles with Ham, Dill and Cheddar, Turkey Sausage and Asparagus Quiche, Pan Seared Oatmeal with Fresh Fruit and Yogurt, Carrot Cake Slow Cooker Oatmeal, Mini Ham and Cheese Frittatas, or Overnight Oats with Apple and Peanut Butter.
**Disclosure: I am thrilled to be a dairy ambassador for Milk Means More. I have been compensated by Milk Means More for my time to develop this recipe and write this post. All opinions are as always, my own. Find out more about why Milk Means More on Twitter, Facebook, YouTube, Instagram and Pinterest.