Creamy Southwestern Orzo Salad
This creamy southwestern orzo salad is the perfect blend of spicy, creamy, and crispy. The bold flavors make this salad not only a crowdpleaser at gatherings, but also a great lunch!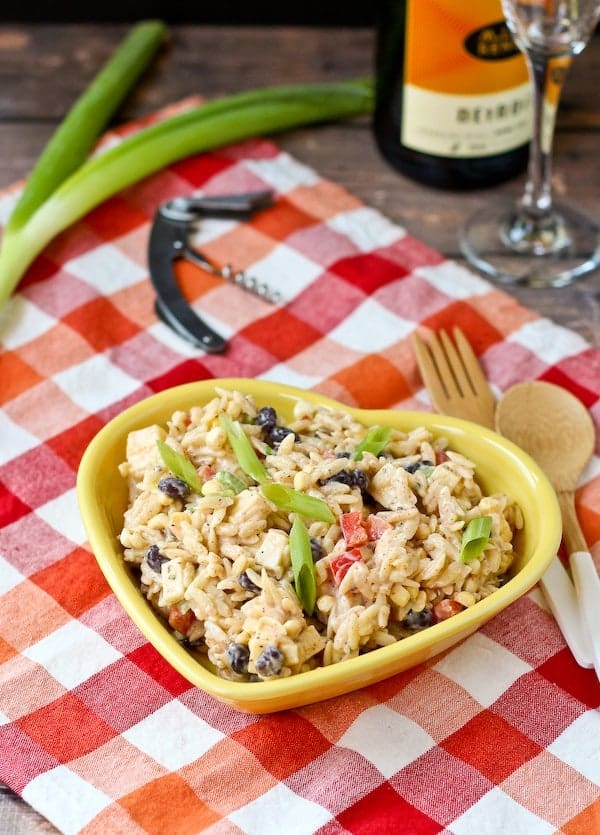 I've already made this salad quite a few times and I just developed the recipe about a month ago. That's always a good sign.
My neighbor had her second baby (a handsome sweet boy who is giving me major baby fever!), so I've been bringing her even more food than usual. I made a big bowl of this salad and brought her and her family about half of it because orzo is one of her favorite foods. She loved it so when they were planning a birthday party for her daughter, this was the first thing that came to mind when I asked her if I could bring something. She tried to insist that I come empty-handed but of course I wasn't going to do that! It was the perfect opportunity to test out the salad one more time before posting the recipe and I'm happy to let you know that this recipe is a winner. Everyone loved it.
My neighbor Julie is pretty much part of the Rachel Cooks team. She's my queen of marketing – she tells everyone about my site. I'm so grateful for that! I told her I felt like a celebrity at her daughter's party because everyone knew who I was and multiple people were telling me which recipes they have made from Rachel Cooks. I need to get Julie on my payroll….but in the meantime I'll just pay her in food and occasional babysitting.
This salad is super easy to make. While your orzo cooks, you'll mix up the simple dressing. Only 4 ingredients thanks to a packet of dried ranch dressing mix! You'll mix that with buttermilk, mayo (I use the kind made with olive oil), and taco seasoning. I always have some of my homemade taco seasoning on hand so that's what I used.
Then all you need to do is get the southwestern flavors ready. I used fresh corn because I love the crispness of it. I do the corn first to make things easy on myself. Place a small bowl upside down inside your larger salad bowl. Place one end of the ear of corn on that smaller bowl. Then, with a sharp knife, cut down towards the bottom of the bowl, cutting the kernels off the cob. Take out that smaller bowl when you're done and you're ready to add the rest of your ingredients! I used black beans, sweet red bell peppers, green onions, and extra sharp cheddar cheese.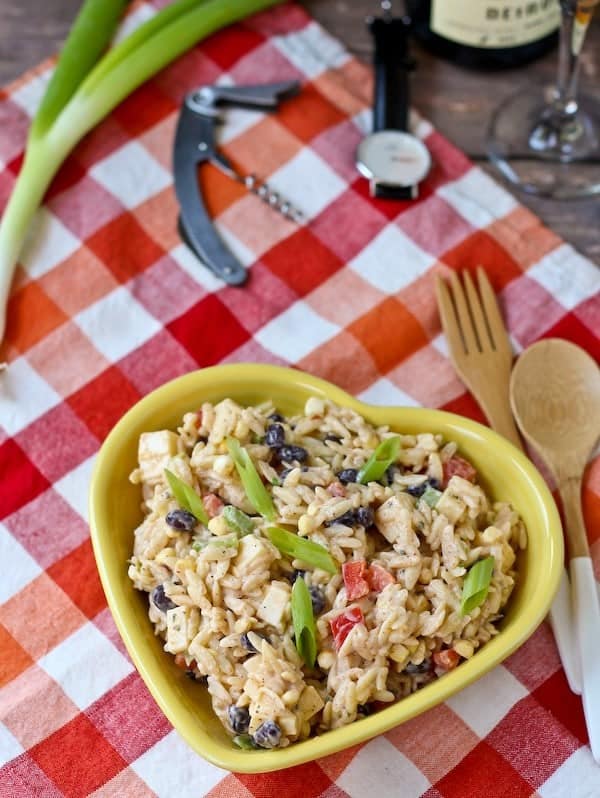 This salad is great even if you make it in advance – perfect for easy entertaining or lunches all week long! I haven't made it with whole wheat orzo yet (my grocery store doesn't carry it), but I plan to as soon as I can get my hands on some!
Enjoy!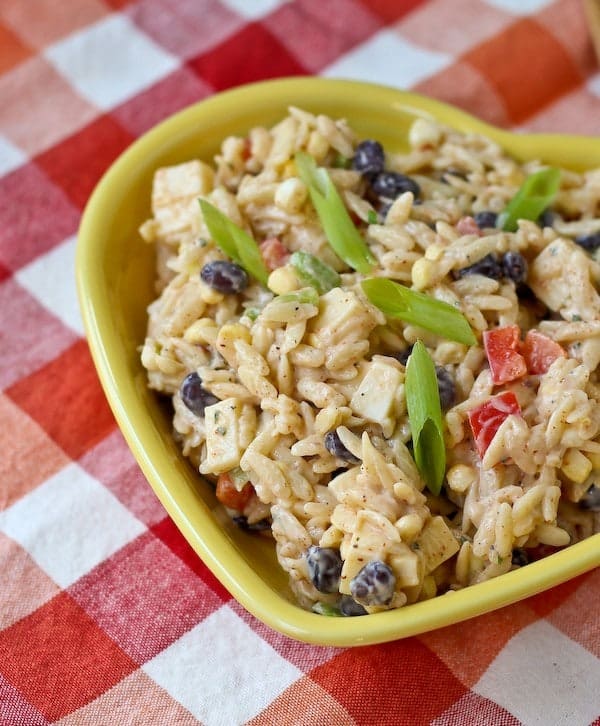 Creamy Southwestern Orzo Salad
This creamy southwestern orzo salad is the perfect blend of spicy, creamy, and crispy. The bold flavors make this salad not only a crowdpleaser at gatherings, but also a great lunch!
Ingredients:
16 ounce package orzo
3 ears of corn (about 1 to 1 1/2 cups of corn kernels)
1 can (15 ounce) black beans, rinsed and drained
1 red bell pepper, diced small
3 green onions (scallions), thinly sliced (about 1/2 cup)
8 ounces sharp white cheddar, cut into small cubes
1 (1 ounce) package Ranch Salad Dressing and Seasoning Mix
1 cup buttermilk
1 cup mayonnaise made with olive oil
1 tablespoon taco seasoning
Directions:
In a small bowl, mix together mayonnaise, buttermilk, ranch salad dressing mix, and taco seasoning. Place in fridge while you make the rest of the salad.
Cook orzo as directed on package. Drain and rinse with cold water
Meanwhile, cut corn off cob into a large bowl. Add black beans, bell pepper, green onions, orzo and cheddar.
Pour dressing over salad and stir to combine. Serve immediately or store covered in the fridge until ready to serve.
Note: I used fresh corn, but if it isn't in season, canned corn would work.
All images and text ©
.
Verdict: I might be addicted to this salad. It's the perfect blend of creamy with just enough southwestern flavor to keep things interesting.
Husband's take: He's generally not the type to like creamy things but he can't get enough of this salad either!
Changes I would make: None are necessary. I personally think the salad would be phenomenal with fresh cilantro. Julie isn't a fan (and I know many people aren't!) so I left it out. But next time I make this salad, I might try it with cilantro.
Difficulty: Easy!
Looking for more orzo recipes similar to this southwestern orzo salad? Try Creamy Tomato Soup with Whole Wheat Orzo, Orzo Salad with Yogurt Dill Dressing, Spinach Orzo Salad with Chickpeas and Chicken Meatballs, Orzo Salad with Chicken and Vegetables, Orzo Salad with Watermelon, Chicken and Feta, Greek Orzo Salad with Roasted Shrimp, Lemon Butter Orzo with Parsley from The Comfort of Cooking, or Cheesy Broccoli and Pepper Baked Orzo from Oh My Veggies.
Or perhaps you're looking for more great salads! Make sure to check out my Pinterest board devoted to Super Salads – I'm always adding new recipes to it!
Follow Rachel Cooks | Rachel Gurk's board Super Salad Recipes on Pinterest.