Brownie Waffles (Brownies in 3 minutes – yeah.)
Brownie waffles – otherwise known as brownies in 3 minutes. Otherwise known as dangerous…dangerously delicious!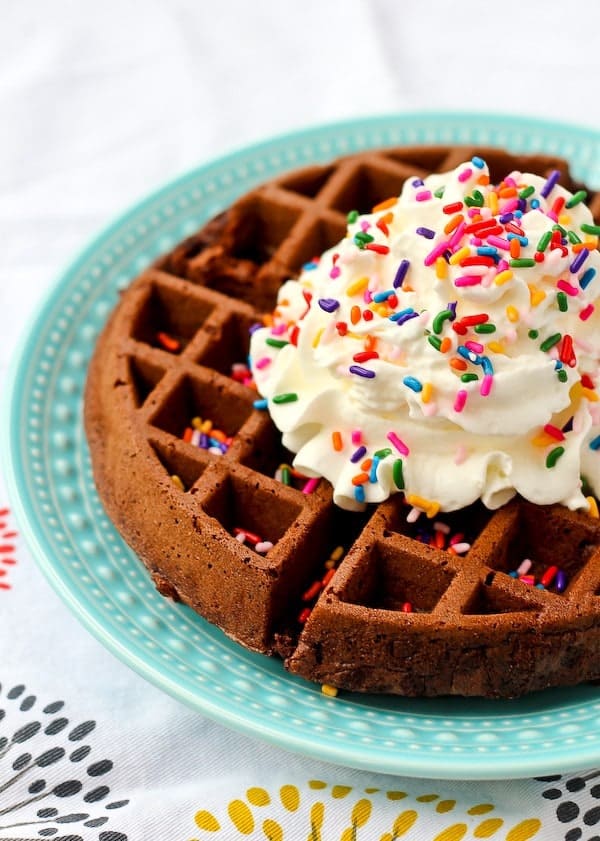 I'm in the midst of planning a retreat this summer. I'll be meeting up with nine other food bloggers in beautiful northern Michigan. We'll be learning from each other, experiencing all the things northern Michigan has to offer, getting to know each other better, and of course, we'll be eating. Probably farrrr too much eating. One morning we'll gathering in the kitchen together to make waffles. Seeing as we'll need to crank out a lot of waffles quickly to feed 10 hungry food bloggers, KitchenAid was generous enough to send us some of their Waffle Bakers to use. These beautiful countertop appliances put out two perfect Belgian waffles in 3 minutes. We could get the whole crowd fed in 15 minutes! And let's just say I've been practicing, a lot.
(PS: I am under no obligation whatsoever to write this post or say good things about the Waffle Baker. I am however under obligation to make brownie waffles and share them with you. It would be criminal not to.)

I almost feel bad posting this recipe because it's barely a recipe…but it's a brownie waffle! If you haven't tried this, you must. No shame in my game — even right down to the brownies from a box. I swear, Ghirardelli brownies are the best around. Every time I make them for anything, I get a compliment on my delicious brownies.
Every. Single. Time.
And of course, I happily oblige.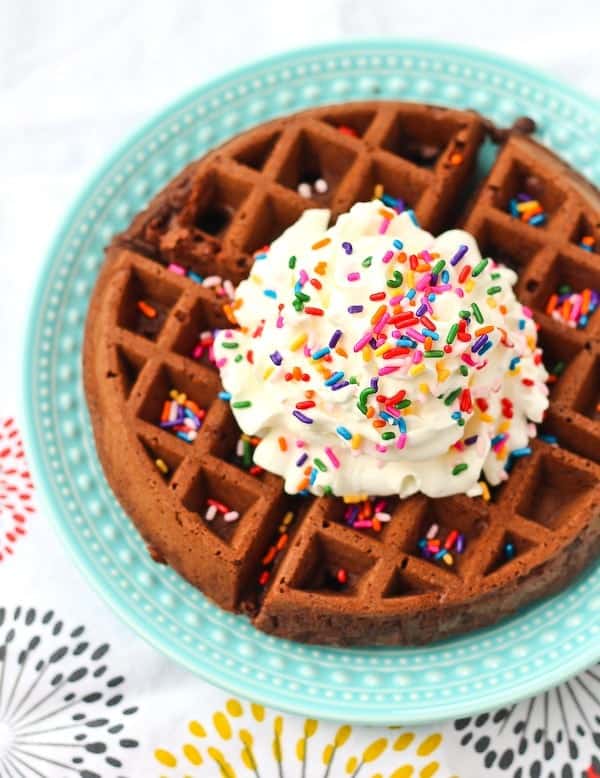 "They're Ghirardelli!!!" Again, absolutely no shame in my game. I own every shortcut I take. When they taste this good, who freakin' cares if you didn't get out a measuring cup for flour?
Ben's exact words after trying one of these were, "These should be illegal."
Good news, they aren't! It's as easy as whipping up the brownie mix (add in an extra egg!) and throw the batter in the waffle maker! In three minutes, you're dining on the perfect brownie waffle — soft on the inside and crispy on the outside.
The hardest part is trying to decide how to top it! Whipped cream, sprinkles, strawberries, hot fudge, caramel sauce, ice cream….all of the above?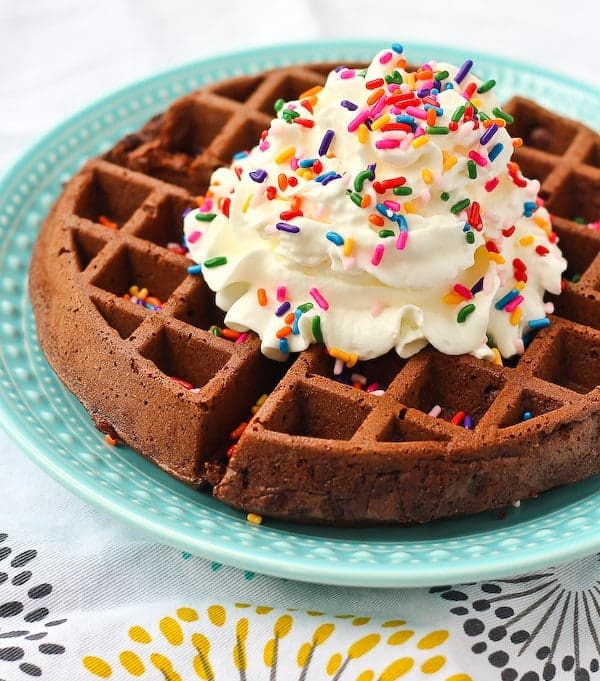 Brownie Waffles
Brownie waffles – otherwise known as brownies in 3 minutes. Otherwise known as dangerous…dangerously delicious!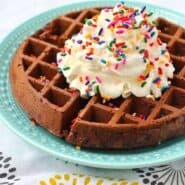 Ingredients:
eggs, water and oil as directed on the box
1 additional egg
1 box brownie mix (I use Ghirardhelli Triple Chocolate for this recipe)
desired toppings
Directions:
Whisk together eggs, water, and oil until combined. Add brownie mix and mix until just combined.
Pour into preheated waffle maker and bake for 3 minutes or as directed on your waffle maker.
Remove and enjoy topped with fruit, whipped cream, or ice cream. Hot fudge would be good too, just sayin'. And sprinkles are always a good decision.
All images and text ©
.
Verdict: Too dang good. They're best fresh but still pretty good after a few days storage in an airtight container.
Husband's take: Remember the illegal comment?
Changes I would make: None!
Difficulty: Easy! Warning – it might take you a little time to clean your waffle maker but it's fully worth it.
Need more chocolate in your life? Try Flourless Chocolate Cake with Toasted Coconut and Ganache, Irish Coffee Ice Cream Pie with Whiskey Ganache, Chocolate Pudding Pie, Slow Cooker Chocolate Fondue, Chocolate Lasagna from Center Cut Cook, or No Bake Chocolate Cheesecake Cups from Just a Taste. Or try them all. That would be good too.