Citrus Salad with Mint, Honey and Lime
This citrus salad with mint, honey and lime is refreshing and flavorful. It would be perfect for anything from a party to a breakfast staple.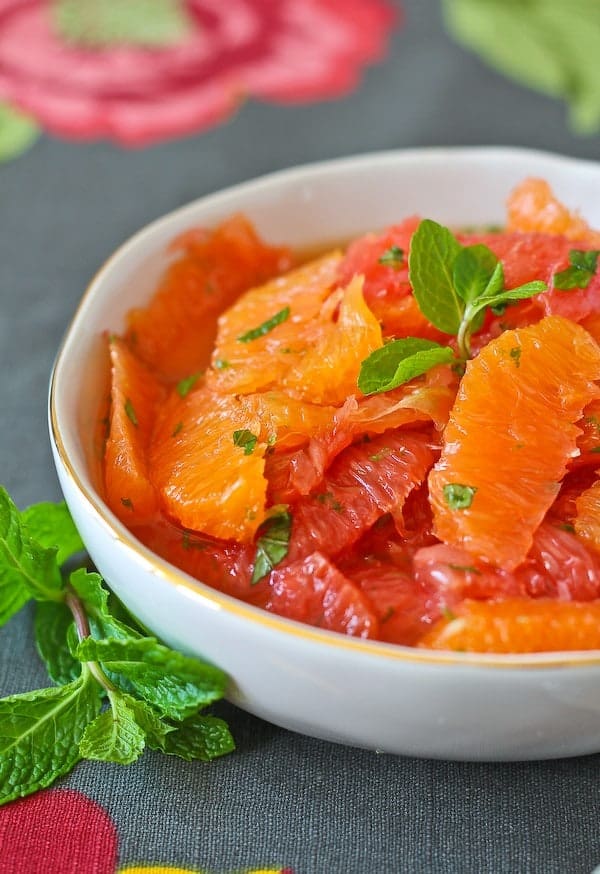 I think it's safe to say that I'm still in that weird limbo (thanks to Michigan weather) between winter and spring. I'm making the best of it by using up all that great citrus produce but mixing it with summer flavors so that I can pretend it's warm and sunny out. Even if that means buying ridiculously overpriced mint at the grocery store. More or less, I'm just adding mint to all my recipes so that it feels like I'm enjoying a refreshing mojito even though I'm really just trudging my way through all that boring old winter produce. (Proof: Remember my Berry Mint Granita with Rum?) Sorry oranges and grapefruits, you're getting tired. Step aside and make room for juicy berries.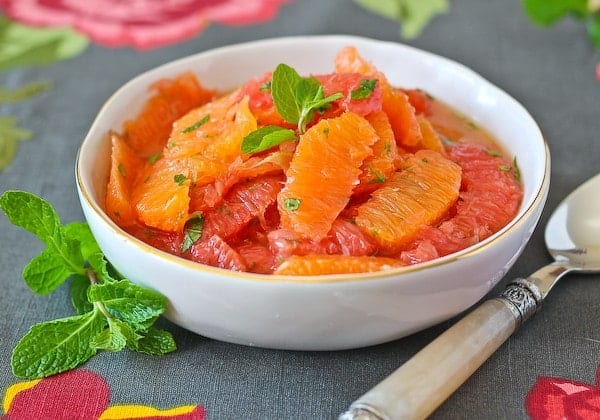 However, with all that winter-dissing done, I will say I could eat this citrus salad with mint all summer long. I know, major contradiction. But it is really refreshing, super flavorful and kind of shouts SUMMER ON THE BEACH despite making use of the citrus produce that sometimes get delegated to winter only.  The lime and mint in this salad really do a great job of making this a refreshing salad fit for the hottest of summer days. Ben tried it even though quite honestly, the dude prefers a plain ol' orange. I was pleasantly surprised when he really enjoyed this and his exact words were, "This would be great on a hot summer day. It's so refreshing."
See, we're all ready for summer here in Michigan.
This beautiful citrus salad with mint isn't only great for hot summer days (and breakfast pretty much any day), but it would also be great for a baby shower! What shower wouldn't benefit from a bowl of this beautiful salad? Another thing that is great about it is that since it is so light and refreshing, it's a happy contradiction to typical party food which can fall on the heavier side.
Today we're celebrating Christina of Dessert for Two and her baby that will be arriving very soon with this surprise virtual baby shower. She specializes in desserts made for two (like these lemon meringue pie cookies) so I considered making a recipe for two in honor of her, but this is about the party! We need to serve a whole bunch of people because a whole bunch of people want to celebrate Christina. This recipe is easily doubled, tripled, or multiplied by ten to suit your needs.
So, Christina, you're going to have a baby. Hold on tight, things are about to get crazy in the best way you could never even have possibly imagined. There will be blood, sweat and tears and happiness and love throughout it all. I just know you're going to be a great mom!
Citrus Salad with Mint, Honey, and Lime
This citrus salad with mint, honey and lime is refreshing and flavorful. It would be perfect for anything from a party to a breakfast staple.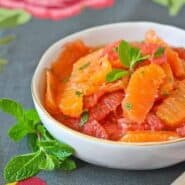 Ingredients:
4 Cara Cara Oranges, segmented
2 grapefruit, segmented
zest of one lime
2 tablespoons honey
1 tablespoon minced fresh mint
Directions:
Segment fruit over a bowl.
Remove segments from juice and place in another bowl. (The juice would be great for drinking!)
To the citrus segments, add lime zest, honey, and mint. Stir to combine. Serve immediately or store in fridge until ready to serve.
All images and text ©
.
Verdict: OBSESSED.
Husband's take: I already mentioned it above but he really liked this too. (Yay!) E wouldn't try it because there were green things in it. I didn't force the issue this time because I wanted to eat it all myself.
Changes I would make: None are necessary. Feel free to substitute your favorite citrus if you don't have or don't want to use the ones I used.
Difficulty: Segmenting the fruit is slightly time consuming but other than that, this recipe is super simple.
Make sure to hop around to all the other virtual shower recipes! They all look amazing.
Fizzy Grapefruit Margaritas from Well Plated
Earl Grey Cake with Vanilla Bean Buttercream from Country Cleaver
Mini Bourbon and Bacon Tater Tot Casseroles from Climbing Grier Mountain
Maple-Chia Overnight Oatmeal from Feed Me Phoebe
Lemon Cake for Two from Keep It Sweet Desserts
Mini Raspberry Rhubarb Pavlovas from The Baker Chick
Almond Berry Cake Parfaits for Two from Edible Perspective
Peanut Butter Bourbon Blondies from The Frosted Vegan
Mixed Berry Mascarpone Scones from Bluebonnet Baker
Greek Yogurt Funfetti Cupcakes for Two from The Housewife in Training Files
Bourbon Barbeque Sliders with Bleu Cheese from Saucy Pear
Steak Fajita Tacos for Two from The Sweetphi Blog
Mango Madeleines from Stetted
Citrus Salad with Mint, Honey, and Lime from Rachel Cooks
Parfaits for Two from Order in the Kitchen
Peanut Butter Chocolate Mousse with Coconut Whipped Cream from Joyful Healthy Eats
French Breakfast Puffs from Stephie Cooks
Blueberry Vanilla Cream Hand Pies from Eats Well With Others
Banana Pudding Cheesecake from The Domestic Rebel