Southwestern Cream Cheese Tortilla Rollups
These southwestern cream cheese tortilla rollups are great for lunches — or as a party appetizer! Read tips on how to customize them with your favorite flavors.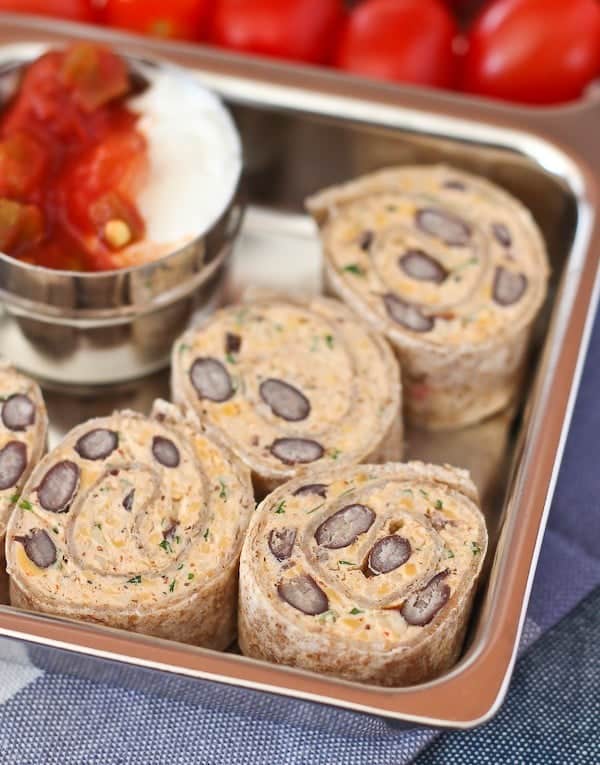 I'm not going to lie to you, the idea of packing lunches for my kids every day when they are school kind of scares me. Okay, it really scares me. Between food allergies and my kids general pickiness, it gives me a headache just thinking about it. I hate feeding my kids the same thing day after day after day after day so thinking of new ideas is very important to me.
I always try to give my kids protein, vegetables, and fruit at every meal. Might sound relatively simple but sometimes it requires creativity to think past mac and cheese with peas and a bowl of applesauce.
The great thing about a lunch like these cream cheese tortilla rollups is that you can customize them to fit the tastes of your kids. I used cream cheese, homemade taco seasoning, shredded cheese, black beans, and cilantro. Here are some different things you could do to make them your own — this also helps you manage to make these with whatever you might have in your pantry:
Use a flavored cream cheese! I used plain cream cheese but chive and onion would be great. If your kids like things spicy, try jalapeño cream cheese.
Use pinto beans instead of black beans.
Use chopped green onions instead of cilantro.
Add some finely diced red bell pepper (1/4 to 1/2 cup).
If you're an onion loving family, add some finely diced red onions (1/4 cup or so is probably good).
Leave the beans out and throw in some leftover taco meat from taco night!
Try dipping these in guacamole.
The trick to making these is to make them in advance. This helps you with getting those lunches made, but it will also help with the flavor and texture of these tortilla rollups.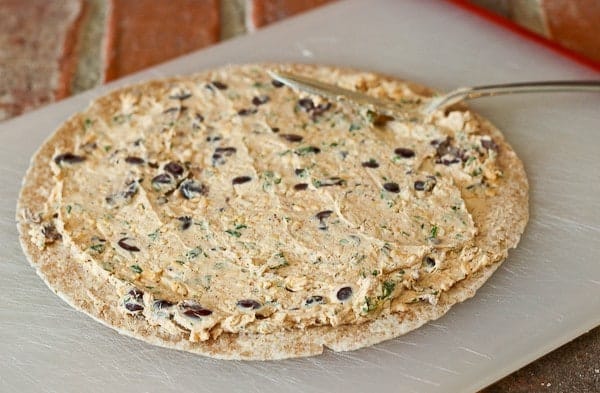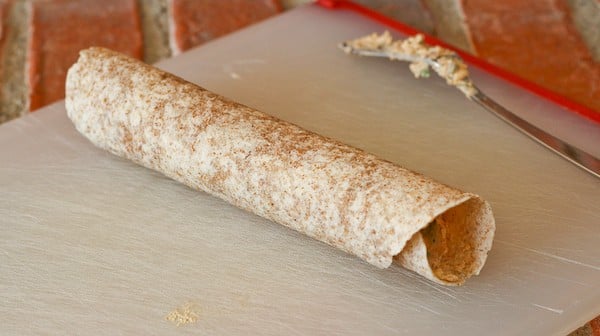 It allows the tortilla to soften slightly and the cream cheese to harden back up. You can easily make these the night before, roll them up in plastic wrap, and all you'll have to do the next day is slice them and add them to your lunch boxes.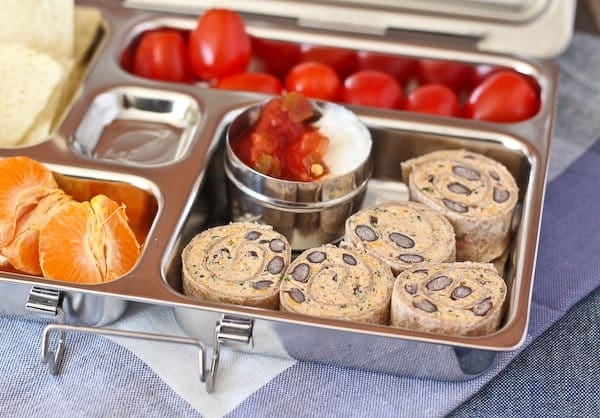 Southwestern Cream Cheese Tortilla Rollups
These southwestern cream cheese tortilla rollups are great for lunches — or as a party appetizer! Read tips on how to customize them with your favorite flavors.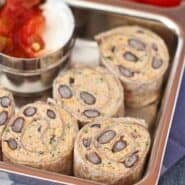 Ingredients:
one (8-ounce) container of plain spreadable cream cheese
1 tablespoon taco seasoning
1 cup shredded Mexican style cheese (or sharp cheddar)
1/2 cup black beans, drained and rinsed
3 tablespoons minced fresh cilantro, optional
3-4 whole wheat tortillas (fajita size)
for dipping: salsa, guacamole, greek yogurt and/or sour cream
Directions:
In a medium sized mixing bowl, mix together cream cheese and taco seasoning until well combined. Add shredded cheese and stir again until combined. Add black beans and cilantro, stirring again to combine. Try to avoid squishing too many of the black beans.
Spread this mixture onto a tortilla all the way to the edges in an even layer (you'll use about 1/2 cup for each tortilla). Tightly roll up tortilla with the filling on the inside. Wrap in plastic wrap. Repeat until all tortillas are filled and rolled.
Place wrapped rolls in fridge and chill for at least 2 hours before slicing into pinwheels about 1/2-inch thick.
Serve with Greek yogurt or sour cream and salsa for dipping. Guacamole would be excellent too.
Note: Serving size: 1/2 of a tortilla (about 3-4 roll-ups)
All images and text ©
.
Verdict: I loved these cream cheese rollups. Next time I'll probably leave the cilantro out because the kids weren't huuuuge fans of it, but I am!
Husband's take: He's not a big cream cheese lover so he didn't try this particular recipe.
Changes I would make: None are necessary but I can't wait to have some fun switching up this recipe with new ingredients.
Difficulty: Easy.
Looking for more lunch ideas like these tortilla rollups? Try: Vegetarian Wrap with Provolone and Hummus, Ham, Egg, and Herb Wrap, Salad on a Stick, Avocado Toast with Cottage Cheese and Tomatoes, or this easy Greek Salad Recipe.
**Disclosure: I am thrilled to be a dairy ambassador for Milk Means More. I have been compensated by Milk Means More for my time. All opinions are as always, my own. Find out more about why Milk Means More on Twitter, Facebook, YouTube, Instagram and Pinterest.