Nerds Milkshake Recipe
A new use for your favorite childhood candy, this Nerds milkshake is fruity, sweet, and so much fun. It's going to take you back to the good ol' days!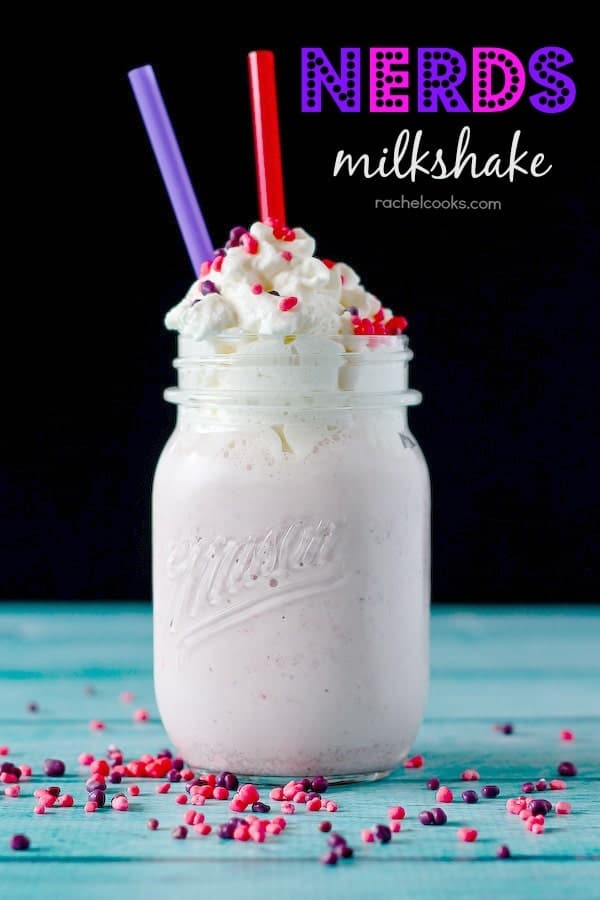 I have such fond memories growing up of going to church softball games and watching my dad play in the church league. It was a great opportunity to spend time with my friends, and clearly the best part about these evenings was heading to the concession stand and getting some fun treats. One of my childhood favorites were Nerds and to this day they bring back such fun memories.
(PS: Love Nerds? You'll love these Nerds Rice Krispie treats and this Nerds Popcorn!)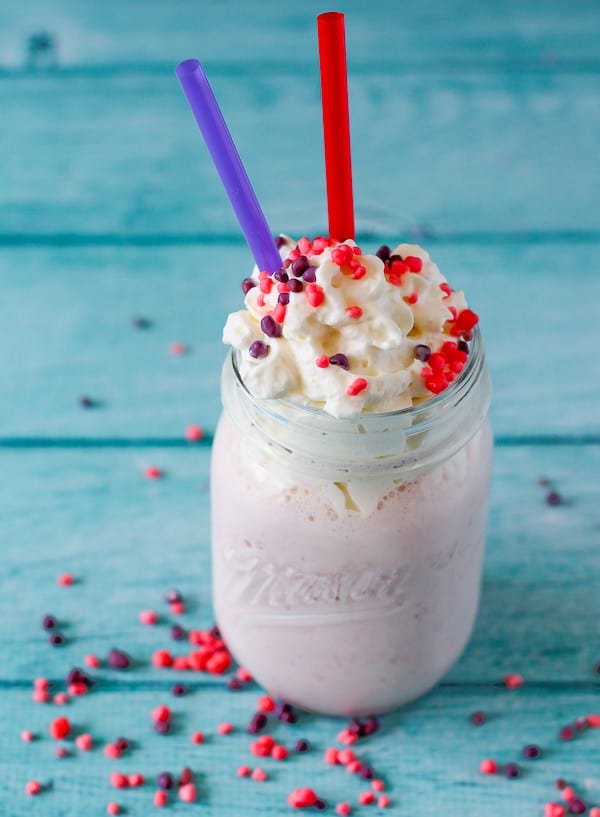 Milkshakes. Ice cream you can drink. Pretty special stuff. Ice cream + Nerds + whipped cream? Now we're really talking.
You know what might be the VERY best thing about milkshakes? They take about all of two seconds to whip up. A great treat in less than 5 minutes? Count me in.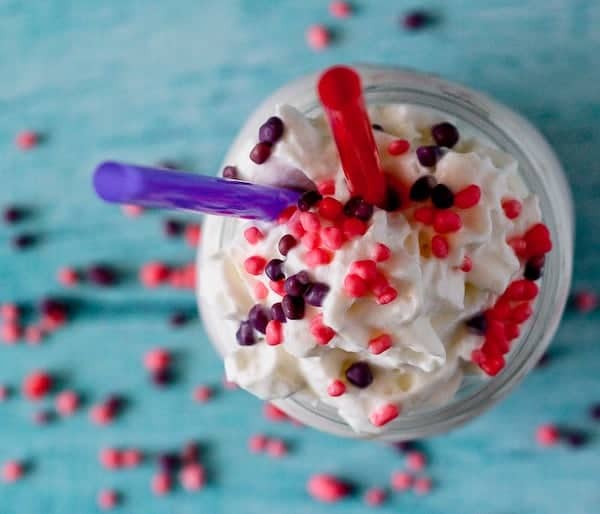 This milkshake is versatile too — throw in whatever kind of Nerds you love. My grocery store happened to carry packages with a mixture of grape and strawberry and they made for an absolutely delicious and flavorful milkshake. Plus, fun colors. E's favorite colors – purple and pink. But what 3 year old girl doesn't love purple and pink? So clearly a pink and purple Nerds milkshake would be a winner!
Nerds Milkshake
A new use for your favorite childhood candy, these Nerds milkshakes are fruity, sweet, and so much fun.
Ingredients:
3 scoops vanilla ice cream (or 1 heaping cup)
1/2 cup milk
one 1.65 ounce package strawberry & grape Nerds candy, extra if desired for garnish
whipped cream for topping if desired
Directions:
In a blender, combine ice cream, milk, and Nerds candy. Blend until smooth. Garnish with whipped cream and additional Nerds candy if desired.
Note: Add more ice cream for a thicker milkshake and more milk for a thinner milkshake.
All images and text ©
.
Verdict: LOVED this — Nerds, milkshake. Yes.
Husband's take: He liked this too but probably still prefers chocolate.
Changes I would make: None at all are necessary.
Difficulty: So easy!
If you're looking for more milkshakes, make sure to check out the rest of #MilkshakeWeek!
Still craving milkshakes? Try this chocolate chip milkshake or this peanut butter chocolate banana milkshake.