Orzo Salad Recipe with Yogurt Dill Dressing
This orzo salad recipe will quickly become a family favorite with its flavorful (and guilt-free!) yogurt dill dressing.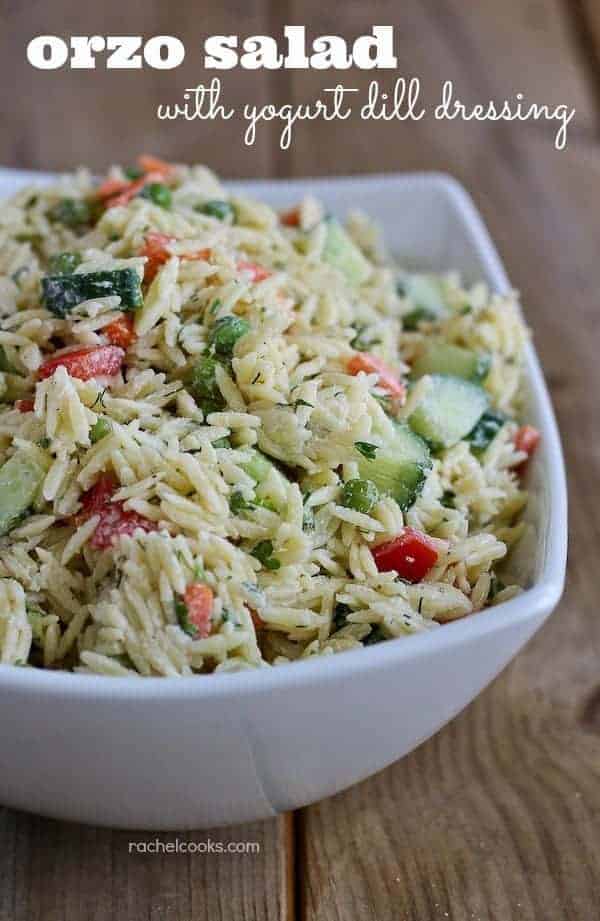 You can't beat a good pasta salad during a hot summer's day and this my friends is a good pasta salad. Let's start with the orzo. Perfect pasta for salads — similar in size to the veggies, you're always destined to get a perfect fork full of pasta, vegetables, and dressing.
This salad would be perfect for any backyard bbq (in fact I brought it to a potluck-style barbecue with friends from church) but it makes for great lunches too. As far as pasta salad goes, it's a pretty healthy one. You could use whole wheat pasta to make it even healthier. I ate leftovers for a few days for a quick lunch. I laid out a bed of spinach on my plate and gave it a quick squeeze of lemon juice and a drizzle of extra virgin olive oil. Then I topped it with some of this pasta salad. Perfect lunch, perfect way to re-purpose leftovers and the perfect way to get some greens in.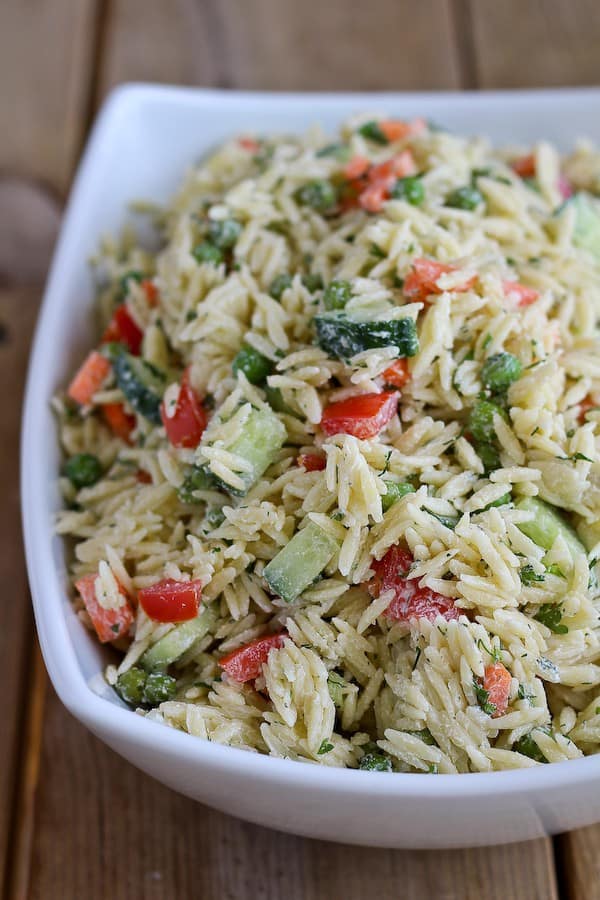 I adapted this recipe from a recipe on my colleague Liz's site — the original dressing is a bit different than how mine ended up and I included a few different vegetables. The great thing about an orzo salad recipe like this is that you can add whatever vegetables you have on hand or whatever you like. If you like onions, add those. If you like peppers, add those. Don't like tomatoes? Leave them out.
I think you'll love the fresh flavors of dill and parsley in this orzo salad recipe as well as the tangy, flavorful (and guilt-free!) dressing.
Orzo Salad Recipe with Yogurt Dill Dressing
This orzo salad recipe will quickly become a family favorite with its flavorful (and guilt-free!) yogurt dill dressing.
Ingredients:
1 pound orzo
1 cup peas – fresh or frozen
3 roma tomatoes, seeds removed, diced
1 English cucumber, diced
2 medium carrots – diced
1 medium red onion – minced
For the Yogurt-Dill Dressing
1 cup plain nonfat Greek yogurt
6 tablespoons minced fresh parsley
2 tablespoons finely minced fresh dill
2 tablespoons lemon juice
2 teaspoons granulated sugar
1 teaspoon salt
½ teaspoon pepper
3 tablespoons extra virgin olive oil
Directions:
Bring a large pot of salted water to a boil and cook orzo according to package direction. In the last 2 minutes of cooking time, add the peas to the pot with the orzo. Strain peas and pasta and set aside to cool.
In a small bowl or measuring cup, combine all ingredients for the yogurt dill dressing and whisk to combine.
In a large serving bowl, mix together orzo, peas, cucumbers, tomatoes, and dressing until everything is coated with dressing. Check for seasoning, add more salt and pepper as needed and serve immediately or store covered in the refrigerator.
Note: Pasta does soak up some of the dressing (as shown in these photos – they were taken the day after making the salad). If necessary, add some more lemon juice and/or olive oil to achieve desired consistency.
Verdict: We all loved this and my friends did too. No complaints to be heard.
Husband's take: He was in the "love this" category.
Changes I would make: None are necessary but feel free to try different vegetables.
Difficulty: Easy.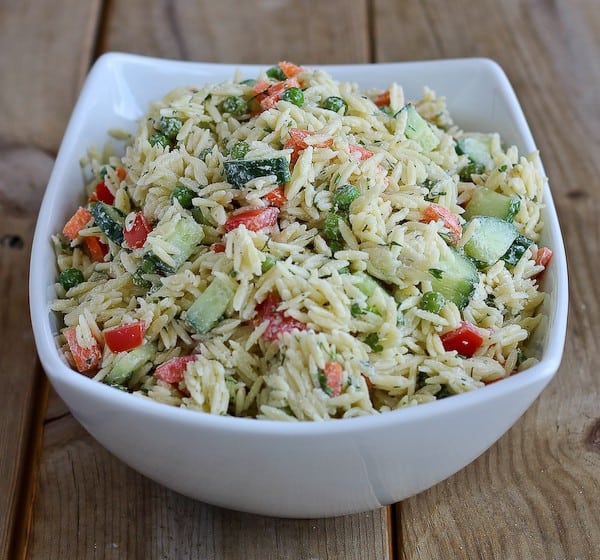 Dill and Yogurt not for you? Try one of these orzo salad recipes instead: Spinach Salad with Orzo, Chickpeas and Chicken Meatballs, Southwestern Orzo Salad, Orzo Salad with Watermelon, Feta and Chicken, Orzo Salad with Chicken and Vegetables (uses rotisserie chicken!), Greek Orzo Salad with Roasted Shrimp, Whole Wheat Orzo Salad with Kale, Chickpeas, Lemon and Feta from Kalyn's Kitchen, Avocado and Feta Cheese Orzo Salad from Diethood, or Warm Strawberry Bacon Orzo Salad from How Sweet It Is.