Pepperoni Pizza Lasagna Rolls
These pizza lasagna rolls are a fun meal that the whole family will love — what's not to love about pizza and lasagna? With a little planning ahead, they are a great weeknight meal.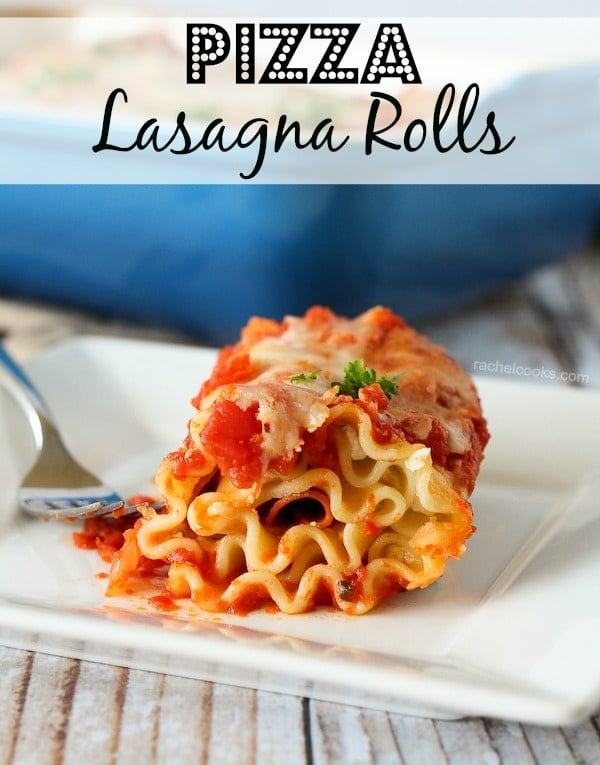 This post is sponsored by KRAFT. All opinions are my own.
As I mentioned last week, I've partnered with KRAFT and HUNT's to bring you a little series about making weeknight meals easier. In my first post, I provided some tips for simplifying weeknight meal prep. Boiled down, the two main tips are these:
Plan ahead.
Have a stocked pantry — in my first post in this series, I told you why grated Parmesan cheese and diced tomatoes have a spot in my fridge/pantry.
This recipe focuses on planning ahead. Next week I'll bring you a recipe that can be created with all pantry staples. (This one can too, actually, depending on your definition of "stocked.") This recipe would be a great one to prep the day ahead and eat the following day.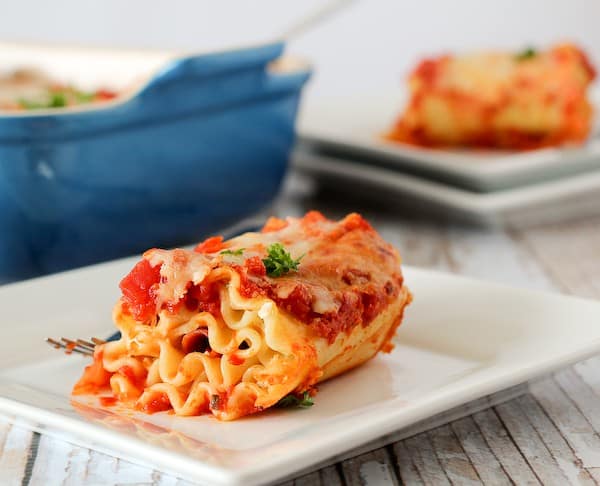 At first glance, this recipe might seem fancy and complicated. They are pretty little lasagna rolls, after all. The great thing about this recipe is that it can be prepared in advance. Even over a couple of days! Make the sauce Saturday, make the rolls Sunday, and you've got an amazing dinner to look forward to on Monday. All you'll have to do is throw it in the oven when you get home from work or your play date or whatever Monday might hold. We all know Monday could use all the help it can get, so having dinner waiting in the fridge for you is definitely something to look forward to at the end of the day.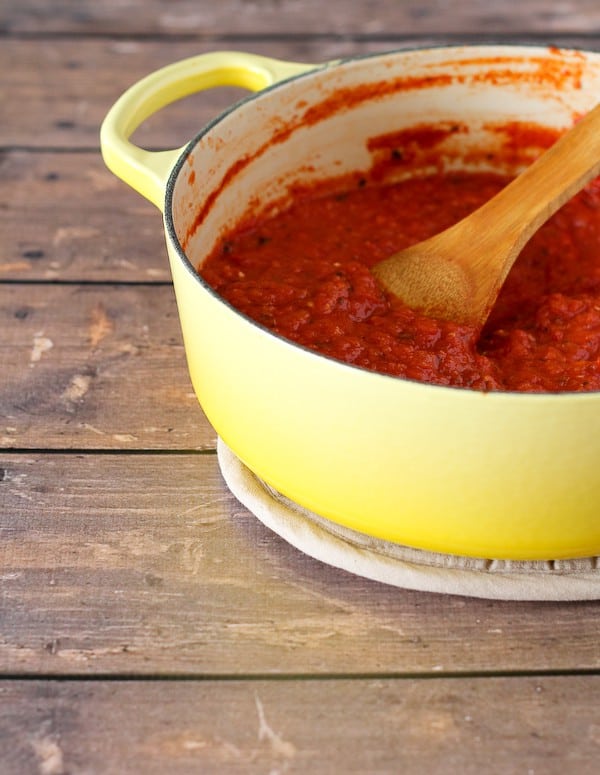 The sauce used in these lasagna rolls is a simple pizza sauce made with diced tomatoes. You could used crushed tomatoes for this recipe and skip the puréeing step if you have those on hand. I chose to use the diced tomatoes because they are one of my pantry staples. I like them because they have multiple functions and can be used for traditional things such as beefing up a soup or chili but they can also be quickly puréed for a sauce such as this one. I used my immersion blender to purée the sauce but you may also use a blender or a food processor. Always be careful when puréeing hot, red liquids! And wear an apron. Plan to make this sauce a day or two in advance and have it ready for this recipe. The sauce is really simple to make and is mostly hands-off time for it to simmer and for the flavors to meld.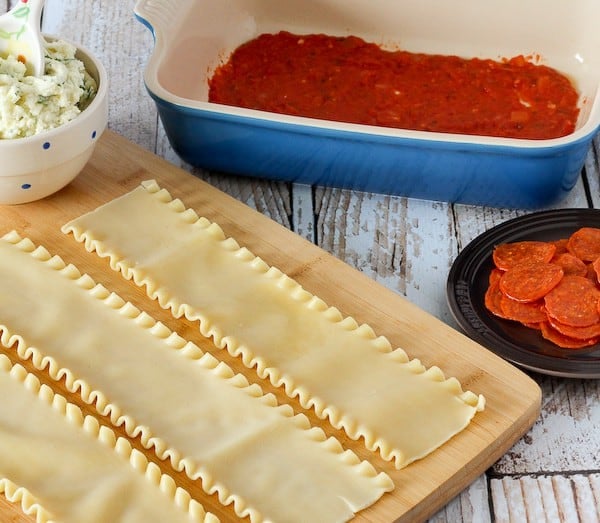 The next step is making a quick mixture to fill the rolls with. It starts with grated Parmesan cheese, ricotta cheese, mozzarella cheese, and some parsley. Throw in a beaten egg to help bind the mixture together. This mixture gets spread on cooked lasagna noodles and topped with slices of pepperoni.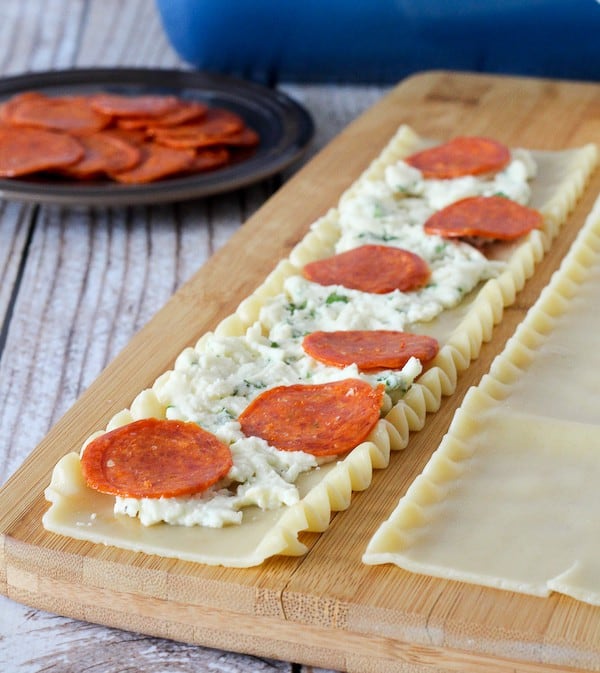 You then roll them up and place them seam side down in a baking dish that has been sprayed and given a layer of that delicious homemade pizza sauce.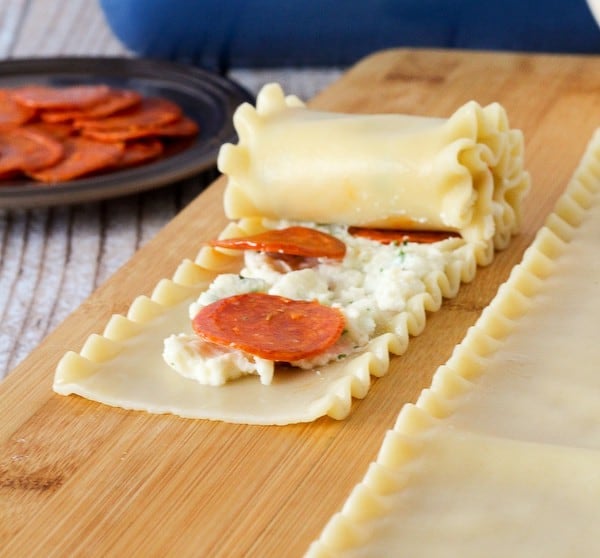 Repeat with each lasagna noodle until they are all filled!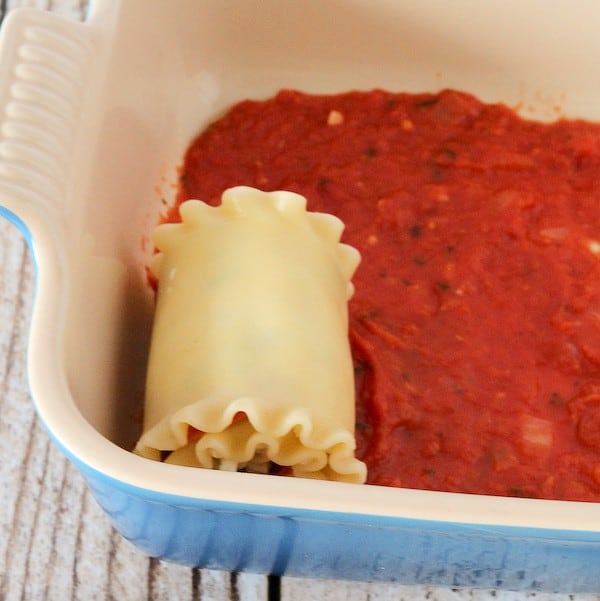 Then you spoon more of that delicious sauce over all the filled lasagna rolls.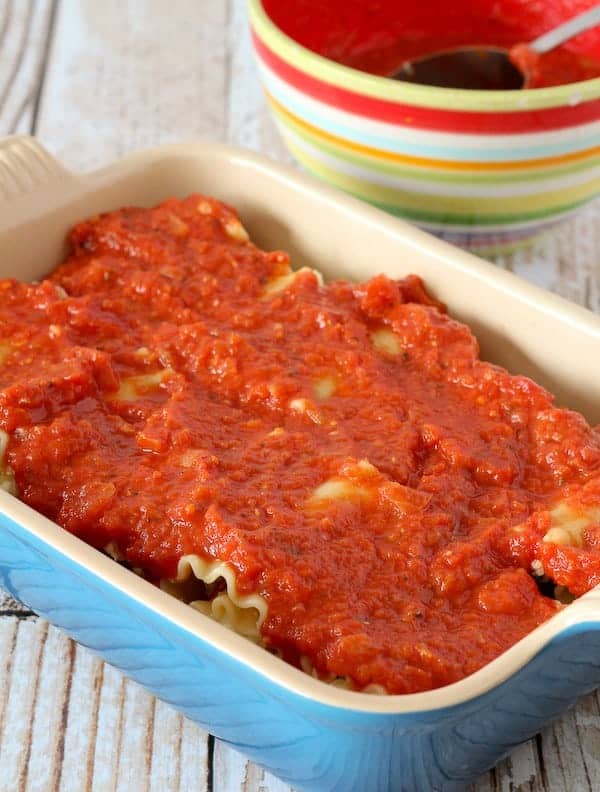 Top with more great cheese….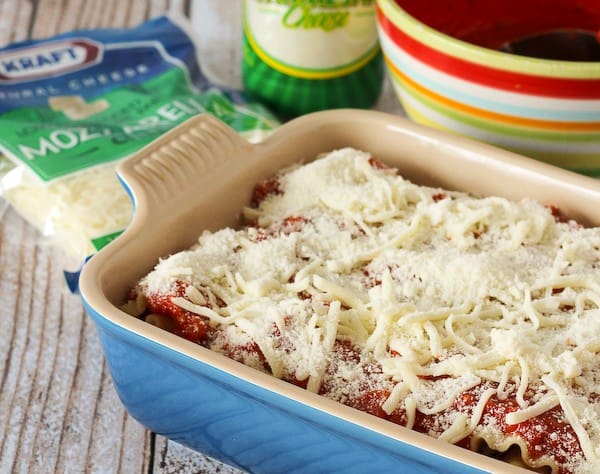 This is when you would cover with foil and refrigerate if you were making this a day in advance. When you're ready, you'll stick it in a preheated oven and bake until heated through, golden brown and bubbling.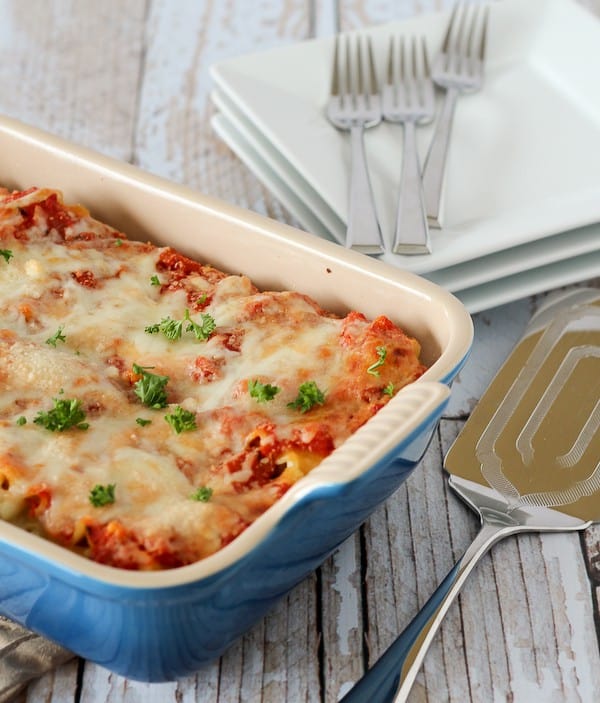 And clearly, the best part of the whole process is serving these up and eating them! I let my pan rest for about 10 minutes just for everything to come back together a little. This makes it easier to serve.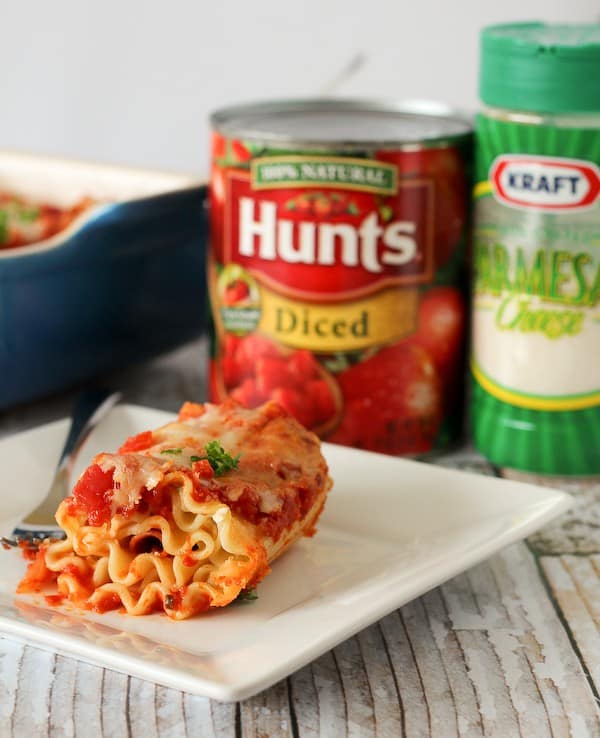 Enjoy!
PS: Looking for lasagna with a little less fuss? Try this lasagna soup or one pan skillet lasagna.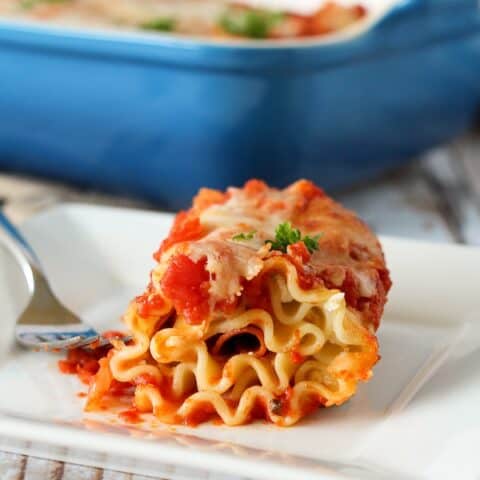 Pepperoni Pizza Lasagna Rolls
Yield: 10 lasagna rolls
Prep Time: 30 minutes
Cook Time: 1 hour
Total Time: 1 hour 30 minutes
These pizza lasagna rolls are a fun meal that the whole family will love — what's not to love about pizza and lasagna? With a little planning ahead, they are a great weeknight meal.
Ingredients
For the Sauce:
1 tablespoon unsalted butter
1 teaspoon extra virgin olive oil
2 garlic cloves, minced
1/2 of a medium yellow onion, diced small
1 (28 oz) can diced tomatoes
1 (3 oz) can tomato paste
1 teaspoon dried basil
1/2 teaspoon dried oregano
1/2 teaspoon sugar
pinch of red pepper flakes
salt and pepper to taste
For the Lasagna Rolls
10 traditional lasagna noodles, cooked, drained and rinsed with cold water
2 cups prepared pizza sauce
1 egg, lightly beaten
1 1/4 cup part-skim ricotta cheese
1 1/2 cups Shredded Low-Moisture Part-Skim Mozzarella cheese, divided
3/4 cup grated Parmesan cheese, divided
1/4 cup chopped fresh parsley
1/4 teaspoon pepper
3 ounces sliced pepperoni (50-60 slices)
Instructions
For the Sauce:
In a large pan over medium-low heat, heat the butter and olive oil until the butter is melted. Add the garlic and onion and saute until tender, about five minutes. Stir in tomatoes, tomato paste, basil, oregano, sugar, and red pepper flakes. Bring the sauce to a boil and then reduce heat to low. Place a cover on the pan, tilted slightly to let some steam out.
Simmer for 15 minutes. Cool slightly. With an immersion blender, CAREFULLY blend until sauce has desired texture. I love it slightly chunky. If you like it really smooth you can also throw it in a blender. Store in fridge unless using immediately. (It makes more than is needed for this recipe. Refrigerate or freeze extras.)
For the Lasagna Rolls:
Preheat oven to 350°F. Cook noodles according to directions on package — once cooked, drain and rinse with cold water and lay out on sheets of wax paper so they don't stick together.
Spray a baking dish with nonstick cooking spray and spread 1/2 cup of pizza sauce into the bottom of the pan. Set aside.
Meanwhile, prepare filling in a large bowl by mixing beaten egg, ricotta cheese, 1 cup mozzarella, 1/2 cup grated Parmesan cheese, parsley and pepper until well combined.
To prepare lasagna rolls, lay out one lasagna noodle and spread it with about 2 tablespoons of cheese filling. Lay out 5-6 pepperoni on top of cheese filling. Roll up each noodle starting at one of the short ends. Place in prepared baking dish, seam side down. Repeat until all noodles have been filed and rolled. Pour 1 and 1/2 cups pizza sauce over the rolls and top with 1/2 cup mozzarella cheese and 1/4 cup Parmesan cheese.
Cover baking dish with foil and bake for 45-50 minutes (remove foil for last 10-15 minutes) or until hot and cheese is melted. Let stand about 10 minutes prior to serving.
Notes
Note: May be prepared in advance and baked the next day.
Nutrition Information:
Yield: 5
Serving Size: 2
Amount Per Serving:
Calories: 660
Total Fat: 33g
Saturated Fat: 16g
Trans Fat: 1g
Unsaturated Fat: 13g
Cholesterol: 121mg
Sodium: 1356mg
Carbohydrates: 56g
Fiber: 5g
Sugar: 8g
Protein: 35g
RachelCooks.com sometimes provides nutritional information, but these figures should be considered estimates, as they are not calculated by a registered dietitian. Please consult a medical professional for any specific nutrition, diet, or allergy advice.
Verdict:
We all loved these pizza lasagna rolls. What is there not to love about pepperoni, cheese, pasta and homemade sauce?
Husband's take:
See "Verdict."
Changes I would make:
None are necessary, but knowing me, I'd probably "health" it up a little next time with some chopped spinach.
Difficulty:
Easy!
Disclosure: I am working in partnership with the KRAFT brand and I am receiving compensation for my participation in this campaign. All thoughts/opinions are 100% my own.