Orange Creamsicle Buttercream with Vanilla Beans
This Orange Creamsicle Buttercream tastes just like a frozen creamsicle and is perfect on graham crackers, sugar cookies and cakes!
I'm back with ANOTHER vanilla bean recipe. I just cannot get enough. And this time, I get to share the love! Vanilla beans for everyone!
Or just one of you.
Whatever. Let's not get lost in the minor details.
One of my favorite childhood drinks was a homemade Orange Julius. We would make them at home with frozen orange juice concentrate, milk, sugar, ice, and vanilla. The vanilla is what makes it special. My mom suggested doing a vanilla bean Orange Julius with the fantastic vanilla products that Beanilla sent me, but I wanted to do something a little different. Now, I realize that it might be a little confusing that I am talking about and Orange Julius and calling this Orange Creamsicle Buttercream but they have the same flavors and I feel like that and Orange Creamsicle is more recognizable. Am I wrong? Do people know about Orange Juliuses? Julius's? Julius'? Juliui?
Now I'm confused and in need of a grammar lesson.
Getting back to the point, I kind of love taking fantastic flavors and making them into a buttercream. This would taste amazing on cookies, cake, cupcakes, but….I've been busy. Little E loves graham crackers, and really, who doesn't? I always have them on hand, and they caught my eye while I was making this frosting. It was the perfect little treat and the graham crackers worked great because they aren't too sweet, which is a good thing with a super sweet frosting.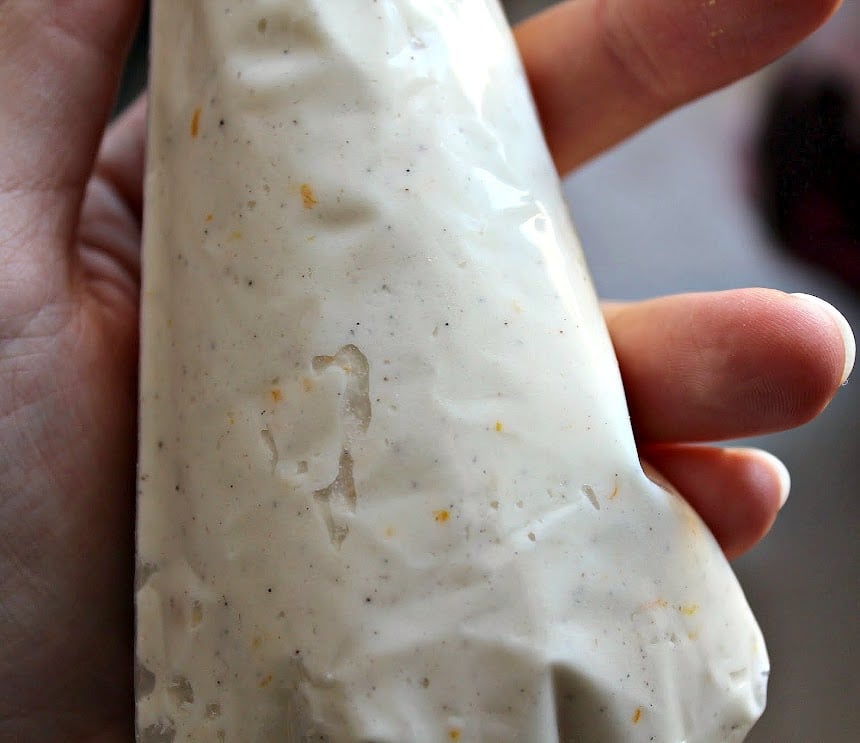 I used vanilla bean paste for this recipe. If you're not familiar with it–here's what Beanilla has to say about it:
"We are all familiar with vanilla extract, the most popular flavor in the world. Now we offer the same full-bodied vanilla flavor with a unique twist: the addition of the distinctive vanilla seeds in a rich concentrated paste. Use vanilla bean paste's thicker viscosity to flavor cakes, puddings, cookies, custards, icing, frostings, whipped cream, ice cream or anywhere the flavor and appearance of vanilla bean is desired. Using vanilla bean paste saves the effort of scraping the seeds from the whole vanilla bean."
To sum things up, it's the cat's meow. I was new to it, but I love it. I love to see those little vanilla bean specks.
Orange Creamsicle Buttercream with Vanilla Beans
Yield: about 2 cups
Prep Time: 15 minutes
Total Time: 15 minutes
This Orange Creamsicle Buttercream tastes just like a frozen creamsicle and is perfect on graham crackers, sugar cookies and cakes!
Ingredients
1 teaspoon Vanilla Bean Paste
1/2 cup unsalted butter, softened
4 cups powdered sugar
1 teaspoon orange zest
2 Tablespoons freshly squeezed orange juice
2 Tablespoons milk or cream
Instructions
In a large bowl, blend all ingredients except milk together using an electric mixer. Add milk in one tablespoon at a time until desired consistency is reached.
Spread on cake, cupcakes, cookies or graham crackers. I made a half batch, but make the whole thing if you want to do a cake or a full batch of cupcakes.
Nutrition Information:
Yield: 16
Serving Size: 1
Amount Per Serving:
Calories: 167
Total Fat: 6g
Saturated Fat: 4g
Trans Fat: 0g
Unsaturated Fat: 2g
Cholesterol: 18mg
Sodium: 3mg
Carbohydrates: 28g
Fiber: 0g
Sugar: 27g
Protein: 0g
RachelCooks.com sometimes provides nutritional information, but these figures should be considered estimates, as they are not calculated by a registered dietician. Please consult a medical professional for any specific nutrition, diet, or allergy advice.
Verdict: Love, love, love.
Husband's take: He loved it too. I was surprised, because he's more into all things traditional. I told him how shocked I was that he liked it, and he said "Well, don't get me wrong, I like plain vanilla frosting better." He was probably worried that my next concoction would be really off the wall.
Changes I would make: None.
Difficulty: Easy!
Update: Winner of the giveaway has been chosen! Congrats to purplelarkspur!
Disclaimer: I received free products and was compensated for this post but all opinions of the vanilla are 100% my own. As always. I'm really crazily in love with vanilla beans and Beanilla is the only place I buy them.