How to Cut a Pomegranate – Mess Free Method!
Ruby red pomegranates, with jewel like seeds, are beautiful and delicious, with amazing health benefits. Try one today! This step-by-step tutorial will teach you how to cut a pomegranate and remove the arils.
Pomegranates have been calling my name lately every time I go to the grocery store.
This time, they called my name and said, "Hey lookie, I'm on sale!!!"
And then two jumped into my cart. I had no idea what I would do with them, but I knew I was going to eat them. And take photos of them. They are so pretty!
Did you know that a pomegranate is classified as a berry? It's been cultivated for millennia and is treasured for the juicy tart seeds inside, since the skin is inedible. The seeds are enclosed in a juicy covering and are called arils. There can be 200 to 1,400 seeds in one pomegranate! The white membrane surrounding the arils is also inedible.
A pomegranate is one powerful berry nutritionally! It's loaded with nutrients, antioxidants, fatty acids, and fiber. It has anti-inflammatory benefits along with cancer-fighting and brain-strengthening properties. You can read more about this miraculous fruit at Healthline.
The task of breaking a pomegranate open and getting to the seeds (arils) can be a little daunting, like excavating a hidden treasure. The arils are embedded in the membrane and take a little coaxing to emerge. This step-by-step tutorial will help you get to the little jewels inside the fruit.
How to Cut a Pomegranate and not make a mess
Step 1: Gather your supplies (not all pictured)
sharp knife
cutting board
towel (use an old towel because the juice stains)
large bowl filled with cold water
slotted spoon
strainer
Step 2: Wash the pomegranate
Isn't it beautiful? Maybe I'll buy a few extra and use them for a centerpiece!
Step 3: Slice off the top
I call it the "crown" but it's technically called the calyx.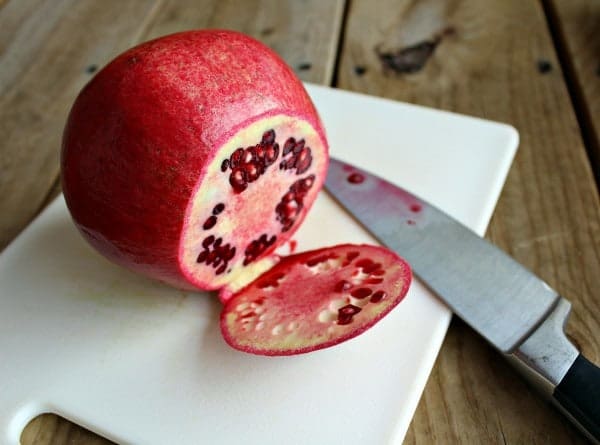 Step 4: Score the pomegranate in four or five places
For photo purposes, the cuts are a little deeper than they need to be. Shallow scoring is what you're looking for, just cutting through the tough red skin. Try not to cut into the juicy arils.
Step 5: Place the pomegranate upside down (cut side down) in a bowl of cold water and leave it there for about 10 minutes
Soaking helps to loosen the arils.
Step 6: Remove the pomegranate from the bowl of water, leaving the water in the bowl. Pry open the cut edges of the pomegranate, exposing the arils. and begin to separate the arils (seeds) with your fingers. Do this under the water in the bowl to avoid making a mess.
Step 7: Let the arils fall into the bowl of water. They will sink and the white membrane will float to the top so you can easily remove it. When you're done, simply skim the membrane off with your slotted spoon and discard it.
Step 8. Remove seeds from water. This is where your strainer comes in handy!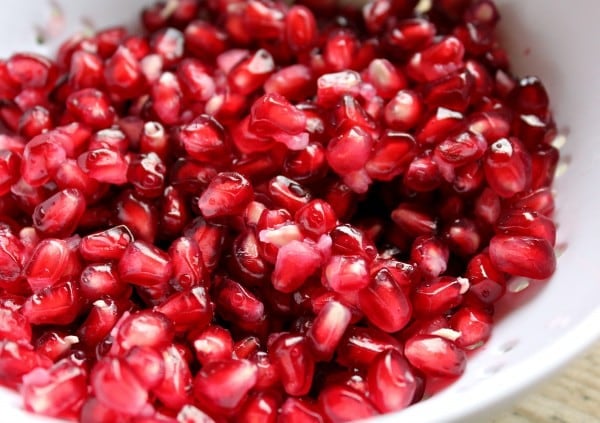 Step 9. You can snack on pomegranate seeds right from the bowl or enjoy them in the fun recipes listed below. Each pomegranate will yield approximately one cup of arils.
Or just marvel over how seriously pretty these little jewels are!
GREAT RECIPES USING POMEGRANATE:
Main Dishes:
Roasted Almond Crusted Salmon with Pomegranate Glaze from How Sweet It is
Pomegranate Chipotle Black Bean Sliders from The Wicked Noodle
Salads:
Salad with Pomegranate and Pecans from Rachel Cooks
Kale Salad with Pomegranate, Orange, and Pine Nuts from Rachel Cooks
Spinach, Strawberry and Goat Cheese with Pomegranate Vinaigrette from Nutmeg Nanny
Drinks:
Sparkling Pomegranate Punch from Rachel Cooks
POMosas from Aggie's Kitchen
Pomegranate Mojitos from Rachel Cooks
Pomegranate Lime Margaritas from Lauren's Latest
Pomegranate Margarita Martini from Dine & Dish
Virgin Cranberry and Pomegranate Bellini from Taste and Tell
Desserts:
Pomegranate Sorbet from Mango & Tomato
Pomegranate White Chocolate Chunk Cookies from Two Peas & Their Pod
Other:
Butternut Squash Crostini with Ricotta from Rachel Cooks
Roasted Cauliflower with Blue Cheese, Garlic and Pomegranate from Sarah's Cucina Bella
Chickpea Dip with Toasted Cumin and Pomegranate from Recipe Girl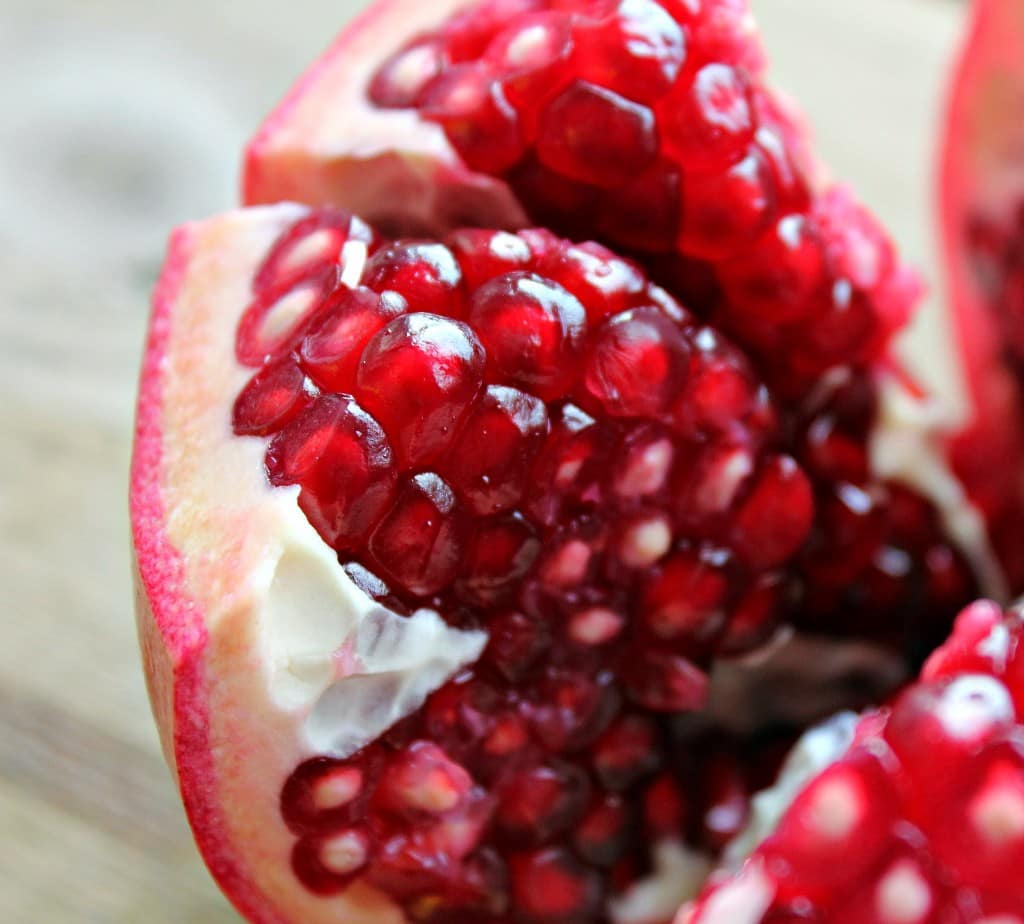 How to Cut a Pomegranate - Mess Free Method!
Yield: approx. 1 cup
Prep Time: 5 minutes
Additional Time: 10 minutes
Total Time: 15 minutes
Ruby red pomegranates, with its jewel like seeds, are beautiful and delicious, with amazing health benefits. Try one today! This step-by-step tutorial will teach you how to remove the arils from the pomegranate.
Instructions
Slice off the top of the pomegranate (the end that looks like a crown).
Score the pomegranate in 4 or 5 places, just slicing through the peel.
Place pomegranate cut side down in a bowl of cold water and let soak for 10 minutes.
Keeping under water, pry open and use your fingers to work the arils away from the flesh, letting them fall into the water.
Skim any white membrane off the top of the water before straining the pomegranate seeds out of the water.
Enjoy!
Notes
One pomegranate will yield approximately 1 cup of arils.
Recommended Products
As an Amazon Associate and member of other affiliate programs, I earn from qualifying purchases.
Nutrition Information:
Yield: 2
Serving Size: 1/2 pomegranate
Amount Per Serving:
Calories: 117
Total Fat: 2g
Saturated Fat: 0g
Trans Fat: 0g
Unsaturated Fat: 0g
Cholesterol: 0mg
Sodium: 4mg
Carbohydrates: 26g
Fiber: 6g
Sugar: 19g
Protein: 2g
RachelCooks.com sometimes provides nutritional information, but these figures should be considered estimates, as they are not calculated by a registered dietitian. Please consult a medical professional for any specific nutrition, diet, or allergy advice.