Easy Granola Recipe with Pecans and Cranberries
This easy granola recipe with pecans and cranberries will become your go-to homemade granola recipe – you won't ever be buying granola from the store again. This is way too easy! 
I make granola probably once every other week. Ben eats the majority of it for his breakfasts or a late night snack. Late being 9:30pm, because we're old. I've gotten to the point where I just throw stuff in to a bowl and whip this up, but even if you don't have the recipe memorized, you won't find it difficult at all. I should add that the bowl I use is a huge stainless steel bowl that I use for popcorn. It's from my grandma and I love it with all my heart. It's completely indestructible and I just love that it's from my grandma. It's perfect for tossing this granola because I can do it quickly and not worry about messes.
There's nothing worse than a too-small bowl. And believe me, I've been there many a time. Gingerly stirring, trying not to make a mess. It's the worst! And I never learn. Thankfully, I have my granola game down to a science.
I wrote this recipe to use one measuring cup (1 cup) and one measuring spoon (1 tablespoon). There's no need to dirty 4 measuring spoons and 3 measuring cups. That is not what we are going for here. Easy. Easy. Easy.
Okay that's not entirely true. It does call for 1/4 teaspoon salt but if you can just shake a little into your palm and eyeball that. And the nut measurements are 1/2 cups but you should eyeball those too. This is not an exact science at all – it's a very forgiving recipe.
We love this easy granola recipe heavy on the cinnamon (the recipe calls for 1 heaping tablespoon, and I'll admit, sometimes I add even more), but if that sounds a little overwhelming to you, feel free to scale back a bit. I will say that mannnnnnny people have eaten this granola (I love gifting it during the holidays) and everyone has raved about it. Massive amounts of cinnamon and all.
Another great thing about this granola is that you can add whatever you have on hand.
Don't have dried cranberries? Substitute with dried cherries, dried blueberries, or whatever dried fruit you love best. (Truth be told, I typically make it without dried fruit. Ben likes to add bananas.)
Don't have pecans? That's okay! Just bump up the amount of walnuts or almonds. (Or try my almond vanilla bean granola!)
Coconut side note: I love this coconut. I really do. It's the best I've found and I can't get enough of the big giant flakes.
In addition to the coconut, for this recipe I also used:
Hope you love this granola as much as we do! If this one doesn't sound perfect for you, try almond mocha granola, Biscoff granola, cinnamon flax granola, or another variation of granola with almonds and pecans.
Make this easy granola recipe today!
Easy Granola Recipe with Pecans and Cranberries
This easy granola recipe with pecans and cranberries will become your go-to granola recipe – you won't ever be buying granola from the store again. This is way too easy!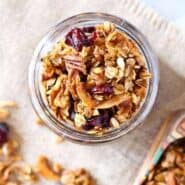 Ingredients:
3 cups rolled oats
1/2 cup raw shelled sunflower seeds
1/2 cup chopped raw walnuts
1/2 cup chopped raw pecans
1/2 cup sliced raw almonds
1 cup flaked unsweetened coconut
2 tablespoons ground flaxseed
2 tablespoons wheat germ
1 heaping tablespoon ground cinnamon
1/4 teaspoon salt
3 tablespoons canola or coconut oil
3 tablespoons honey
3 tablespoons brown sugar
1 tablespoon pure vanilla extract
1 cup dried cranberries
Directions:
Preheat oven to 300°F. Spray a sheet pan (rimmed baking sheet) with nonstick cooking spray.
In a large mixing bowl, combine oats, sunflower seeds, walnuts, pecans, almonds, coconut, flaxseed, wheat germ, ground cinnamon and salt. Stir to combine.
In a 2 cup microwave-safe measuring cup (or small bowl), add oil, honey, brown sugar, and vanilla. Heat in microwave for 45 seconds on 50% power. Stir to combine. If using coconut oil, continue to heat in 30 second increments until coconut oil is completely melted. Pour over dry ingredients and stir until everything is coated. Spread into an even layer on prepared baking sheet.
Place in preheated oven and bake for 15 minutes. Remove from oven, stir, and continue to bake for 15-20 minutes or until golden brown. If you like big chunks, press down with spatula and let cool completely on pan. If you prefer not to have large chunks, stir 3-4 times as granola cools. Stir in cranberries once cooled.
Nutrition Information
Yield: 6 cups, Serving Size: 1/2 cup
Amount Per Serving:
Calories: 314 Calories
Total Fat: 18g
Saturated Fat: 5g
Sodium: 54mg
Carbohydrates: 34g
Fiber: 6g
Sugar: 14g
Protein: 6g
Actual nutrition may vary depending on how recipe is prepared.
All images and text ©
.
Verdict: I love this easy granola recipe. It is great on top of ice cream too.
Husband's take: He loves granola – he likes it better with just sunflower seeds and almonds but I adore it with pecans and walnuts.
Changes I would make: None are necessary but it's a fun and easy granola recipe to experiment with.
Difficulty: So easy!