Apple Gouda Stuffed Chicken Breasts with Smoky Roasted Sweet Potatoes (VIDEO)
Creamy Gouda cheese and sweet apples make these stuffed chicken breasts a winning recipe! Pair with smoky roasted sweet potatoes for a sheet pan supper that will make everyone happy.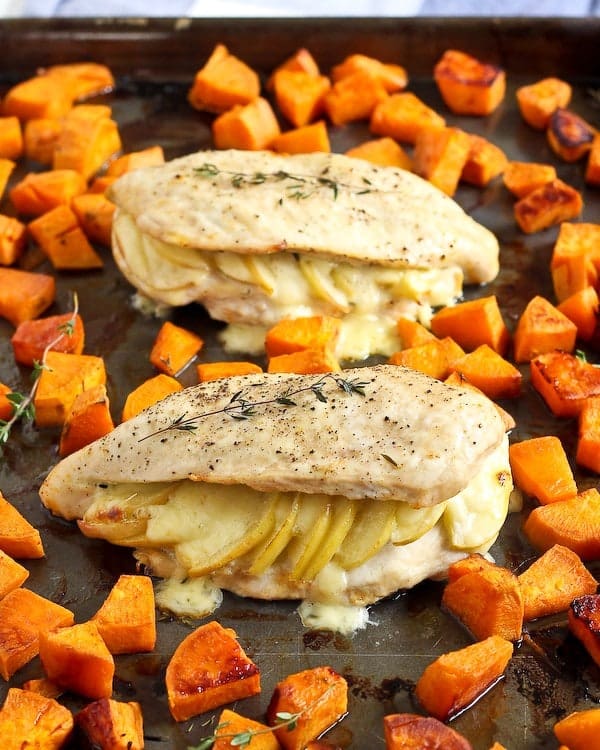 This post is brought to you by Milk Means More.
We're in the middle of a bathroom remodel right now (our master bathroom), which is exciting and exhausting. If I had endless money, I would have hired a designer. Making all the decisions about tile, paint, countertop, flooring, trim, hardware…
I seriously feel like my head is spinning! I wish I had a better eye for these type of things but truthfully, I have a hard enough time putting an outfit together or picking out a throw pillow…an entire bathroom is practically impossible.
Thankfully, we have very patient contractors. Who I pay with apple gouda stuffed chicken breasts.
And money. Lots of money. I wish I were only paying them in chicken. Wouldn't that be a dream?
I was testing this recipe on a day that Ben had a late night at work so instead of letting this chicken go to waste, I tested it out on our contractors. Thankfully they didn't think I was too weird when I gave them one beautifully composed plate and then another that was far less pretty with a chunk of the chicken cut off (I had to try it myself, too!). And then I compounded the weirdness by asking 20 questions about the flavor combinations when they were finished eating.
Just kidding, I kept it to one or two questions, I'm not a total psycho. (At least that's what I like to tell myself.)
In terms of this recipe, it combines a few of my favorite things:
stuffed chicken + sheet pan dinner.
Stuffed chicken, first. EASY. Looks fancy. Win win. Everyone thinks you've created this show-stopping chicken recipe. And you were able to do it with very little effort. What could be better?

Next, sheet pan dinner. My favorite kind of dinner. One pan dirty, one oven temperature, but a complete meal. (Although, to be honest, if I was serving this as a dinner, I'd probably throw together a quick tossed salad on the side for crisp, fresh green elements. But I'm biased – if I could eat a salad with every meal, I would. Okay, I could. Let's do that!)
The sweet apple pairs perfectly with the creamy Gouda cheese. The sweet potatoes not only add a great pop of color, but thanks to the smoked paprika, they add a fantastic smoky element that gives depth to the entire meal.
Enjoy!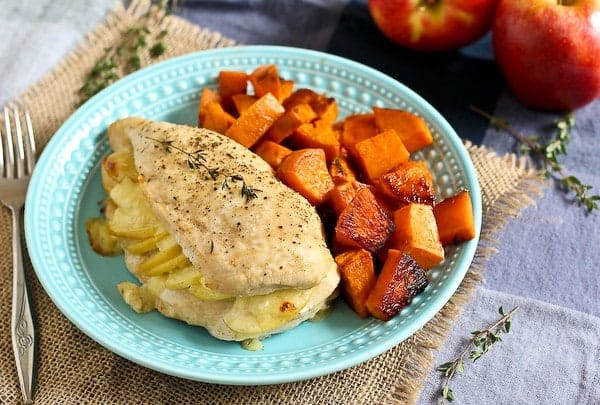 PS: Next time, should we add bacon? I think so.
Used in this recipe:
Watch the video to see step=by-step how to make these stuffed chicken breasts!
Apple Gouda Stuffed Chicken Breasts with Smoky Roasted Sweet Potatoes
Creamy Gouda cheese and sweet apples make these stuffed chicken breasts a winner! Pair with smoky roasted sweet potatoes for a sheet pan supper that will make everyone happy.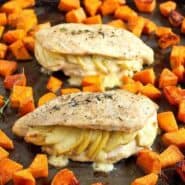 Ingredients:
For Chicken:
2 large boneless, skinless chicken breasts (mine were 10 ounces each – shoot for 4-6 ounces per serving)
1.5 ounces gouda cheese, thinly sliced
1/2 large apple, thinly sliced (I used Honeycrisp – any firm apple will work)
1 teaspoon olive oil for chicken
1 teaspoon fresh thyme, more as desired for garnish
1/2 teaspoon salt
1/2 fresh ground pepper
For Sweet Potatoes:
2 large sweet potatoes, peeled and diced
1 tablespoon olive oil
1/2 teaspoon smoked paprika
1 teaspoon fresh thyme leaves
1/2 teaspoon sea salt
Directions:
Preheat the oven to 425 degrees Fahrenheit.
Spray a large baking dish or sheet pan with nonstick cooking spray. Split each chicken breast across but not through and open like a book (be careful, you can easily cut yourself doing this!). This is also known as butterflying. On one side of the chicken, lay out 7-8 thin apple slices followed by 4-5 slices of cheese. Sprinkle with 1/2 teaspoon fresh thyme. Fold over and drizzle with 1/2 teaspoon olive oil. Sprinkle with 1/4 teaspoon salt and 1/4 teaspoon pepper.
Place the chicken breast on sheet pan and top with another sprig of fresh thyme if desired.
In a bowl, mix diced sweet potatoes with olive oil, smoked paprika, 1 teaspoon thyme leaves and sea salt until evenly coated. Arrange sweet potatoes in a single layer around chicken breasts.
Bake for 20 minutes and then stir sweet potatoes.
Continue to bake until the juices run clear from chicken and internal temperature of chicken registers at 165 degrees, about 10 additional minutes. Sweet potatoes should be fork tender.
Nutrition Information
Yield: 4 servings, Serving Size: 1 of 4 servings
Amount Per Serving:
Calories: 328 Calories
Total Fat: 10g
Saturated Fat: 3g
Cholesterol: 116mg
Sodium: 779mg
Carbohydrates: 21.4g
Fiber: 3.4g
Sugar: 6.7g
Protein: 36g
Actual nutrition may vary depending on how recipe is prepared.
All images and text ©
.
Verdict: So good! The flavors work together so well – I love that chicken is a blank canvas just waiting for fun flavors.
Husband's take: We'll have to do another round of this recipe for Ben. The contractors left me empty plates so I'd say that's approval!
Changes I would make: None are necessary but I can't get bacon out of my mind.
Difficulty: Easy.
More stuffed chicken breasts for you!
**Disclosure: I am thrilled to be a dairy ambassador for Milk Means More. I have been compensated by Milk Means More for my time to develop this recipe and write this post. All opinions are as always, my own. Find out more about why Milk Means More on Twitter, Facebook, YouTube, Instagram and Pinterest.