Fruity Pebbles No-Bake Bars (VIDEO)
These fun treats are an easy twist on the classic rice crispy treats — your kids (and adults, too!) will love these fruity pebbles no-bake bars.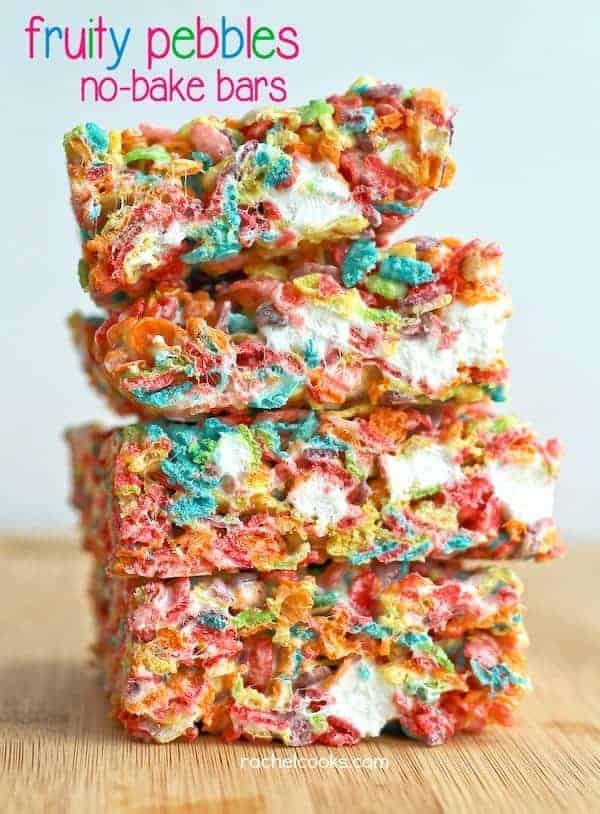 If you were to judge my blog lately, you'd think I turned back into a giant child. Oreo Popcorn, Nerds Milkshakes, and then these no-bake bars. Okay, well, there was vodka too. But other than that, it's kid-city around these parts right now.
BUT. These bars aren't just for kids. Oh no, no, no…I promise you everyone will love these. They're ultra soft, ultra chewy, and ultra sweet. And just a little colorful. If you're having a rainbow birthday party for any of your kids — these should definitely be your dessert.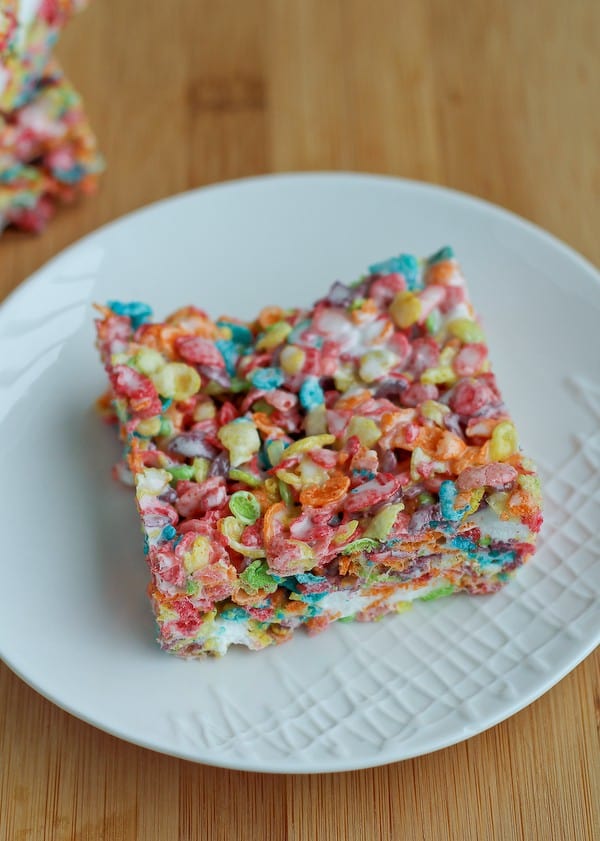 I love adding extra marshmallows in with the cereal in crispy treat style bars. They make them extra gooey, extra delicious, and extra fun.
In other news, and because I ran out of things to say about these tasty no-bake bars, we just got back from a week of vacation. Sort of vacation. Every year we spend a week at my in-laws place in Northern Michigan. You can see the gorgeous view that we enjoyed if you check out my instagram feed (here).
And OF COURSE, the second day we were there, my little man ended up in the ER. Little dude must like it there or something. This time he ran into a chair and split his forehead open. I'll spare you that photo, although he does look super tough. He was a trooper, didn't even cry one bit in the ER. Luckily no stitches were needed (just glue) but for pete's sake! This kid is giving me grey hairs. Once we were done with that excitement, we were able to spend tons of time outside and time with Ben's parents and grandma. Kids slept well, I enjoyed some champagne and even got a tiny tan. I call all that a major vacation success — despite the ER visit.
Now we're home and it's back to business. We should be closing on our house this week (Eeeeeeee!!!!) and then things will get really interesting as we'll have to prep our condo, list it and hopefully sell it asap.
I'm glad I don't have any of these bars in the house because I'd totally eat the whole pan out of nervousness about the house stuff. Maybe I should make some for open houses. The only problem is there would be none left for the people viewing the house.
That's my Etch-a-Sketch version of our new house, btw. This is the kind of thing you spend your time on when you're on vacation with kids. I remember the days when we'd just lounge on the boat working on our tans. Sometimes we'd drive it out to the sunken island and toss the frisbee around — never setting down the ice cold beer in the other hand. And of course I was in a bikini with no stretch marks.
But drawing on the Etch-a-Sketch and going to the ER is way better. Okay…maybe not those things but having kids is the best. Despite the lack of bikinis and beer.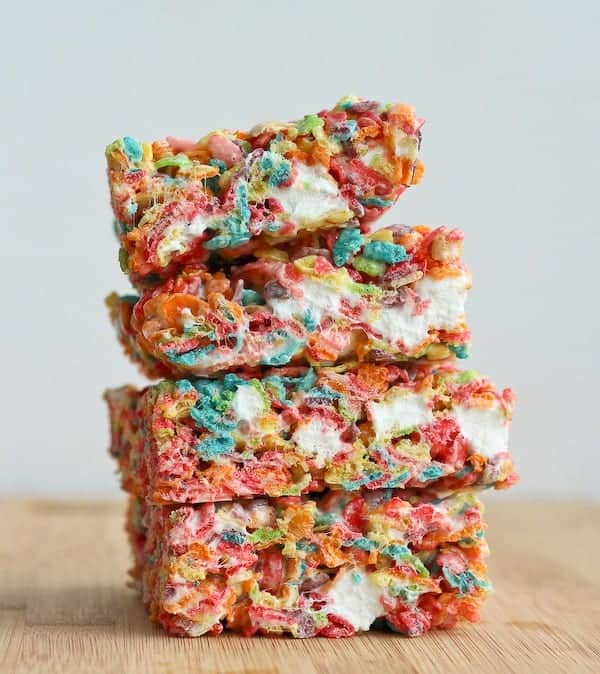 Fruity Pebbles No-Bake Bars
These fun treats are an easy twist on the classic rice crispy treats — your kids (and adults, too!) will love these fruity pebbles no-bake bars.
Ingredients:
2 tablespoons unsalted butter, plus additional to grease the pan
8 cups mini marshmallows, divided
6 cups fruity crisp rice cereal (or Fruity Pebbles)
Directions:
Butter a 9×13 pan with butter.
In a large, deep pan (nonstick prefered), melt butter and 6 cups mini marshmallows over low heat until completely melted (no lumps of marshmallows remain).
Remove pan from heat and stir in fruity crisp rice cereal and 2 cups mini marshmallows. Continue to stir until all cereal and marshmallows are coated with marshmallow/butter combination. Pour into prepared pan.
Spray hands lightly with nonstick baking spray (or coat with butter) and press mixture gently into pan. Let cool completely before cutting into squares with a sharp knife.
Nutrition Information
Yield: about 20 bars, Serving Size: 1 bar
Amount Per Serving:
Calories: 122 Calories
Total Fat: 1.7g
Saturated Fat: 1.2g
Cholesterol: 3.1mg
Sodium: 80mg
Carbohydrates: 26g
Sugar: 15g
Protein: 1g
Actual nutrition may vary depending on how recipe is prepared.
All images and text ©
.
Verdict: Love these tasty and fun bars.
Husband's take: He loved these!
Changes I would make: None are necessary.
Difficulty: So easy!