Easy Spinach Artichoke Phyllo Bites – VIDEO
These spinach artichoke phyllo bites are a delicious and elegant party appetizer that you can prep a day or two in advance.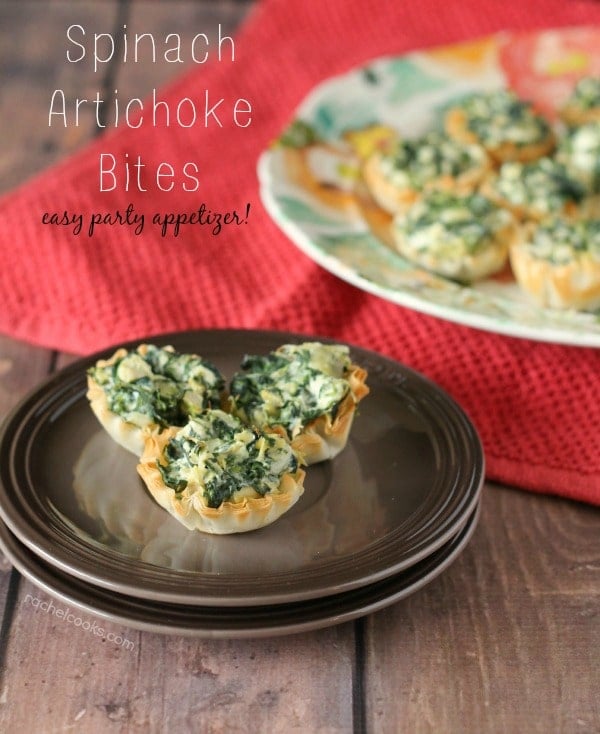 This is a sponsored post written by me on behalf of Athens®. All opinions, photos, and text are my own. As always.
Let's be real. Entertaining can be stressful! Very stressful.
I don't do a lot of entertaining (I have a 3-year-old and a 1-year-old so that might have something to do with it), but here are some tips:
Pretty outfit + cute apron + glass of something tasty to drink + great music = much more fun to prepare food for friends/family. Follow this simple equation and things are already off to a good start.
Meals that have a flexible end time = bliss. Soups, slow cooker meals, things that can be served hot, cold AND room temp. These types of things will dramatically reduce your stress levels.
Prepare as much in advance as possible. Dips and appetizers that can be prepared partially in advance and then finished up moments before the gathering are extremely helpful (like this recipe!).
This recipe just so happens to fall into those last two bullet points perfectly. Throw on a pretty dress, turn on some Michael Bublé Christmas music and pour yourself a glass of champagne and you're all set.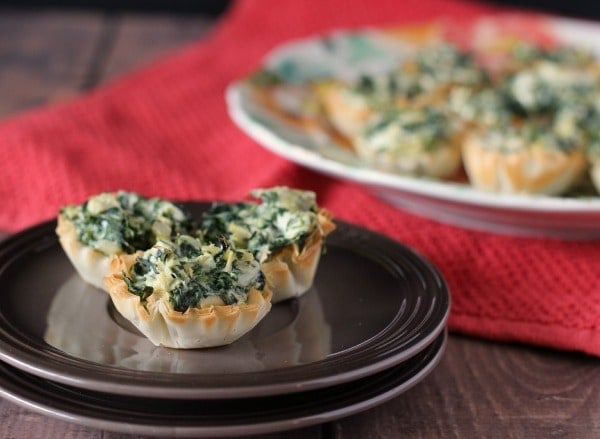 These tasty spinach artichoke bites are great hot out of the oven but if they settle in to room temperature before they are devoured, they'll still taste phenomenal. But I've tried these, and I'm pretty sure they won't be given the chance to move into room temperature. They'll be eaten up before they have a chance to drop even a degree in temperature!
The other great thing about these bites is that you can prepare the filling in advance and keep in in your fridge for a day or two. Then, on the day of the party, all you have to do is spoon the filling into the shells and bake for 10 minutes.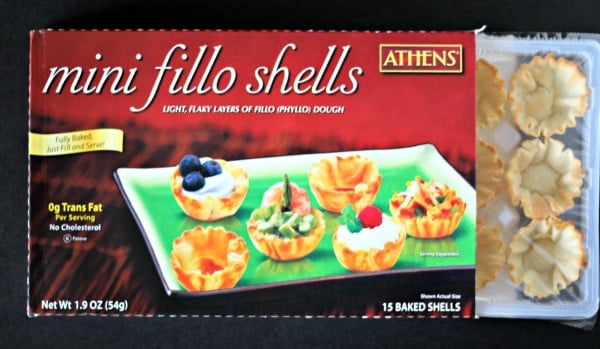 I love to keep a couple of packages of these Athens® Phyllo Shells in my freezer because they are incredibly versatile. You can put just about anything into these and you're left with a cute little appetizer or dessert. I've put chocolate and pumpkin in them to create insanely easy desserts, but this recipe for spinach artichoke phyllo bites might be my favorite use yet. I love spinach artichoke ANYthing so these are obviously no exception.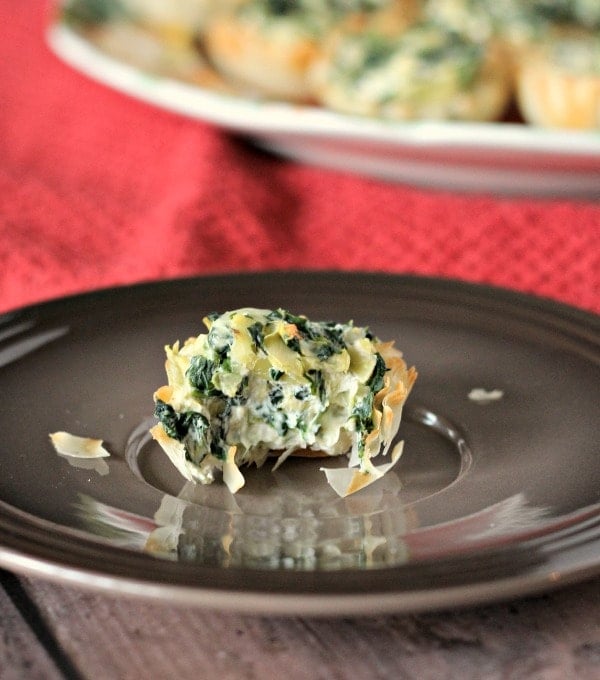 Easy Spinach Artichoke Phyllo Bites
A delicious and elegant party appetizer that you can prep a day or two in advance, these Spinach Artichoke Phyllo Bites will be a hit at your next party.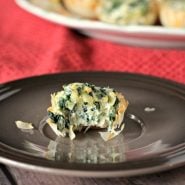 Ingredients:
6 ounces cream cheese, softened to room temperature
1/4 cup grated Parmesan cheese
1/4 cup sour cream
1/4 cup grated mozzarella cheese
one 10 ounce package of frozen chopped spinach, drained and liquid squeezed out
1 cup of quartered artichoke hearts, drained and rinsed and roughly chopped
1/4 teaspoon cayenne pepper
salt and pepper to taste
45-60 Athens Phyllo Shells (3-4 packages)
Directions:
In a medium mixing bowl, mix cream cheese, parmesan cheese, sour cream, mozzarella, drained spinach, chopped artichokes and cayenne pepper. Use a fork to thoroughly mix all ingredients. Taste and add salt and pepper as necessary. At this step, you can refrigerate this mixture up to 3 days.
When you are ready to serve, preheat oven to 350 degrees Fahrenheit. Fill a phyllo shell with a heaping teaspoon of this mixture so that it is full and rounded and on the top. Place on a rimmed baking sheet. Repeat until phyllo shells are all full and spinach mixture is used up. Bake for 10-12 minute or until heated through and golden brown. Serve immediately.
All images and text ©
.
Verdict: I could have eaten 100.
Husband's take: He loved these too!
Changes I would make: None are necessary, but I'm thinking the addition of some garlic would be wonderful.
Difficulty: Super easy!
Looking for more inspiration like these spinach artichoke phyllo bites? Check out Phyllo.com or Athens' Pinterest page for more great fillo recipes.
Disclosure: This is a sponsored post written by me on behalf of Athens®. All opinions, photos, and text are my own. As always.