Banana Chocolate Chip Cake with Chocolate Cream Cheese Frosting
Bananas and chocolate, a match made in heaven, no?
This banana cake is one of my absolute favorite things that my mom makes. It is so very moist, and topped with a cream cheese frosting…it is just perfect. I featured it once before on my blog, without chocolate chips, in the form of cake pops.
I took it totally over the top.
Like…hurt your teeth over the top. But it's good, really good.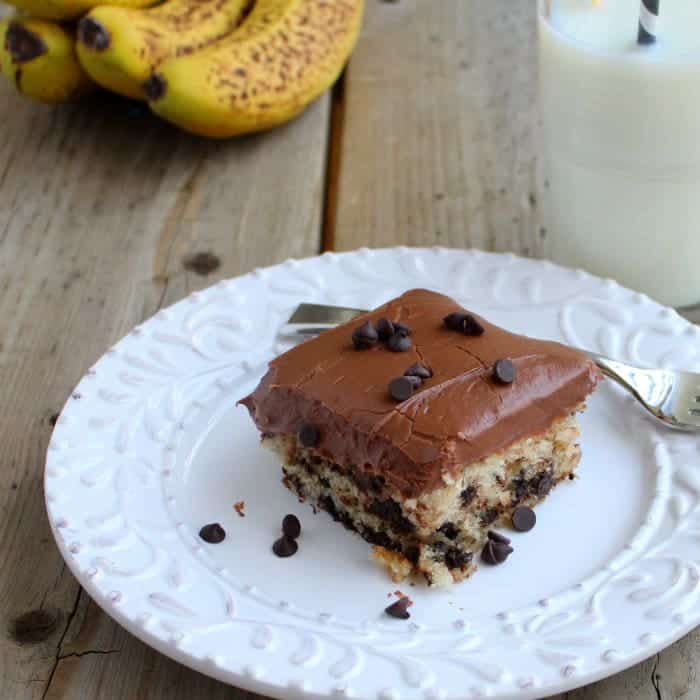 My mother in law said this was "the best cake and frosting she ever had." And let me tell you–the woman is no cake novice. I consider this an expert opinion. I also ate waaaaay more than my fair share of this.
But I'm pregnant. So it's cool. Jillian Michaels and I are going to be best buds come December.
Banana Chocolate Chip Cake
2 cups all-purpose flour
1.5 cups sugar
1.5 teaspoon baking powder
3/4 teaspoon baking soda
1/2 teaspoon salt
3 medium-sized bananas, mashed
1/2 cup buttermilk or sour milk (make your own by adding 1 tablespoon white vinegar to 1/2 cup of milk)
1/2 cup shortening
2 large eggs
1 tsp vanilla extract
1 cup mini semi-sweet chocolate chips
1. Preheat oven to 350*F.
2. Combine dry ingredients in a large bowl.
3. Add rest of ingredients to the dry ingredients and beat on low-speed until combined.
4. Increased to medium speed and blend for 3 minutes. Fold in chocolate chips.
5. Spread into a greased 9″x13″ baking dish and bake for 30-35 minutes or until a toothpick inserted into cake comes out clean.
6. Cool completely before frosting.
Chocolate Cream Cheese Frosting:
one 8 ounce package of cream cheese, softened (reduced-fat will work, I wouldn't use fat-free)
1/4 cup unsalted butter, softened
2 to 3 teaspoons of milk (maybe more)
1 teaspoon pure vanilla extract
1/2 cup cocoa powder
~4 cups of powdered sugar (confectioner's sugar)
1. In large bowl, using an electric mixer, beat together cream cheese, butter, vanilla, and milk until smooth.
2. Add in cocoa powder and powdered sugar (one cup at a time) and continue to beat on low speed until frosting is smooth and to your desired consistency. Spread on cooled cake.
Note: Due to the cream cheese in the frosting, this cake should be refrigerated. I actually like it better cold, but that is just me!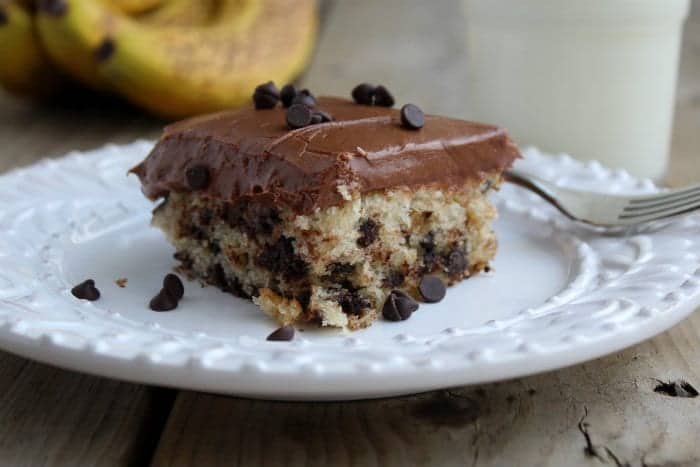 Verdict: I could have eaten the WHOLE ENTIRE PAN. I almost did.
Husband's take: He loved it. He kept calling it banana bread. I like that because it sounds healthier than it really is.
Changes I would make: Maybe less frosting next time. I know, I can't believe I just said that either. If you wanted to turn this into a layer cake, the amount of frosting would probably be perfect. However, if you don't have a HUGE sweet tooth, I'd suggest halving the frosting for a 9×13. Ben agrees. My mother-in-law disagrees. I'm torn. I do love this frosting.
Difficulty: Easy.
PS: The pancake party kicks off tomorrow! Check back for a month full of pancakes and great giveaways–you won't want to miss them!