Almond Mocha Granola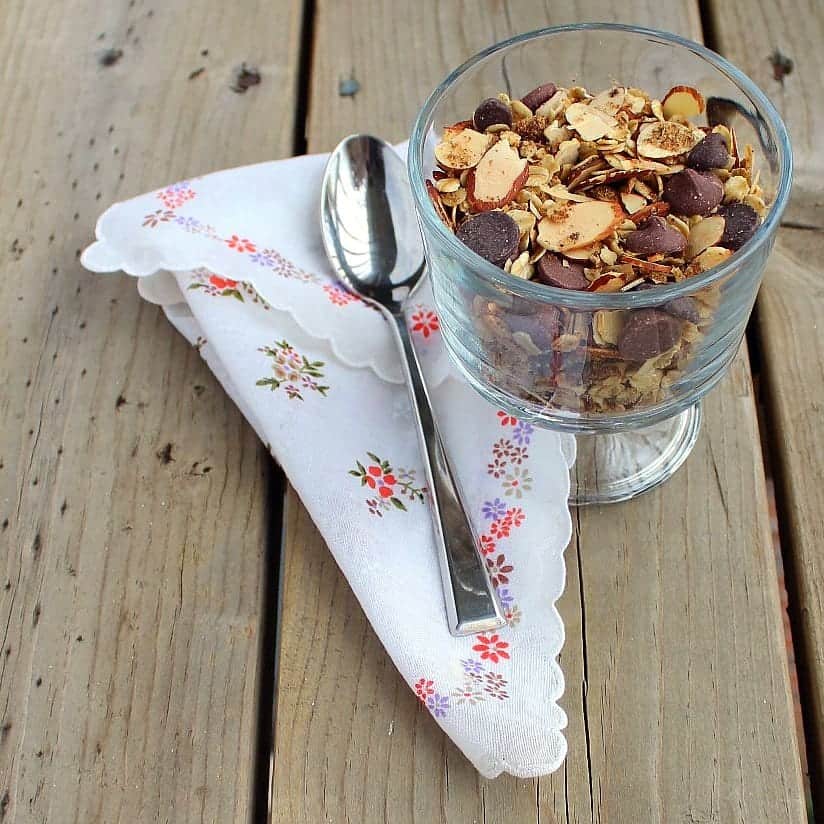 Coffee not cutting it? Need a little extra boost today? Well, I have you covered with this granola. It packs an espresso-punch.
I never liked coffee until I started graduate school. Weird how those two things went together, right? Now I can't get enough of the stuff. It is going to be hard when I get pregnant again, or if I decide to do a juice cleanse again. Don't come around me for a couple of days. Consider yourself warned!
Almond Mocha Granola
3 cups thick cut rolled oats
1 cup raw almonds slivers
1/2 cup shredded unsweetened coconut
1/4 teaspoon salt
1/2 cup packed brown sugar
2 tablespoons toasted wheat germ
2 tablespoon ground flax-seed
2 Tablespoons espresso powder
4 tablespoons canola oil
1 teaspoon pure vanilla extract
1 cup chocolate chips
1. Preheat oven to 300 degrees F. Spray a large baking sheet with nonstick cooking spray or line with parchment or Silpat. In a large bowl, stir together oats, almonds, coconut, salt, brown sugar, wheat germ, ground flax and espresso powder.
2. In separate small bowl, stir together canola oil and vanilla.
3. Pour wet ingredients over dry ingredients and stir until everything is well coated.
4. Spread granola in an even layer over the baking sheet. Bake for 15 minutes, stir, and then bake for 15-20 minutes longer until golden brown.
5. Let cool completely. Stir in chocolate chips.
6. Store in airtight container.
Verdict: Tasty! I think this would be great on ice cream.
Husband's take: He liked it but I think he preferred this granola.
Changes I would make: None. If you're not a huge coffee fan and want that flavor to be a bit more subtle, cut back on the espresso powder a bit.
Difficulty: Easy!
Enjoy! And drink an extra cup of coffee with this. It's the right thing to do. For all the pregnant ladies in the world. (WHICH IS NOT ME–I don't want to get my mom and mother-in-law excited!)