Peanut Butter Cream Cheese Apple Dip
Hide your spoons. You'll want to use them to eat this instead of using apples.
Apples will at least reassure you that you're being somewhat healthy.
But I won't judge either way.
Because I ate it off a spoon. But I'm pregnant. (I'm going to be SO sad when I can no longer use that excuse!)
This dip is SO yummy. Have I gotten that point across yet? It's weird because it has peanut butter and cream cheese in it but somehow tastes like caramel dip. It's perfect for dipping apples and would be great on graham crackers or animal crackers too.
Or a spoon. Did I mention that?
Peanut Butter Cream Cheese Apple Dip
Looking for a way to dress up your apples? Try this peanut butter cream cheese apple dip.
Ingredients:
8 ounces reduced fat cream cheese, softened
1/4 cup granulated sugar
3/4 cup packed light brown sugar
1 teaspoon pure vanilla extract
1/4 cup peanut butter (smooth or chunky)
1/2 cup chopped peanuts (honey, dry roasted, plain, whatever!)
Directions:
Mix all ingredients except peanuts together using an electric or stand mixer on medium speed until incorporated and smooth. Mix in peanuts on low speed or just stir in with a spoon.
Best at room temperature for dipping, but store in the fridge.
Verdict: I have an empty spoon sitting in front of me as I type this post. Doesn't that say it all?
Husband's take: He hasn't had it on apples yet but did get a taste test. Thumbs up from him–and he doesn't really even like cream cheese! My kiddo LOVED it too. She has a huge sweet tooth though–so no surprise there.
Changes I would make: NONE.
Difficulty: Seriously easy.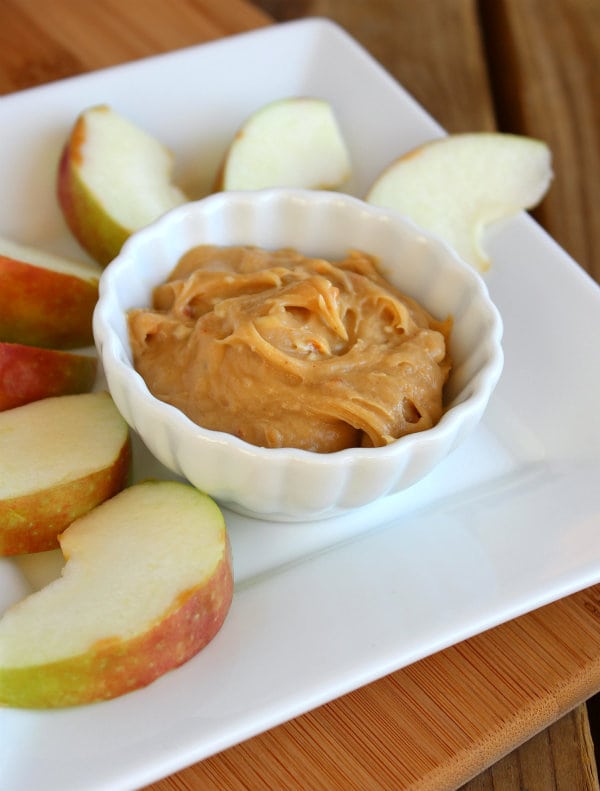 And yes, my apples are a little (lot) beat up and bruised. This is real life, people.
46 Responses to "Peanut Butter Cream Cheese Apple Dip"
Trackbacks/Pingbacks

Leave a Comment