This is pesto you can eat on a first date.
Well–I can't guarantee you won't have green stuff stuck in your teeth after you eat it, but I guess you gotta live on the edge a little bit. Besides, it's the truest test of character–will your date tell you about it or let you walk around all night with pesto stuck in your teeth?
When I say "mild," I'm talking about taming down the flavors a bit. Because let's be honest, pesto can be strong stuff! This pesto lets you taste the gloriously toasted pine nuts.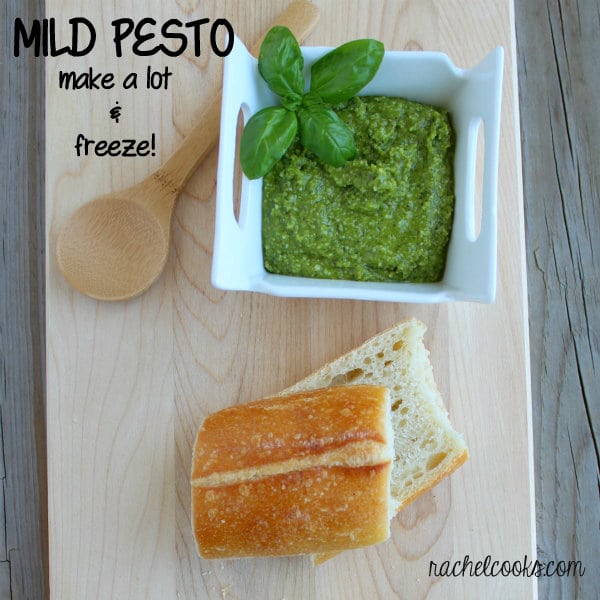 And continuing with the honesty here, the pine nuts are the best part. Not to mention stinking expensive. Might as well replace them with something else if you can't taste them! Because this pesto is a little more "tame" than its garlicky brothers and sisters, make sure you use really great olive oil, because you'll taste that too. There is also some spinach mixed in to stretch the quantity a bit and to…tame it down. More. I promise it still packs all the pesto-y goodness you could ever wish for!
Okay…I guesssss I'll keep being honest. I didn't have any garlic in the house. That mayormaynot be the reason this pesto doesn't have garlic in it. But let's not sweat the small details. I just ate a whole bunch of this slathered on a piece of bread and I'm not breathing hot-garlicky-fire. It's good stuff. Don't send me hate mail telling me that it isn't pesto without the garlic. I'll email you back! Just warning you!
And yes, I know it is a bit late for a recipe involving basil–but if you have a huge pot you need to use up before the cold comes (like I did!), this is your recipe!
Ingredients
2 cups packed fresh basil leaves
3 cups packed fresh spinach leaves
1 cup toasted & cooled pine nuts
12 ounces grated Parmesan cheese
1 1/4 cups good olive oil
Instructions
In a food processor, add basil, spinach, pine nuts. Pulse until it has a texture of course meal. Add cheese and pulse until combined.
Add oil in steady stream while food processor is running. Continue to add olive oil until pesto is a smooth paste.
To freeze: Put in small containers or zip-top bags. Thaw in refrigerator overnight before using. I freeze mine flat in zip-top bags in small portions so they thaw very quickly.
http://www.rachelcooks.com/2012/09/20/mild-pesto-to-freeze/
Copyright: Rachel Gurk, Rachel Cooks: http://www.rachelcooks.com
Verdict: I can literally eat this by the spoonful.
Husband's take: He's not a huge garlic fan so he really likes this take on pesto. I did it for him–not because I didn't have garlic in the house. Yeah–let's go with that.
Changes I would make: Not a single one! But-if you love garlic, and you have it in the house–throw a few cloves in the food processor with everything else for a more "traditional" pesto.
Difficulty: So easy!