Chicken Tuscan Pasta Bake – Freezer Friendly
Creamy, flavorful, and healthy, this Chicken Tuscan Pasta Bake is perfect to eat right away or to prep ahead and freeze for another day. Great for sharing with people in need of a meal, too.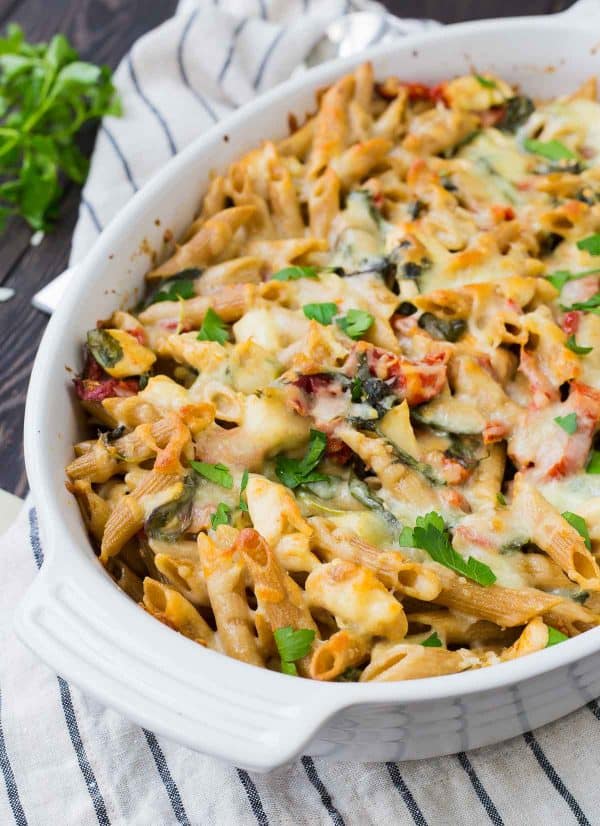 I was chatting with a friend once who was pregnant with her third child and I mentioned that I wanted to bring her a meal after the baby was born. She was thrilled, telling me she had never had a new-mom meal delivered from someone.
Let me stop for a minute. Two previous babies, and no one had ever made her a meal to help her out when she brought home a newborn.
NO ONE.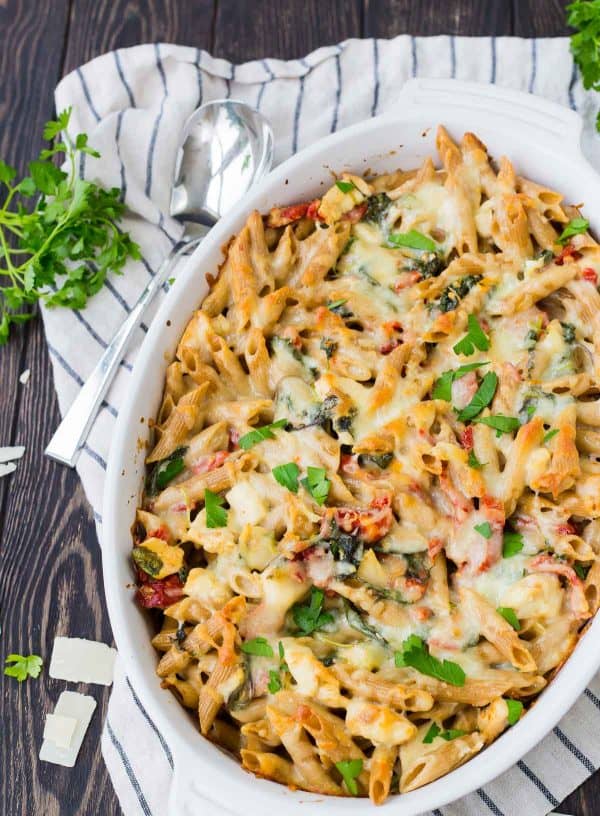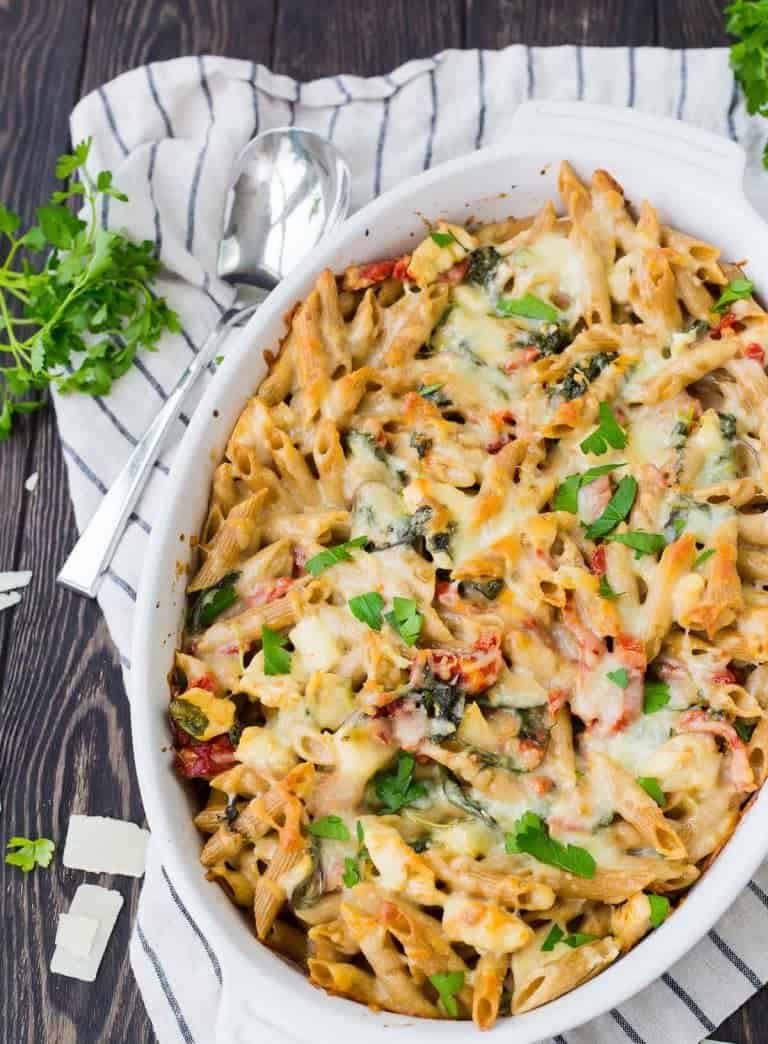 This is so appalling to me, and yet she may still be in the same situation because I moved and was unable to bring her one. The thought of cooking after you've given birth is a seriously daunting thought and everyone should have, at the very minimum, a week of meals from friends and family to help them out. One of my favorites is my easy 20 Minute Italian Turkey Bean Soup – I double the batch and then we have dinner made too. They can either freeze this or eat it right away. I usually pair it with a loaf of yummy bread, fresh fruit, a salad, and a dessert. I love to make my whole wheat chocolate chip cookies and bring them a couple dozen baked and then additional balls of dough that I've frozen. That way if they have surprise visitors, they can pop them in the oven and enjoy freshly baked cookies.
I will be adding this Chicken Tuscan Pasta Bake to my rotation for new parents. It freezes well and it's the epitome of comfort without being overly rich or fattening. Whole wheat pasta, chicken breast, and kale make this a hearty and healthy meal and the cheese that ties it all together will keep you coming back for more. The tangy, chewy sun dried tomatoes keep this lively and make it much more three-dimensional…don't leave them out!
Tip: If you do plan to freeze and reheat this, you may wish to add a can of diced tomatoes (15 ounce) to prevent it from drying out!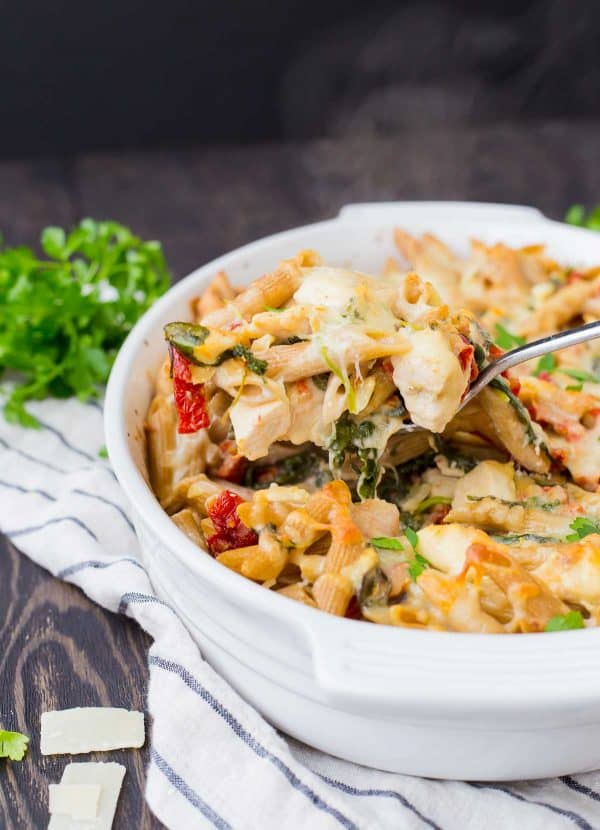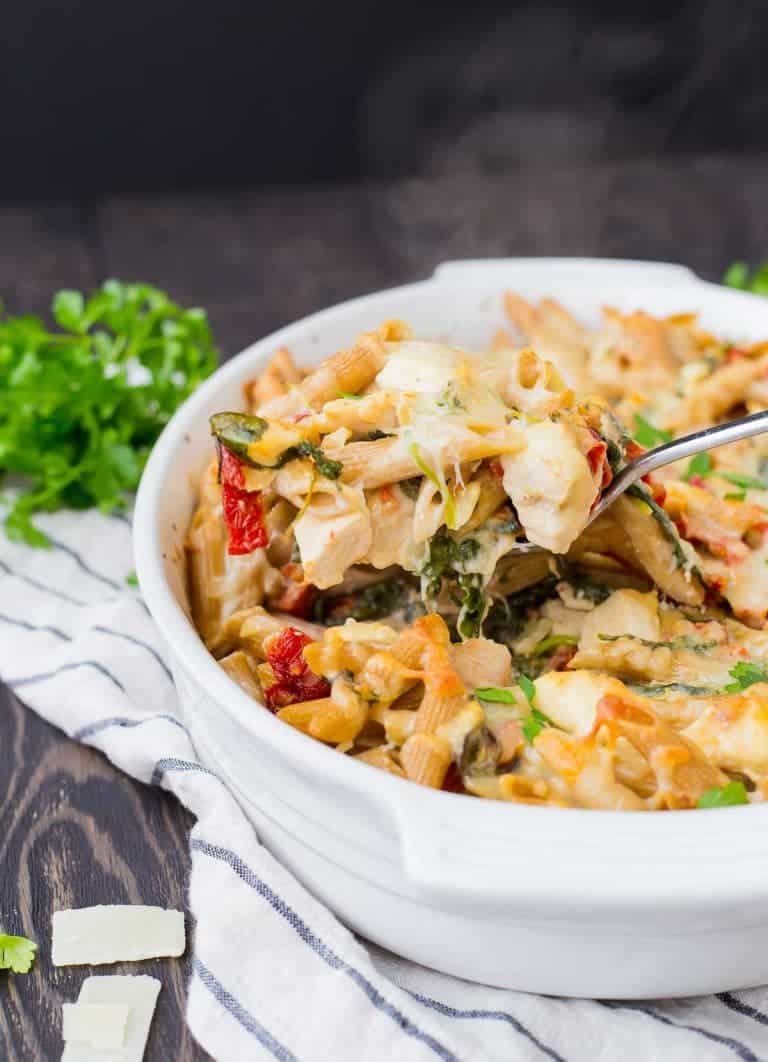 PS: If you're still looking for ideas for new parents, I compiled a whole post about what to bring new parents – it's divided up by diet/eating style to make it easy to navigate and also to help you find ideas for families who follow gluten-free, vegan, and paleo diets. It even has some ideas for how to help out families that don't live close by you.
Important note! If you're cooking this from the freezer, make sure to put it in the COLD oven before preheating. Never put a cold pan in a hot oven or you'll be cleaning up glass and no one will be eating pasta.
PS: If you have a busy day planned, this crock pot baked ziti looks perfect!
Chicken Tuscan Pasta Bake - Freezer Friendly
Creamy, flavorful, and healthy, this Chicken Tuscan Pasta Bake is perfect to eat right away or to prep ahead and freeze for another day. Great for sharing with people in need of a meal, too!
Ingredients:
1 package (13.25 oz) whole wheat penne pasta

1.25 pounds boneless skinless chicken breasts, cut into bite-sized pieces

1 small onion, diced (1/2 cup diced)

1 clove garlic, minced

5 ounces fresh baby kale

1 jar (7 oz) julienne cut sun dried tomatoes packed in oil, drained (oil reserved!) and patted dry

3 ounces reduced-fat cream cheese

1 cup milk (2% or whole)

1/2 cup grated Parmesan cheese

1 cup shredded Mozzarella cheese
Directions:
If baking immediately, preheat oven to 350 degrees Fahrenheit. Otherwise, begin on step 2.

Spray a 9X13 or larger baking dish with nonstick cooking spray. 

Bring a large pot of salted water to a boil and cook pasta to al dente according to package directions. Drain when finished cooking.

Meanwhile, in a large deep skillet, heat 1 tablespoon of reserved sun dried tomato oil (or olive oil) and add chicken and onions. Cook until chicken is cooked through and onions are translucent, stirring occasionally, about 5 minutes. Add garlic and cook until fragrant, about 1 minute.

Add kale and sundried tomatoes and cook until kale is wilted, stirring frequently. Add cream cheese, milk, and Parmesan cheese. Stir to combine and cook until cream cheese is melted and incorporated. Add pasta and stir to coat pasta with all other ingredients. Pour into prepared baking dish and top with mozzarella cheese.

If baking immediately, place in preheated oven and cook for 30 minutes or until cheese is melted. If you like a softer noodle, cover with foil during baking.

If freezing, cover tightly with plastic wrap and foil and place in freezer for up to 3 months. When ready to bake, remove plastic and cover with foil. Place in cold oven and turn oven to 350 degrees Fahrenheit. Bake for 45 minutes covered and then uncover and continue baking for 30 minutes longer or until heated through.
All images and text ©
.
Verdict: I love the flavors of this pasta and that it provides you with the comfort of a cheesy pasta dish without all the guilt.
Husband's take: Ben loved this chicken tuscan pasta bake — no complaints from him. He hardly ever complains about my cooking though.
Changes I would make: None are necessary! I'm a weirdo that loves putting fresh tomatoes on top of pasta so I might sprinkle some on top of this but otherwise no changes needed.
Difficulty: Easy!
Disclosure: I have been compensated by Milk Means More for my time to develop this recipe and write this post. All opinions are as always, my own. Find out more about why Milk Means More on Twitter, Facebook, YouTube, Instagram and Pinterest.